iPhone: Mobile Time Tracking
An "Apple" a Day, Keeps Inaccurate Time Cards Away!
Start Tracking Time in One Touch
A time tracking app that is simple and easy to use
Track time using a device your employees already have in their pockets and use regularly, such as their iPhones. Using TSheets' iPhone App, starting, stopping and switching tasks is literally a touch (or click) away.
No scrolling through menus or jostling with drop down buttons - employees can simply open the time tracking app, click on the job code, and start tracking time. Using that same one-touch functionality, they can also change job codes or projects, clock out or add notes to their timesheet.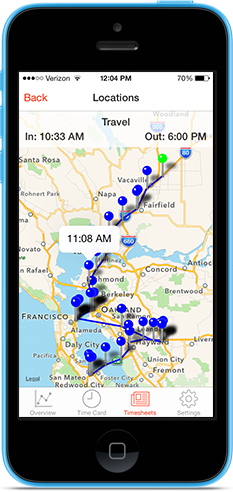 Time Tracking with GPS
Mobile responsibility meets efficiency
No need for additional GPS services, when using TSheets' iPhone Time Tracking App. When employees clock in, clock out, change job codes or add notes, GPS location points are automatically recorded and added to their online timesheet. With or without cell service, employee locations are also continuously recorded at ten minute intervals when on the clock.
Employees can review and build efficiency into their routes, employers can easily manage their on-the-go workers - regardless of location - and mobile responsibility can be validated, if necessary.
Yes, you can track your time from 35,000 feet!

Tracking Time When Offline or Out of Service
An internet connection might not be available, but you can still log your time
The world awaits, and while employees are on-the-clock, they may occasionally be out of service. Fortunately, with TSheets' iPhone time tracking, employees have an offline alternative.
Regardless of phone service, employees can clock in, clock out, change job codes and add notes on their TSheets iPhone App, and the timesheet data will be stored offline on the employee's device. Once back in service, the employee can easily click "sync" to immediately send their timesheet data back to the office.
Reporting Employee Time
Real-time reports for payroll, job costing, and invoicing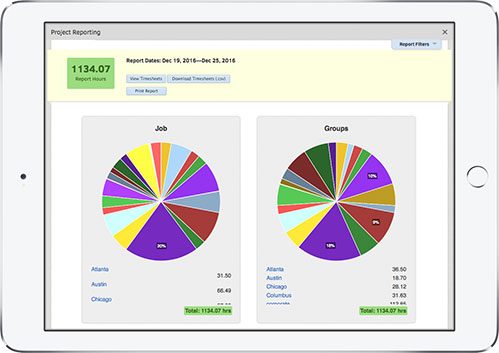 As soon as your employees clock in or out, their time is instantly visible back at the office. Managers can easily see who's working, where and under what job code - adjust or approve time tracked, run job costing reports in real time, and more.
Using TSheets real-time time tracking, managers are empowered with the data to make decisions, when they need it most.
If Manual Entry Is Your Thing
Use the TSheets app spreadsheet-style
When real-time tracking doesn't fit, an employee can manually enter their time using the iPhone time tracking app. When entering their hours manually, an employee can add notes, and both are saved and synced automatically with the home office.
A manager can easily see when an employee enters time manually, versus in real-time, as well as any notes or changes an employee makes to their time card.
Customer Love
"

Best APP EVER!

I LOVE THIS APP!

It has made time tracking easy and efficient. I 150% recommend this app to others! Well worth it!

"

We love you too!

Cutting Edge, AThens, AL

Via apps.com
"

Awesome app! It was a nightmare trying to get field workers to bring their timesheets to the office on time to invoice the clients. Now it's SO great. I know how many hours they worked on any given job & day.

The reports are great!

I can export to QuickBooks and have all their hours for the payroll. Also I can have on my screen where they are working and how many hours / minutes they are on any job/task.

"

Holland, rockville, md

VIA apps.com
fun and...

"

My time is tracked!'

So easy

to clock in and out, switch job codes (with one click) and get a quick summary of my day.

"

Jennifergh,

Via iTunes
"

Very useful app. This app has allowed me to go completely mobile with my business. I use my iPhone, iPad, computer and text to track my time — much more

accurate and convenient

than a punch clock.

"

bmedel,

Via iTunes
"

Very handy app. Just started working part-time from home and need to keep track of my hours. Love this app's clock in and out feature, weekly reports, and sync ability with TSheets online.

"

ttstead,

Via iTunes