Hello. I'm Tracy.
TSheets helped nail down my business.
Here's my story.
Time and money were falling through the cracks.
"

With TSheets, I found the right tools to build up both.

"
You need the right power tools to make it in construction—and the same goes in business. Before finding TSheets 5 years ago, I struggled with employee time tracking. Paper time cards were no longer cutting it. Sloppy. Handwritten. Often lost. It took 15+ hours a month to manage and sort out employee time alone. Not to mention bookkeeping. At $27 an hour, processing payroll cost me some serious time and money.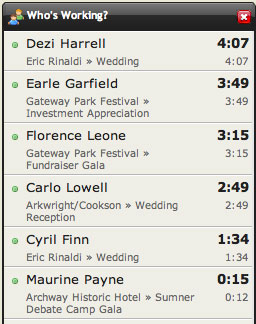 With project time tracking, I always felt a step behind
"

Now, I can see what's happening in real time—and respond accordingly.

"
I just didn't know how projects were going, until it was too late. At any given time, I wanted to know where my employees were working, on what projects, and for how long. A pipe dream? Not with TSheets. The Who's Working feature shows me what's up with my employees in real time, no matter where work takes them. So I know what projects are profitable, and what needs shoring up.
Mobile employees made time tracking rough going.
"

TSheets tracks time anywhere, from any device. Seamlessly.

"
Our employees are spread out. They're switching jobs and locations regularly. They're performing different tasks for different clients. But whenever and wherever work takes them, my employees have time tracking covered. Everyone has a cell phone, and TSheets has iPhone and Android apps, text and dial-in options, even GPS time stamping. In the office, they can use a computer, laptop or tablet. Even offline, people can clock in, then it syncs up when web connected.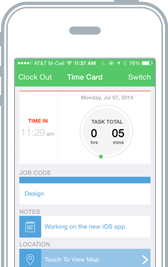 Payroll took forever, and timesheets never really added up.
"

TSheets has sped up billing, and made less work for us.

"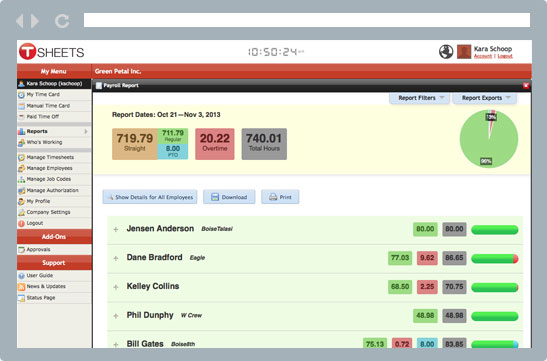 Billing efficiencies are a big deal here. If someone turns in a time card two weeks late, that's a missed billing opportunity. Now, we never have to wait for employees to turn in time. We can actually read online time cards as they come in. And we can sync to QuickBooks in one click. That's huge for us. It's quicker for us to find mistakes and establish accuracy controls. In a snap, TSheets eliminates payroll errors, reduces overtime expenses and increases job costing exactitude.
Everyone claims great customer service.
"

With TSheets customer support, you have some serious back up.

"
Too often, when you need help, it's a call center in a far-flung country where they only vaguely understand the product. TSheets is amazingly different. The customer service crew is based at TSheets HQ, and on hand anytime, even with an online help center. They're smart and relatable, and understand the heart of what makes TSheets tick. From set-up to add-ons to webinars to little questions that come up, they help turn employee time tracking into a positive experience and a powerful tool for business.
It's a numbers game, but it was tough getting timely reports.
"

Now my bookkeeper loves me. My accountant too.

"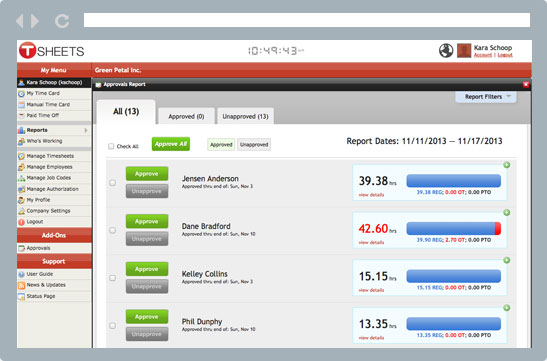 My accountant wants reports in QuickBooks. My bookkeeper wants straight data. Luckily with TSheets, they can both get exactly what they need, the way they need it, whenever they want it. Instant and up to date, TSheets reports that work across formats and platforms. With instant syncing to QuickBooks, we can utilize our favorite reporting options there. Or simply use the payroll, approval and other reporting options from TSheets. We finally won the numbers game, for good.
So start your free trial now.
Get going in seconds. No credit card required. And save time and money in the long run. TSheets is the #1 employee rated and requested time tracking software on the planet. Find out why. Sign up now.
Start My FREE 14-Day Trial
Don't just take my word for it.
I have just loved working with the TSheets team and the solution and mobile apps are great too. So much better than what we were doing before. The integration with QBO is easy...thank you TSheets & the TSheets customer service team! I have much faster insight into the status of our consulting projects and my team loves to use TSheets for its ease of use! Co-Founder, CEO for Coil Group