TSheets' Life Story
TSheets isn't your typical Saas company. You won't find a dress code, but you will find TSheets shirts, socks and hats around every corner (especially on #TSheetsTuesday). You won't find a recruiting mandate, but you will see employee's social media platforms explode with every new job listing. And you won't find a single corporate policy, but you will find unopened cans of Pabst Blue Ribbon on almost every employee's desk, proudly proclaiming our company's core values.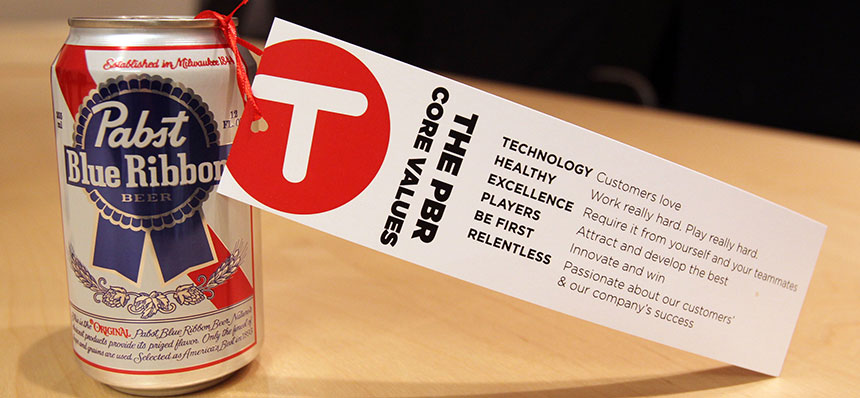 And we've done it on our own terms. We took a hard pass on sky-high Silicon Valley office space rent and salaries to set up shop in the unlikely tech hub: rural America. It's allowed us to operate lean and profitably which in turn has drawn attention from VCs and investors from around the nation. Only after nine years of remaining scrappy, fiercely independent and profitable did we agree to bring on a growth equity partner to recruit and develop top talent, enhance our product offering and to accomplish our relentless mission to become the No. 1 employee rated and requested time tracking and scheduling software on the planet.

We're proud to stand out from the crowd in other ways too, with a cloud-based time tracking app that employees actually love and use (with 2,000+ glowing customer reviews, you don't have to take our word for it). While we've enjoyed 100 percent growth year-over-year for the past three years, and made a name for ourselves as a top-rated app in more than 100 countries (all from rural Boise, Idaho), we're growing with a goal that is unwavering: Bringing employees a time tracking and scheduling solution that makes their lives better and easier. Because, at the end of the day, TSheets isn't just about tracking time—it's about making time count.
"You know you've made the right choice for your business when you can't decide which is better: the product or the amazing individuals behind the product. Go TSheets!"
Founded

2006

Employees

100

Countries Served

100+

5-Star Reviews

2,000

Timesheets Processed

124,412,713
The TSheets HQ is Located in the Heart of Idaho
The Potato State is where TSheets' employees pour their hearts into what they do every single day.
As a company we embrace that which inspires individual growth and, more importantly, cumulative greatness as a team... and not to mention having fun while we're at it! Here are a few amusing, and useless, facts about Team TSheets.