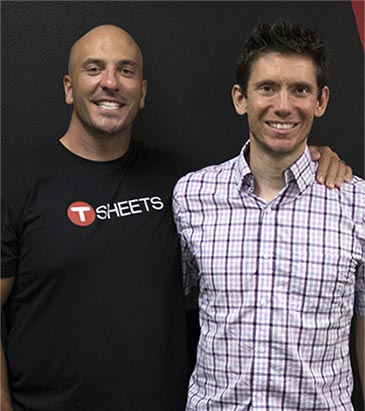 The Two Guys Who Originally Made It Happen
The lightbulb moment that sparked TSheets came amidst day-to-day operations of Matt Rissell's former business. With multiple locations and employees constantly on the go, tracking down timesheets—not to mention where and what employees were working on— became a nonstop pain and a productivity killer for Matt and his bookkeeper. Matt wanted online timesheets that offered speed, accuracy, mobility and real-time business-relevant details. So he went on an extensive search, and found nothing that quite did what he knew it could do. So he recruited genius programmer, Brandon Zehm, to create a custom solution and join him in developing TSheets from the ground up.
The Ones Who Get Credit For Making It Happen
Matt and Brandon truly are brilliant (just ask their moms) and are true believers in surrounding themselves with the best and the brightest. Enter Executive Team:
Matt Rissell
CEO (aka Grand Master of Everything TSheets)
matt@tsheets.com |@mattrissell
Matt Rissell is the CEO and co-creator of TSheets, his sixth successful startup venture. A proven expert on time tracking technology and productivity best practices in the online age. His specialties include startups, leadership, new divisions, high growth opportunities, corporate sales, and strategy. He serves as part of the Idaho Technology Council (Executive Committee); ITC Software Alliance (Past Chair); Vistage CEO Network (Member); and the Boise State University Computer Science Dept. (Advisory Board). A public speaker in the US and beyond, Matt is also a former co-host of the business radio show, The Voice for Small Business. He is a winner of the 40 Under 40 Award, Franchisee of the Year, and President's Cabinet for Verizon Wireless. A Colorado native, when he's not working, he enjoys spending time with his wife, his three children and his Weimaraner – bird hunting, bowhunting, fishing, and enjoying the beautiful mountains in Idaho.
Fun Fact
Matt has his pilot's license, but the marketing team refuses to fly with him.
Brandon Zehm
CTO (aka Grand Mastermind of TSheets Development)
Brandon is a brilliant software architect and the brains behind the technology at TSheets. He has been offered massive compensation packages from the who's who of US tech companies, but has a die-hard entrepreneurial spirit, thirst for adventure, and adrenaline junkie attitude that keeps him focused on building TSheets. Brandon maintains a legion of loyal Linux/PHP followers due to the popularity of past apps he's developed along with his willingness to give away the code for free. Brandon gets his adrenaline fix from hard-core hobbies like cave exploring, skydiving, and climbing every mountain that whispers his name.
Fun Fact
Brandon speaks Japanese.
Jennifer Hetherington
SVP of Marketing (aka TSheets Wonder Woman)
jennifer@tsheets.com |@jhetherington
Jennifer is an innovative marketing leader with more than ten years experience, including eCommerce, B2C, and B2B. With a Master's in Social Psychology, Jennifer has a heart for people and a track record of developing and leading high performance marketing teams. Once a true Southern Belle, Jennifer has found that a feast of cornbread, turnip greens, black eyed peas, and ham steaks are enough to bring a family together. Outside the office, Jennifer enjoys spending time with her husband, 16 year old son and 12 year old daughter. You'll find her hitting the weights at the gym and running the occasional 5K race, usually in support of a great cause.
Fun Fact
Jennifer LOVES shoes. In fact, she has over 200 pairs!
J.D. Mullin
SVP of Engineering (aka Czar of Research and Development)
Head in the clouds? In the case and career of J.D. Mullin, most definitely. A software architect and development expert with 15+ years of experience in the field, J.D. previously worked for WhiteCloud Analytics and Sybase. He loves leading the charge in the expanding realm of cloud-based technology—and lending his elite experience to rocket launch Idaho-based software companies. Now behind the scenes of our iPhone and Android apps plus other innovative initiatives, J.D. also speaks at BSU and created a program called CS Extras that helps students interact with industry professionals. A husband and father of two toddlers, he spends a majority of free time chasing them around, but enjoys camping, dirt biking and brewing beer too.
Fun Fact
J.D. is a bonafide brewmaster is his spare time.
Amy Bailey
SVP of Finance and HR (aka Number Cruncher)
Smooth operator. Responsible for all finance, human resource and building operations at TSheets, Amy is a proud Idaho Vandal who spent 8 years in public accounting with Coopers & Lybrand, and more than 20 years with both public and private, high-growth, technology companies like Extended Systems, ProClarity, Microsoft and Silverback. Her key role here is to make the entire enterprise run smoothly, so our crew can stay hyper-focused on helping our customers journey into greatness. An original tomboy who grew up with three brothers, Amy loves to stay active. She road and mountain bikes, crushes at tennis, plus cooks and bakes like a champ—the ultimate way to get back those lost calories. She has two kids and lives with her husband and English Mastiff named Scout in a still-being-renovated North End home.
Fun Fact
Amy is good at tennis....like really good.
Mario Joy
SVP of Sales and Customer Experience(aka the Customer Champion)
Mario joined TSheets with more than 15 years of experience in customer support, success, implementation, renewals, and accountant management under his belt. He is passionate about delivering exceptional customer service and hospitality while increasing customer satisfaction. Noticing a trend here? Mario is all about the customer -- which made him the perfect fit to lead our customer experience team.
Originally from the sunny shores of Los Angeles, Mario made the big move to North Carolina several years ago before relocating and starting his latest and greatest adventure right here at TSheets in Idaho. In his spare time, you can find him hanging out with his wife, Lori, and their two kids, living life to the fullest and experiencing everything Idaho has to offer!
Fun Fact
Mario spent over seven years at Blackboard overseeing the customer lifecycle.
Kyle Jenke
SVP of Platform and Business Development (aka The Biz)
Kyle leads platform and global business development at TSheets. He tells partners that TSheets will be the best partner that they've ever worked with, which is a commitment that we take seriously. This commitment starts day one with the partnership and continues with each customer that we serve
Outside of the office Kyle enjoys traveling and spending time with his wife, Anna, and friends & family. You'll find them exploring all that sunny California has to offer including camping and hiking in the beautiful Santa Cruz mountains.
Fun Fact
Although returning to his native California roots, Kyle lived in Hong Kong for 4 years where he competed in the Hong Kong international badminton tournament (and lost badly in the first round!)
Matt Rissell

CEO

Brandon Zehm

CTO

Jennifer Hetherington

SVP of Marketing

J.D. Mullin

SVP of Engineering

Amy Bailey

SVP of Finance and HR

Mario Joy

SVP of Sales and Customer Experience

Kyle Jenke

SVP of Platform and Business Development
The Ones Who Actually Make It Happen
It's true. These people make the magic happen. Every day.