Best Time Tracking App for Android

App Employee Time Tracking "Know How" Meets GPS "Know Where"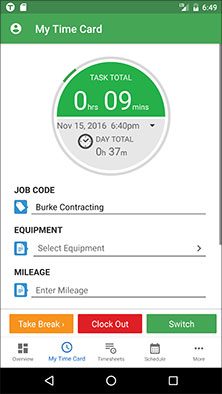 Track and Submit Time From Mobile in One Touch
A time tracking app that is simple and easy to use
Track time using a device your employees are already familiar with and use regularly: Their Android phone. Using TSheets' time tracking app, starting, stopping, taking a break, switching tasks and submitting time is literally a touch (or click) away. And with an app that remembers your recently used job codes and allows for PTO and timesheet submission on the go, taking care of business just got that much easier.
No scrolling through menus or jostling with drop down buttons — employees can simply open the app, click on the job code, and start tracking time. A icon in the status bar reminds them they are still logged in, and using that same one–touch functionality, they can also change job codes or projects, clock out, take a break, request PTO, add notes to their timesheet or submit time for review.
Why Customers are Loving Our New Android App

Android Time Tracking App with GPS
GPS stamping tracks employees on the go
Employee Safety
Real-time Location Tracking
Job Site Management
When employees are clocked in, GPS information is recorded using the Android time clock app and sent to TSheets to be attached to the employee timesheet. With or without cell service, employee locations are continuously recorded at ten minute intervals when on the clock. When an employee clocks out, their timesheet updates with both time and location, and GPS time tracking turns off.
Show Me the Benefits (and myths) of GPS Time Tracking
Frequently Asked Questions About GPS Tracking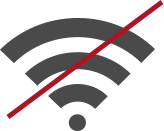 GPS Time Tracking When There Is No Signal
A time tracker that stores data while out of service and syncs when back online
The world awaits, and employees may occasionally be out of service. Fortunately, with TSheets' Android time tracking app, offline never means time or GPS tracking is unavailable.
Regardless of cell service, employees can clock in, clock out, change job codes, add notes and still maintain GPS tracking. The time and location data is stored offline on the employee's device, and once back in service, it takes a simple click to "sync" to immediately send their timesheet data back to the office.
Manual Time Entry
An alternate way to track time on your Android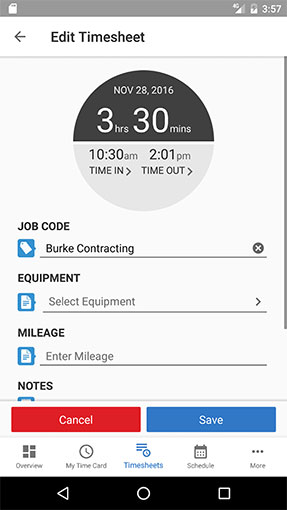 When real-time tracking doesn't fit, an employee can create a new timesheet and manually enter their hours using the Android time tracking app. When entering hours manually, an employee still chooses the appropriate task or job code and has the option to add notes.
A manager with employees using the Android app to track time, can use the TSheets web dashboard to identify manual entries made by employees, versus hours tracked in real-time, and can review prior to approving for payroll.
Edit Timesheets While On-the-Go
Added convenience for the manager and timesheet accuracy for the employee
A timesheet can easily be edited using the TSheets Android app. When on the clock, an employee can switch job codes or add notes (the TSheets app remembers your recently used job codes to make clocking in even faster!). When off the clock, an employee can choose a previous timesheet to edit from their Android, and make changes as needed. All changes are saved and synced to the home office. The timesheet change details can be viewed by managers or administrators in the timesheet logs, at any time.
Crew Time Tracking App
Managers can clock in individuals or the whole crew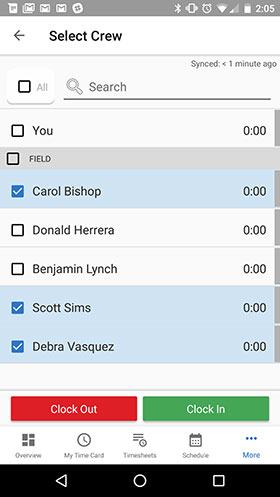 Just when the TSheets Android time tracking app couldn't get any better, it did. No need for crew members to track their own time, when a supervisor can now easily manage their timesheets for the group. Within the app, a supervisor can clock a crew (or the workers individually) in or out to specific tasks or projects, and even add notes. The supervisor can then view the groups they manage, see which employees are working and on what, view day and task totals for their crews and more. No need for a separate crew app, when using this Android time tracker for crews.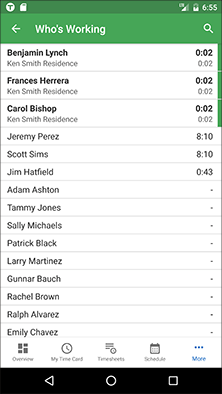 More Insight and Control
Add customers, jobs and see who's working while on the go
Insight into who's working and where, is a nice plus when you're supervising from the field.
Now you can add jobs or customers to TSheets while on the go as well - all from your TSheets app for Android. Just another tool in your time tracking tool belt, for added insight and control while on the go.
Customer Love
"

Excellent for small contractors! Our company had been struggling with how to reign in the utter craziness that was payroll. After a short search, we found this system, and it seemed to be totally tailored to our needs. Once TSheets was put into use I feel that has been proven. We have found the program to be

adaptable

to our ever changing office and bookkeeping needs. The out–of–office field crew have found it and they say it makes keeping (and reporting) accurate work hours very simple.

"

We calm
"utter craziness" VIA Google PLay
"

I run a construction company with 20 employees and multiple projects. Job costing employees time manually was becoming impossible. TSheets was the only thing that I could find to keep time and job codes. Employees clock in by text, and change job codes when they move to a different project. At the end of the day I have a report with hours and jobs, my daily paperwork for time keeping is 5 min.

"

VIA Google PLay
nicely put

"

A

simple

way to track my hours.

"

VIA Google PLay
"

Easy to use

, mobile enabled, great customer service. I have just loved working with the TSheets team & the solution and mobile apps are great. We are a consulting company & the integration with our customer invoicing process is tight, the mobile apps are useful and everything is going great.

"

via google play
"

I love how this syncs up with my online account.

I'm lovin it.

"

via google play
"

Great customer service and a great program at a great price. TSheets combines a wealth of features with ease of use and great friendly customer service. Reliable and easy to use time tracking software has always been a requirement for us. We've used a number of them through the years. TSheets is the easiest to use by far. I am excited to explore the other add-ons, besides the all-important QuickBooks integration, which by-the-way is top-notch.

"

T Edwardson, ringoes
east amwell township, NJ
Stop!
Before you go anywhere...
See How Much You'll Save Each Year:
(based on your number of employees)
Annual Savings from Time Tracking
Based on APA, savings is about 2%
We've even deducted the approximate cost of TSheets
We Save Approximately $2000 per month! - Todd Dawalt, Leak Eliminators