<< Back to App Marketplace

How profitable is your business? Find out with easy, intuitive job costing through TSheets + Insperity.
---
Features
How profitable is your business? Find out with easy, intuitive job costing through TSheets + Insperity. Simply sync timesheet data from TSheets with a click to inform Insperity on accurate labor costs, and voila! You're now armed with an intuitive, easy-to-understand dashboard that combines accurate-to-the-second timesheet data, revenue, and the costs of overhead and materials. Easily monitor your company's overall financial health, pinpoint how much any given employee, project or service is moving the needle in real time, then adjust pricing and allocate resources where they matter most.
Benefits
Get the big picture at a glance. With Insperity, it's easy to see real-time, accurate revenue and costs at a glance from one intuitive, easy to read dashboard, giving you a bird's eye view on the financial health of your company and assets. Which jobs, clients, employees and projects are most profitable? Now you know with just a click.
Know your true costs. Account for all your costs to determine profitability and loss, including overhead, materials. and your biggest expense: labor. By using actual employee hours through TSheets, you'll get a guesswork-free, accurate-to-the-second picture of profitability.
Manage resources more effectively. Optimize people and profits by using TSheets to track labor costs against job codes, projects and clients, you'll gain a clear picture of which employees, jobs, customers, or departments are most profitable and allocate resources accordingly.
Turn guesswork into actionable insights. Does your pricing need an adjustment? Is employee productivity lagging? When all costs are accounted for, which jobs are most profitable? Job costing through Insperity turns guesswork into real, actionable insights.
Insperity Pricing
Sign up for a 60-Day free trial for 1 user.
Basic Plan from $49.99/mo for up to 10 users.
Get Started with Insperity
---
"

Without a clear understanding of labor costs that Insperity Reveal Job Costing provides your business, you lose out on the potential to optimize and grow profits!

"

- Stephen King President, GrowthForce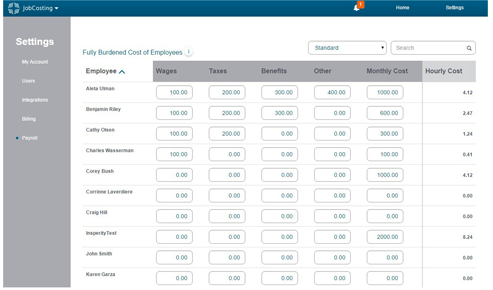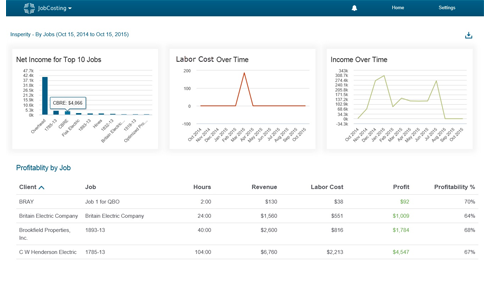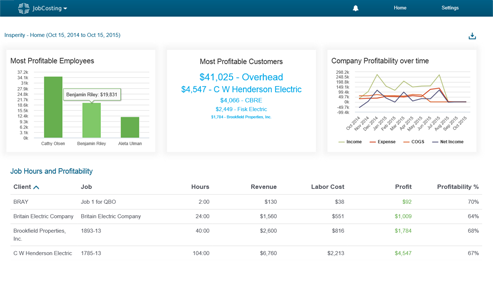 << Back to App Marketplace
Stop!
Before you go anywhere...
See How Much You'll Save
Each Year:
(based on your number of employees)
Annual Savings from Time Tracking
Based on APA, savings is about 2%
We've even deducted the approximate cost of TSheets
We Save Approximately $2000 per month! - Todd Dawalt, Leak Eliminators