Get to Know: BuilderTrend
Communication
BuilderTREND does a lot of things (and we mean A LOT), but above all, it serves to connect everyone involved in a project (from the builder, to the contractor, to the customer) with every single detail—every step of the way. Featuring automatic updates and real-time notifications, BuilderTREND helps builders manage projects and collaborate with subcontractors, vendors, project managers, and customers to streamline operations. And that's just the mobile app—take BuilderTREND online and discover an entire world of project management at your fingertips.
That's what BuilderTREND is for, bringing your whole building world together in one system; to help you build more, build faster with less error, and improve your customer's' experience—so they refer you to more friends. BuilderTREND website
Compatibility
iOS and Android
Key Features
Easily document and share job logs from the field—record notes using voice to text (or your keyboard), and add a progress photo each step of the way
Assign to-do items to yourself, your workers, or your associates
Share and annotate photos and blueprints right from the job site
Use in-app messaging (fast, easy, and organized) to communicate quickly; search by topic, leave a comment, and restrict who can (or can't) see your response
Coordinate with subcontractors and trade partners—send big requests and purchase orders straight from your mobile device
Track and accept online payments
Integrations: Pinterest, Facebook, QuickBooks, Twitter, Xero, WePay, Houzz, Dropbox, Outlook, PayPal, Google Calendar—BuilderTREND is always adding new integrations.
Cost
BuilderTREND starts at $99 per month
BuilderTREND pricing is not a one-size fits all approach. We offer all of our customers unlimited users, support, training, and file storage capabilities. Our pricing is determined by the type of jobs and the number of jobs started on a monthly or annual basis. BuilderTREND website
Awards and Press
Reviews
BuilderTREND has allowed our business to grow and make communicating on all sides a much easier process.Jessica from Windmiller Homes
The software allows us to keep project records in one global location, accessible to any number of users.Eric from Red House Custom Building
All the information for builds is in one place. Multiple people can have access to all the necessary documents in one place. Messages can be sent out when selections or prints are updated/changed and everyone knows everything all at once. Nobody is ever out of the loop because of the notifications BT sends out.Cassandra from Thomsen Homes
All information can be found in one location for all aspects of a project from the initial lead, to document management, photo sharing and scheduling of a job. We truly value the customer interaction that it provides with our homeowners being able to log in and see data on their project, as well as it recording all interactions.Jennifer from Todd Whittaker Drywall Inc
Is BuilderTREND Right For You?
Pros
Facilitates instant communication, both on and off the field, simple and seamless
Keeps everyone involved with the project on the same page, and leaves a virtual paper trail in case things go south
Unlimited, free training and support
The people at BuilderTREND really set us apart from anyone else in our space. We have a dedicated team that consistently strives to be the market leader in the industry and make BuilderTREND better for our clients. Our support team and development team are second to none. We offer unlimited training and support to help our clients through and consult with them on how to most effectively run their BuilderTREND account. BuilderTREND website
Cons
Because the software is so packed with features, users might find it overwhelming—or may not use it to its full capability (which, at their higher-than-most price point—you'll want to get your money's worth!)
BuilderTREND currently requires access to wifi or cell service to function—it cannot save data offline and sync later
Key Benefits
BuilderTREND is well-suited for:
BuilderTREND is built for, well, builders. Whether you've got one job site, or 100, BuilderTREND ensures that everyone, across every project, is on the same page.
Builders
Remodelers
Specialty Contractoes
Construction Workers
Eliminates the need to "get back to the office": BuilderTREND turns your mobile device (be it iPhone, iPad, or Android) into a mobile office—making the phrase, "I'll get to is as soon as I get back to the office" a thing of the past. With BuilderTREND, you can exchange information, communicate with every single person involved in a project, and track progress instantly, from the field. Everything you need is in your pocket.
Keeps the entire team on the same page: Whether it's in-app messaging, real time markups, or the ability to comment instantly on an update, BuilderTREND keeps everyone on the same page, all the time. Workers need never wonder, "Has this been ordered?" or, "Are we approved for this?", or even, "Has this been completed?" All they need to do is take a glance at their mobile device. All the information they need to complete the project (and do a great job) is in one place.
Finish the job faster and more efficiently: Improved communication results in improved productivity. When everyone knows exactly what they're supposed to be doing, and where they're supposed to be doing, the entire job site benefits. After all, the faster you complete a job, the faster you can move on to the next site...and the faster you get paid!
Convenient In-App Scheduling: TSheets also has a fully-functional, in-app scheduling feature, so in many ways it's like you're getting two apps in one. See who's working at a glance (in real time—so you'll always know who'times available for a job), schedule by job or shift, and drag & drop shifts for scheduling on the go.
Since BuilderTREND is cloud based , any type communication is shared instantly and any information is displayed in real time. Through the utilization of multiple types of automatic notifications and being able to effectively document and efficiently locate conversations had, BuilderTREND keeps everyone on the same page. All these factors take the guesswork and potential issues out of the equation, which ultimately shortens build and remodel times. BuilderTREND website
Runner Up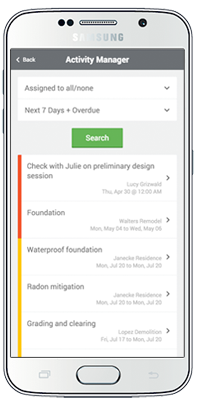 Co-Construct, like BuilderTREND, can do a lot of things, but it really excels in project management. Their focus is less communication and more project completion, and it relies heavily on customer communication rather than field worker communication. That being said, it has been described as "The industry standard for custom builders and remodelers." And we think it's a great option. Click here for a full review of C-Construct.
Tell us about your favorite communication app below!