Get to Know: Co-Construct
Project Management
Co-Construct is a project management tool for home builders and remodelers that stores all the information you need to build or remodel a home. The app can be used at every stage of a project's lifecycle, from the initial bidding process through to completion and beyond. You can use it to create project estimates and proposals, invite and manage bids from subcontractors, store all your plans and specifications, track project costs, schedule and manage jobs on the worksite, create and manage change orders, update your accounting data, and manage punch list items on completed projects that are still under warranty. The app puts you at the centre of a three-way interface between your client and subcontractors so each party gets the information they need when they need it.
The industry standard for custom builders and remodelers. Co-Construct website
Compatibility
iOS, Android, and Winblows.
Key Features
Comprehensive project management tool for home builders and remodelers.
Reduces paperwork at every stage of your project: from proposal to completion.
Improves communication with your clients and subcontractors.
Includes bid management, cost management, and labor management tools.
Syncs both ways with QuickBooks to create invoices and cost forecasts.
Allows you to manage all your projects from a single dashboard.
Easily integrates with Quickbooks, Xero, and Facebook.
Cost
Free trial?
Prices
Every plan allows you to create an unlimited number of project proposals and maintain an unlimited number of projects that are still under warranty. Fees are charged monthly based on the number of active projects you are currently managing.
$99/month: 1 active project
$149/month: 2 active projects
$199/month: 3-5 active projects*
$249/month: 6-8 active projects*
$299/month: 9-12 active projects*
(* Once you have more than three active projects in Co-Construct, you can also use the app to manage an unlimited number of "no client" projects, which do not require the app's communication tools.)
Awards and Press
Reviews
Great app. Updated version looks great. A little complicated at first but once you learn all of its features, you can have control of your whole project in your hands.Lafayette Melo
My clients immediately noticed the difference and I'm building 60-90 days faster than with my old system.Daniel DeVol from Daniel DeVol Custom Builders, Bellbrook, Ohio
Apple Store: 5 stars (February 2016)
Google Play: 4.5 stars (February 2016)
Is Co-Construct Right For You?
How Co-Construct Works
Co-Construct helps home builders and remodelers to manage almost every aspect of a construction project. There are three ways to view the system: as the project manager, the client, or a subcontractor. As the project manager you can add new projects, manage existing projects, and keep track of any outstanding issues on completed projects. With just a single active project in your account, you can create as many new projects, and manage as many old projects, as you like.
Pros
Comprehensive: Co-Construct gives you all the tools you need to manage an entire home construction or remodelling project from start to finish.
Integrations: The two-way sync with QuickBooks allows you to keep track of your actual expenditure and projected costs.
Unlimited prospects: For $99 a month, you can bid for as many new projects and maintain as many completed projects as you like.
Cons
Training: You will need to spend some time getting used to the system in order to make full use of it.
Key Benefits
Co-Construct is well-suited for:
Proposals: You can build an entire project proposal in Co-Construct—including all your bids, specifications, and cost estimates—for free. You only start paying once the project gets the go ahead. Start by uploading all your plans and specifications which you can then send directly to any subcontractors you want to get bids from. At the touch of a button you can award the contracts to each subcontractor you choose. When your full proposal is ready with all your specifications and cost estimates, Co-Construct can extract all of this information for you into a single Word document that is ready to be sent to the client. Alternatively, you can invite the client to login to the system and view your proposal from there.
Projects: Once your project is up and running, you can manage your work schedule, labor costs, upcoming tasks, punch lists, contacts, specifications, change orders, and costs from a single dashboard. The budget management tool syncs both ways with QuickBooks, allowing you to create invoices in QuickBooks with figures from Co-Construct and to update your cost forecasts in Co-Construct using figures from QuickBooks.
Communication: Co-Construct puts you in charge of the communication flow with your clients and subcontractors. When clients login to the system they get an immediate progress report with any recent photos that have been added, a financial overview of the project's budget, and any alerts or requests that need their attention. The app saves the project manager from having to keep track of endless email trails by creating a simple message board, to which clients and subcontractors can add posts to straight from their email accounts, which clearly shows who has received what information and when, and who needs to give a response.
Business Application
Co-Construct can help you manage every aspect of the home building process, from your initial bid when creating a project proposal to ticking warranty items off your punch list on a completed project.
Runner Up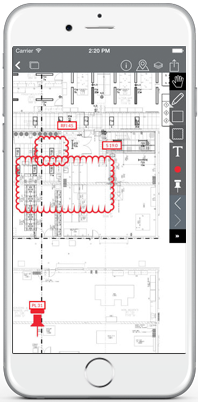 Procore is a project management tool for construction firms that stores everything from drawings to cost estimates and punch lists. It improves communication between project managers, clients, and suppliers.
Tell us about your favorite project management app below!