Construction Master Pro Review
Get to Know: Construction Master Pro
Calculations
Why carry an extra calculator when you could just carry your phone? Construction Master Pro is a calculator app built to assist in estimating, building, and bidding. The app was created specifically for construction professionals and can help you calculate just about anything. Its functionality is based on the handheld calculator that has been produced by Calculated, Inc. for the past 25 years and is considered an industry standard. For those familiar with the original handheld version, there's no learning curve—the app works the same way. Whether you're laying stairs, determining how much drywall you need, or completing the right angle calculations when framing a roof, CM Pro is your go-to app for easy, comprehensive calculations on the job site.
Compatibility
iOS and Android
Key Features
Calculate dimensional math and conversions
Right-angle tools
Trigonometry
Area and volume
Calculations specifically for roofing (pitch, squares, bundles, etc.)
Compound miters
Decimal places to the 100ths
Costs per unit
User guide in Spanish and English
Convert between all standard measuring formats (e.g., inches to feet, centimeters to inches, etc.)
Cost
$29.99
Awards and Press
Reviews
Works well, and when I had a small problem, [I] contacted the support people. I had a response in...just a few minutes and got the problem resolved easily. Get this one. It works. And they have great support.Google Play Review
This calculator works just like the hand-held units we all rely on. I tried several other construction specific calculators available for the iPhone/iPad, but found them all clunky and confusing.Bill Hillman, Owner of William Hillman Carpentry
I just started to use it, but it looks and feels like the real thing—no learning curve.Dave, Owner of Finn Fine Homes, LLC
Is Construction Master Pro Right For You?
Pros
Specifically optimized to handle construction problems
Works with or without internet/cell reception
Significantly less expensive than a standalone industrial calculator
Simple, intuitive interface that looks just like a physical calculator
Easy to edit. If you make a mistake, you don't have to start over
Free, high-quality customer support by phone, chat or email
Technically includes two apps in one (trigonometry and non-trig calculations)
Built in help guides. If you get stuck, just hold the function key for a definition or example
Cons
A few users indicate that the graphics could use an upgrade
Key Benefits
CM Pro is well-suited for:
Contractors
Remodelers
Builders and carpenters
Architects
Engineers
Advanced do-it-yourselfers
Quick calculations on the go. It's not always feasible to carry a calculator with you on the go. And why carry a calculator in addition to your phone when you'll get the same functionality? Now creating bids, layouts, or estimates is as easy as a few swipes of your smartphone.
Easy layouts: Completing a layout is a time-consuming process that is faster than ever with CM Pro. The ability to easily edit calculations without starting over means that you can quickly make adjustments as factors change.
Calculator built just for construction. Calculated, Inc. is no stranger to the construction industry. With 25+ years of experience creating calculators that have become an industry standard in construction, it's no surprise that their app has a nearly perfect rating in the iTunes Store and Google Play. The app also includes definitions, examples, and other helpful information for each calculations function.
Accurate, on-site estimates and bids. Reduce errors and make accurate, expedited estimates on the spot without having to carry an additional calculator. And with the ability to quickly and easily edit calculations, there's no need to press "clear" and start over again should the need arise. Simply swipe to clear an entry, and input the new number.
Runner Up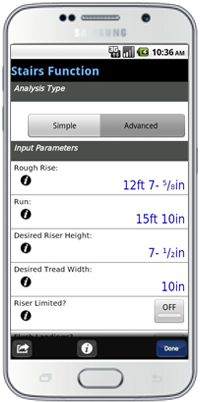 This handy construction calculator focuses on offering a streamlined approach to calculations by minimizing the number of taps required for even advanced functions. BuildCalc also recently added advanced stairs, baluster and hip/valley functions.
Tell us about your app for Calculations below!