Get to Know: Fieldwire
Task Management
Fieldwire is a task management app for construction workers that lets project leaders, foremen, and superintendents delegate jobs while they are out in the field or back in the office. From your phone, tablet or desktop you can choose whether to add the tasks directly onto the project's drawings—to show the precise location of where the work is required—or create general tasks that are not tied to a location. Either way, every task can be categorised by the trade or work involved (such as carpentry or electrical), and can include a deadline, priority level, related tasks, manpower, a checklist, photos, plus any notes you want to add.
Create and assign tasks in seconds. Fieldwire website
Compatibility
iOS and Android
Key Features
Create instant punch lists on your drawings to show where work is needed.
Assign tasks to people and alert them by email or app message.
See instantly which tasks are complete or overdue.
Navigate quickly through your task lists by location or priority.
Add detail to your tasks by uploading photos, PDFs, and other attachments.
Create daily reports to highlight progress and any outstanding jobs.
Share up-to-date technical drawings with whoever needs them.
Easily upload files to Fieldwire from any device as well as from Google Drive, Box and Dropbox accounts.
Cost
Fieldwire is free for up to 10 users on five projects, with a limit of 500 drawings.
Prices
Fees are monthly, based on the number of people who use your account. Every account can have an unlimited number of users, technical drawings, and projects.
$29/user for more than 10 users (when paid annually) on the Pro Tier.
$39/user for more than 10 users (when paid annually) on the Business Tier.
Awards and Press
Reviews
Extremely easy to navigate and manage plans. Very easy to view from smartphone or iPad.Curt Simon
Set-up is easy. I have 20+ projects running at all times and this keeps everyone working in "real time.Leslie Norton
Great product. We implemented it just to test it and it is now being used everyday.Mark Mitchell
We are using this app to access drawings on-site and track progress across the different trades. The app works great and the development team has been very reactive every time we had feedback.Aaron G., Field Engineer at Turner
Apple Store: 4.5 stars (February 2016)
Google Play: 4.5 stars (February 2016)
Is Fieldwire Right For You?
Pros
Good navigation: It's easy to sort through your task lists by category and location.
Speed: You can quickly create and assign new tasks on the fly.
Unlimited: There is no restriction on the number of drawings you can upload to Business or Pro accounts.
Cons
No videos: You can't attach videos to your tasks.
Deadlines: From the mobile app you can't sort your tasks in order of priority.
Key Benefits
Fieldwire is well-suited for:
General contractors
Subcontractors
Construction managers
Architects
Fieldwire helps you: keep your construction project running smoothly by allowing you to create, assign, update, and close punch list items wherever you are. You can also use it to create reports for an instant progress update on what has, or hasn't, been done on your projects.
Adding tasks: When you create a new task in Fieldwire, you can pin it onto a drawing or leave it as a general task that is not tied to a particular location. When you pin it to a drawing, a flag pinpoints exactly where the work is required. Either way, you follow the same, step-by-step process to indicate which trade is required, who the task is assigned to, how urgent it is, and any photos you want to include to illustrate the job.
Filtering: Once you have added your tasks, you can sort them by location or category and quickly see which tasks have been assigned to you. While a task is in progress, you can add notes and photos to show what has been done or ask questions. Once the task is complete, you can record how long it took and the cost of the work involved.
Business Application
Fieldwire is a quick and efficient task manager to use on the job site that has the added benefit of ensuring everyone is working from the correct drawings.
Runner Up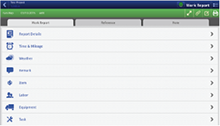 FACS Project Recorder is a mobile app that helps you to track daily progress on the job site, create punch lists, upload photos and plans, and create reports without having to return to the office.
Tell us about your favorite task management app below!