Get to Know: PlanGrid
Blueprint Library
PlanGrid is a portable blueprint library that puts all your technical drawings right there in your pocket. No more bulky paper copies to search through or costly reprints to run. Designed for construction managers, architects, engineers, contractors, and home builders, PlanGrid keeps everyone on your project on the same page by syncing a master set of drawings to your phone, tablet, or computer. It does a lot more than this too—allowing you to make notes, add photos, create punch lists, and more.
Compatibility
iOS and Android
Key Features
Take all your blueprints with you wherever you go.
Share the correct drawings instantly with whoever needs them.
Add personal or public notes straight onto your plans.
Upload all your project specifications and safety reports.
Create customised punch lists to note and resolve issues.
Make requests for information (RFIs).
Add photographs to drawings, punch list items, and RFIs.
Export punch lists into PDF reports.
Quickly measure distances and areas on your drawings (desktop only).
Upload files to PlanGrid from any device as well as from Google Drive, Box, Dropbox, OneDrive, Citrix ShareFile, Copy, and Egnyte accounts
Cost
Free trail available. Fees are charged monthly:
$39/user for 550 drawings.
$59/user for 5,000 drawings.
$119/user for unlimited drawings.
Awards and Press
Reviews
I really appreciate being able to carry ALL of my drawings, ASIs, submittals and RFIs on an iPad! This saves a lot of legwork when getting stopped by multiple subs on a jobsite because I have all of the information with me. I'm not a real tech person so when the office told me I was getting an iPad with PlanGrid, I was not interested. After a couple of days in the field, it is one of the most valuable tools I've ever had.Ronald, Creative Builders, Inc.
I really like the ease of the program [but] I don't like that in order for other to see notes or what not you have to push to master. I would rather be able to see everything and if you touch it is says who made the comment. Or even make it a option in settings to automatically push to master. A lot of our guys forget to do that process.Nicole, San Juan Insulation & Drywall, Inc.
I can hand an iPad to one of my foreman who has never used it before and within a few days he is asking how we ever got along without it.Jeff, Thermal Mechanical
Is PlanGrid Right For You?
Pros
Portable: Carry all of your drawings with you wherever you go and know that everyone in your team is working from the same set.
Good interface: The app works well on any screen size.
Includes measurements: Being able to add a scale to your drawings when using the desktop version sets PlanGrid apart from the competition by making it easy to make measurements—even of tricky, irregular areas.
Cons
File sizes: You will most likely need a Wi-Fi connection to download the drawings to your phone without using a lot of cell data. Without Wi-Fi or cell data enabled, you could also miss out on any updates your colleagues have made since you were last connected.
Sheet limits: You are limited to 550 blueprints, or "sheets", on the basic plan.
Key Benefits
PlanGrid is well-suited for:
Construction Managers
Superintendents
Foremen
Architects
Engineers
Quick Set-Up: Depending on which subscription you go for, you can upload 550, 5,000, or an unlimited number of drawings to your PlanGrid account. Prices are per user, so you'll need to know how many people you will be sharing your drawings with when you subscribe, but once you do, it's easy to add them to your account. Just create a profile for them and they will receive an email straight away inviting them to collaborate on your project by logging into the PlanGrid app on their computer, tablet, or phone. If they are using a mobile device they will need to download the app first.
Project Management: It's at this point that the versatility of PlanGrid really comes into play. As well as using it to share technical drawings, you can turn PlanGrid into a project management tool that works just as well out in the field as it does in the office by letting you create punch lists, assign tasks to people, and get the answers to any questions you have.
Collaboration: With your drawings uploaded, every user can view them and add their own notes or photos to them, but only administrators can push these amendments to everyone who is working on the project. Punch lists items can be added directly onto the drawings themselves with photos and other documents attached to provide more context, and all of this can be shared within the app itself or by sending an email to your colleagues.
Share Information: You can place your notes, documents, or photos straight onto your drawings where they're needed. You can also create links to other drawings that show the same area on a larger scale. Another handy feature is the ability to ask people questions by creating RFIs (requests for information) which can be filtered by status and user. If you need to export this list, or your punch list, you can create a PDF to save or share. You can also export your drawings, or close-up snapshots of your drawings, if you need to use them outside of the app.
Runner Up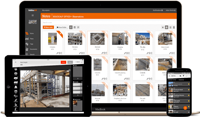 BulldozAIR combines blueprints with punch lists to enable construction workers to collaborate whether they are out in the field or back in the office. The app is free for 30 days and then costs $29, $59 or $89 per user depending on which plan you go for. Each plan allows you to add an unlimited number of projects and tasks.
Tell us about your favorite blueprint app below!