Get to Know: Raken
Daily Reporting
Raken is a daily reporting tool for construction managers, superintendents, and foremen. Use it to file incident reports, work logs, and to-do lists straight from the job site. The app is all about speed and simplicity. You can type your reports straight into your phone or tablet or let the app do it for you by recording voice memos that it will transcribe. When your report is complete, the app will create a signed PDF with all your notes and photos on it which you can share with whoever needs it.
Compatibility
iOS and Android
Key Features
Create daily, time-stamped work reports out in the field.
Include all your progress updates and safety observations.
Record climatic information and any time lost to bad weather.
Attach photos, videos, and audio files to any notes you make.
Send instant email alerts to people you assign tasks to.
Create an instant PDF copy of your report to share by email.
Cost
Raken is free for one user to test on one project for 15 days. Every plan includes unlimited projects and voice-to-text recognition. Fees are charged monthly.
$12/user for a Basic plan.
$30/user for a Professional plan, with fully customizable surveys.
$37/user for a Performance plan, with fully customizable surveys and reports.
Awards and Press
Reviews
Raken has removed the daily headache of writing everything out then transferring it to my laptop every evening.Mario Rico, Superintendent, Streamline Finishes
As a commercial construction superintendent I'm always looking for ways to become more efficient. This program has helped a lot. One place for reports, QC items, issues and photos. This app together with PlanGrid have helped me improve my time management. Try it…Gregg Wardlow, Perry-McCall Construction
We chose Raken to standardize our daily reporting efforts and to provide greater visibility to project stakeholders. We have found that Raken helps us ensure our daily reporting compliance, providing detailed daily reports for our own records and to better serve our customers.Adam Rudloff, Information Technology Officer, Sampson Construction
The implementation of Raken has truly been a game changer for Fortis, not only internally, but also in the eyes of our clients. The platform is user-friendly and simple, yet the deliverable is impressive and professional.Tim Sissel, Senior Project Manager, Fortis Construction
Is Raken Right For You?
Pros
Saves time: Record all your notes and observations in the field without having to go back to the office to type them up.
Compliance: Easy to file your reports every day and tackle issues as they arise.
Protection: The time-stamped event log creates an audit trail.
Cons
Task lists: Tasks can only be assigned to other Raken users in your account, which adds to your monthly bill.
Key Benefits
Raken is well-suited for:
Superintendents
Construction Managers
Foremen
Compliance: If you ever forget to file a report, you can quickly search through a calendar in Raken to see which day you missed. You can also use the app to create task lists and assign these tasks to any team member who has a Raken account. Everything you add to Raken is time and date stamped, which could be very helpful if you ever end up in a legal dispute.
Voice Recognition: Every account (except the free trial) comes with voice-to-text recognition. This means you don't have to type out your reports. Just say them into your phone and Raken will do the rest.
Customization: Any notes you add into the app can be categorized as issues, safety incidents, or observations and can include photos, videos, audio files, or documents as attachments. If you go for the Performance version of Raken you can go further by creating customized surveys and reports that include any questions or sections you want to add.
Runner Up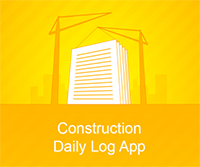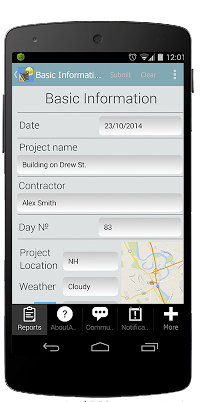 Construction Daily Log is an app that creates daily project reports. You can use it to make estimations and timesheets, add your project location, record the weather conditions, add notes, and create custom Excel and PDF reports out in the field.
Tell us about your favorite construction reporting app below!