Get to Know: Safesite
Safety
Safesite is a digital solution that allows field workers to upload checklists, conduct safety inspections, and export completed forms with accuracy and speed—all the while ensuring compliance. The app was developed by construction professionals, for construction professionals and aims to decrease the number of workplace injuries while increasing productivity. How? Using the mobile app, you can log safety hazards and observations on the spot and automatically notify responsible parties for a solution. Safesite will track and log the progress of each resolution along the way. While the app exists to save lives, it also saves paper. All forms and reports generated by the app can be seamlessly imported to the Safesite desktop application.
As a construction professional myself, I have been working for 7 days a week for as long as I can remember to design a system to revolutionize the way we look at on-site safety. Peter Grant, CEO of Safesite Solutions Inc.
Compatibility
iOS and Android
Cost
$40 per month (up to 10 users) Have 10 users or more? Contact Safesite for enterprise pricing.
Key Features
Create and complete custom inspections, checklists, and forms
Report safety hazards and observations on the spot, then assign follow-up actions and deadlines
Filter and export digital PDF reports and dynamic forms from the field instantly to internal and external parties—saving time and paper!
Generate daily and weekly automated safety reports for effortless compliance
Upload pictures to communicate quickly and effectively with everyone involved—no matter when or where
Create maintainable and serviceable plant and equipment profiles, and complete scheduled inspections against them
Awards and Press
Reviews
My team uses Safesite every day to efficiently and effectively manage safety issues on site. The time savings, compliance improvement and risk reduction makes Safesite a must for every contractor.Kyle Schoenberger, Safety Superintendent at Ryan Companies US, Inc.
As you know, many construction sites are large and noisy, and it can be difficult to track down someone when you're on site, let alone halfway across the city. Safesite keeps all people accessing it on the same page. This collaborative nature that the app is built around is invaluable for a Safety Inspector.Construction Courses
Users of the Safesite system will benefit from time savings, improve compliance, improved accountability and most importantly an improved safety culture—leading to fewer injuries.AppsForConstruction.com
Is Safesite Right For You?
Pros
Makes safety processes quick and efficient—captures information in a way that's easy to input and even easier to understand
Eliminates the need to worry about compliance—Safesite makes it easy to get the proper sign-offs without having to hunt down forms (or people)
Effectively eradicates pen and paper—saving time and, likely, your sanity
Cons
Safesite is relatively new (and still working out some growing pains), the app is still working out a few bugs, and users say it may crash occasionally
It's mobile based safety management for industries where safety comes first. Safesite Solutions Inc.
Key Benefits
Safesite is well-suited for:
Construction workers
Contractors
Miners
Oil & gas professionals
Workers in infrastructure
Reduce workplace injuries: Safesite is the safety app that saves lives—and it all stems from increased (and intelligible) communication. In the past, safety inspectors and construction foremen were forced to carry a pen and a clipboard—on which they would record their safety observations. Unfortunately, they aren't well known for having immaculate handwriting, and by the time the inspection was done, the clipboard disappeared (from both the job site and the workers' minds). With Safesite, those same safety inspectors and foremen can clearly note safety hazards and observations digitally—and instantly share them with their crew. Accompanying photos ensure that everyone understands the situation, and Safesite ensures that the hazard isn't forgotten until it's taken care of. All that combined helps construction crews everywhere develop a culture of safety—effectively reducing workplace injuries.
Increase productivity: Safesite claims to have the ability to increase your site safety productivity by an average of 38 percent. How? By streamlining those time consuming safety tasks and allowing them to be completed on the go! When every form, checklist, and inspection note you need is in your pocket, you won't waste time searching for the correct (or lost) sheet. Once you're done, you can easily export your files has a high resolution PDF and send it to any responsible parties—all from your mobile device.
Achieve safety goals: Here's where it gets really good. All the information you've collected from the field (from the Safesite app) is compiled on your Safesite desktop dashboard. Log in from any computer with an internet connection to instantly access in-depth safety reports about your specific projects. Use those reports to conduct powerful analysis, make informed decisions, and increase the safety of your worksites! With live safety data at your fingertips, Safesite outlines the safety procedures required to raise your grade, lower your insurance premiums, and improve compliance.
Runner Up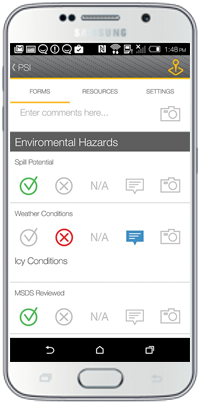 SiteDocs: Like Safesite, SiteDocs believes (wholeheartedly) in digital workplace safety—and it feature many of the same capabilities. However, their focus is more "safety documents" and less "safety hazards." If you need custom forms, safety docs, and a way to track worker certifications, SiteDocs could be just the ticket.
Tell us about your favorite time tracking and scheduling app below!