Get to Know: TSheets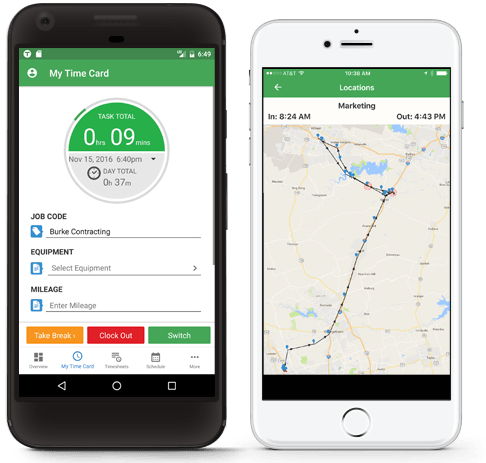 Time Tracking and Scheduling
TSheets is a cloud-based time tracking and scheduling app that allows your employees to clock in and out from the job site with the devices they've already got in their pockets. Accurate, electronic time data replaces paper timesheets and makes payroll and invoicing faster and less costly. TSheets also accurately tracks time and GPS points (even without cell or internet service) then automatically syncs when back in service. Many construction companies use it as a cheaper, functional alternative to geo-fencing. With a "Who's Working" feature, it's easy to see where each member of your crew is and who's working on what. TSheets also features in-app Scheduling that allows you to drag and drop shifts, assign jobs, see who's working at a glance, and send alerts to managers if employees haven't clocked in for a job or shift as scheduled.
Compatibility
iOS and Android
Key Features
Lots of options to clock in or out. TSheets is compatible with Android and iPhone, and there are even dial-in, text and Twitter clock-in options.
Reduces time theft and guesswork
Eliminate manual time entry to improve accuracy
Timesheet prompts in Spanish and English
In-app scheduling so employees can clock in and out of assigned jobs seamlessly
Easy, accurate job costing to estimate projects using real-time labor expenses
Overtime alerts to proactively manage costs
Uneditable audit log of all timesheet-related activity
Easy for employees to log and submit time (and PTO)
GPS tracking while employees are on the clock
Breaks feature that lets managers know when employees are on a break
"Who's Working" feature allows admins to see who is on the clock and where employees are
A host of mobile management options for workers on the go or at multiple job sites
Calculate your estimated payroll savings
Cost
$4 per user/month, and a $16 base fee (when paid annually). Add Scheduling for $1 per user/month (when paid annually)
Awards and Press
Reviews
Intuitive, easy to use time tracker with unlimited free phone or online support. Employees can track time anywhere using an Android or iOS mobile phone, computer, tablet, text, dial-in number and so much more with clock in/out punch card or manual timesheet flexibility.Capterra
TSheets has really helped save my company money. Billing time and materials work is a breeze, and there's no more hunting down timesheets. This system has been a gift.Jennifer, One Call Construction, Inc.
TSheets makes billing easier and more accurate than before, and our clients love the transparency!Greta Heinz, S. Heinz Construction
QuickBooks Pro Advisor PickIntuit App Center
The TSheets program has made payroll very easy and billing easier too. I can tell where they are working and when. Plus, the customer service is outstanding!Via apps.com
Is TSheets Right For You?
Pros
Intuitive dashboard for employees (basically no learning curve)
Essential for employees on the go or without cell reception
Improved accuracy and efficiency by eliminating manual data entry
Faster payroll (estimated to save you 2-8 percent on gross payroll costs alone)
Free, unlimited customer service
Industry knowledge (TSheets' customer base is construction-heavy)
Free employee training and onboarding, if you have skeptical employees
GPS and a "Who's Working" window for better employee oversight and accountability
In-app scheduling for seamless time tracking and job scheduling
Great alternative to geo-fencing
DCAA/DOL compliance features
Helps curb buddy punching
Cons
Employees may initially be hesitant to adopt mobile time tracking; however, after using the product, they are quick to adapt and even embrace the technology (after all, TSheets' tagline is "We <3 Employees"
Key Benefits
TSheets is well-suited for:
Remodelers
General contractors
Builders and carpenters
Service companies
Manufacturing
Excavation and heavy equipment operators
Construction suppliers
Commercial and residential contractors
Architects
Fast, Easy Payroll, Billing and Invoicing: Time is tracked and approved in TSheets; so with one click, you can easily export employee time to QuickBooks or your favorite accounting software and run payroll, create invoices, or bill clients.
Simple Crew Management Tools: Using TSheets' Crew App, supervisors are able to clock the entire crew in (or out) in seconds. No more inaccurate or inefficient time tracking at the job site. Easily keep track of who is on the clock and if anyone is close to overtime.
Easy Job Costing: Using TSheets, employee hours are always ready and available, in down-to-the-minute detail. That means labor information at your fingertips for project estimates, invoicing, payroll forecasting, decision making and more.
Overtime Alerts and Clock In/Out Reminders: Overtime Alerts can be sent via email, text, or Twitter to individual employees or groups when approaching daily or weekly limits. Clock In/Out Reminders can be customized to groups of employees or individuals for a friendly nudge.
Convenient In-App Scheduling: TSheets also has a fully-functional, in-app scheduling feature, so in many ways it's like you're getting two apps in one. See who's working at a glance (in real time—so you'll always know who'times available for a job), schedule by job or shift, and drag & drop shifts for scheduling on the go.
Tell us about your favorite time tracking and scheduling app below!