If you're feeling burnout, you're not alone. A new survey, commissioned by TSheets, of 500 Canadian employees reveals many feel overworked, underpaid, and in serious need of some time off.*
Overdue for overtime pay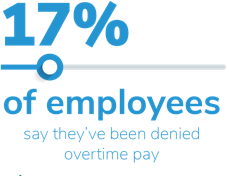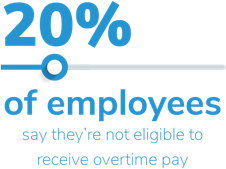 Over half (59%) of respondents say they receive the overtime pay due to them, but that still leaves 41% denied. Whenever an employee legitimately works overtime, they are entitled to the appropriate pay or time off in lieu thereof. An employer cannot assert the overtime was not authorized and refuse to pay for it.
There is also a common myth that salaried employees are not entitled to receive overtime pay. This is not true. Canada's overtime laws vary from province to province, but both hourly and salaried employees can be eligible for 1.5 times their normal pay when they work more than 40, 44, or 48 hours a week. Some are eligible for overtime when they work more than 8 or 10 hours a day.
Annual leave entitlements
There is no statutory entitlement to annual leave in the first year of employment. Provincial law governs annual paid leave, but all provinces guarantee at least two weeks of paid vacation earned after one full year of employment. The only exception is Saskatchewan, which mandates three weeks as the baseline.