Time Card App
Time Tracking on the Job Site for Crews
Time Clock App Saves The Day for Crew Managers
Put the time tracking power in the crew manager's hand
Are your crew supervisors tired of handling illegible or inaccurate employee time cards? Tracking time, switching employees to different projects, keeping track of who is on break, who left early, and more? Welcome to the easy life of TSheets Crew Time Card App; the only mobile time card designed with the crew boss, the crew, and the smartphone user, in mind.
Whether running a construction site or a contracting business, supervisors can easily use an online time card to group employees into crews, efficiently move a crew to a different project or job code, and clock an individual or an entire crew in or out. Both the supervisor and home office can easily see which crew members are currently working and where, the crew's day and task totals, and more, with only a few taps on their smartphone, or a quick glimpse of their TSheets Web Dashboard. And no matter where you track time, you can import all time worked to QuickBooks or ADP.
Don't have a smartphone? No worries, you can text or tweet your crews' time too!

GPS Powered Time Card App
It's like a cheat sheet for the employee version of "Where's Waldo"
Save searching through the masses for the man in the red and white striped hat. Knowing where your employees and crews are working improves payroll and job costing accuracy, ten fold.
GPS location points are attached to employee timesheets when supervisors clock in their crews, in real time. (Hint: it's the perfect construction timesheet!) When the crew is clocked out, GPS tracking is turned off. This type of communication between the home office and the employees translates to reduced overtime costs and increased workplace productivity. Forget Waldo, where's Benjamin? (Franklin, that is).
Call Off the Search. Learn How GPS Tracking Benefits Employers and Employees
Employee Permissions are Yours to Decide
Some have it. Others don't.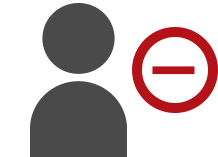 As always with TSheets, we protect the employee and the employer. The Crew App is designed for supervisors or managers, and therefore cannot be used without permission. Permissions are activated through a company's TSheets Web Dashboard, and can be customized for each supervisor or employee. These safety measures guarantee that only employees given specific permission to manage others, can clock others in and out - and only managers can create and edit manual time cards for their crews.
Managers Track Time for 18% of Employees
More than a third still use spreadsheets and paper time cards
Research published in 2017 reveals that 18 percent of U.S. employees rely on a manager to track their time for them but that only 1 in 4 has access to a time card app. 38 percent still track their time on paper time cards, spreadsheets, and punch clocks. The survey of 1,000 U.S. employees also found that 75 percent say they need to be able to categorize their time by jobs, clients, or locations.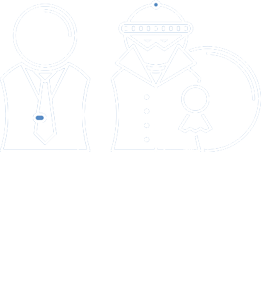 Offline Time Tracking for Crews
Accurate employee time cards even when you are out of service
The Crew App is ready to go wherever work may lead - regardless of phone service. A supervisor can clock in, clock out, change job codes and add notes using the TSheets Crew App, and the timesheet data will be stored offline on the supervisor's device. Once back in service, the supervisor can easily click "sync" to immediately send the time card data for the entire crew - back to the office.
The world awaits. Fortunately, with TSheets' Crew App, supervisors and their crews have an offline alternative.
A Time Card App Android Users Love
Clock in one, clock in all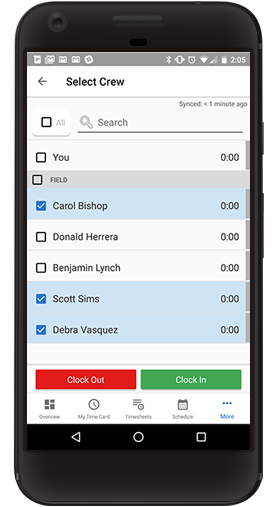 TSheets takes time tracking to the next level for Android users, delivering individual and crew time tracking capabilities all in one place. Using TSheets Android app, a supervisor can clock in or out an entire crew (or individually as needed), view the crews they manage throughout the day, review day and task totals, what project and location each member is clocked into, and more.
It's fast, easy and accurate time cards for busy crews, supervisors and business owners - all using one simple app on their Android.

Manage Your Crew from an iPhone
Clock employees in, switch job codes, and clock employees out

Customer Love From the Field
"

If you believe in something, you just can't stop talking about it. Other friends in construction see the app on my iPhone, and I'm like, check this out. I probably should have been a salesperson for TSheets!

"

Fred, Integrity Builders
"

Just the fact that we don't have to wait for employees to turn in time, and that we can actually read the time as it comes in is huge for our company.

"

TRacy, specialty supply
this is not the only person
who has said this...

"

Economical, easy to use, and

best customer service

! I started looking for a mobile app for our construction business. It was challenging to say the least with all the laws and workmans comp rates I needed to track. TSheets was the answer, and it was an absolute wonder to be able to track each employee with the job they were on, and the workmans comp class of work they are doing! It doesn't do all the calculations on that part, but I was thrilled to be able to import to a spreadsheet with the calcs set up. When I called Customer Service they were the best I have ever dealt with! App is easy to use, approvals by managers is easy, and setup is very easy.

Love this app

"

babr61,

Via apps.com
"

Game changer.

Extremely easy to setup and use....pays for itself week after week. Reporting is great. Highly recommended if you have guys in the field like we do.

"

HD2020,

Via apps.com