DOL and DCAA Compliance
How TSheets Makes Compliance With DCAA Timekeeping Requirements Easier
When businesses win government contracts it's often essential for their timekeeping to be compliant with the Defense Contract Audit Agency (DCAA) or Department of Labor (DOL) regulations.
DOL- and DCAA-compliant contracts require daily time tracking, precise records with audit trails for all changes, extensive reporting, specific supervisor approvals and more, in the case of a DCAA audit.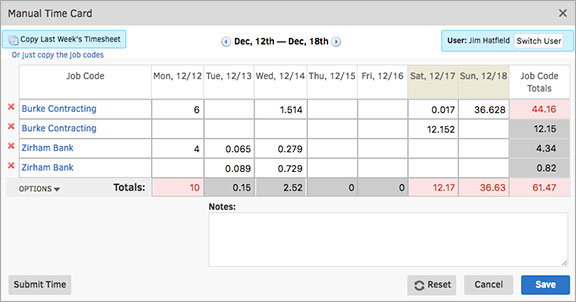 Manual Time Entry
For a complete DCAA audit trail
The TSheets Manual Time Entry feature can help protect your business with the timekeeping, management and reporting capabilities you need to comply with the regulations. It will help you track daily labor costs on a project–by–project basis and tackle one of the most complex areas of DCAA compliance by creating a detailed audit trail.
How else does TSheets help you stay DCAA compliant?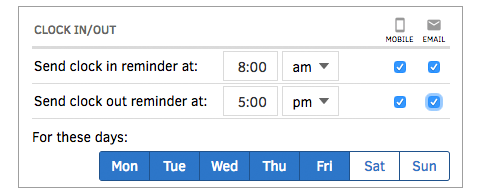 Daily Reminders
Keep every time card up to date.
DCAA compliance requires daily time tracking by every employee and for managers to approve their hours—whether they are working on the DCAA contract or not. To make sure this happens, TSheets has added a new feature at no extra cost which sends daily email alerts to every employee to remind them to submit their hours for their manager's approval.
Overtime Alerts
Reduce your labor costs

DCAA regulations require that you calculate labor costs on the total number of hours your employees work—even if they are on a salary. This means you need to keep a close eye on everyone's overtime. At no extra cost you can set up automatic alerts from your TSheets account to let your administrators and employees know when your daily or weekly limits are approaching.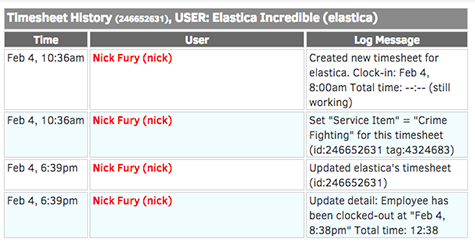 Audit Log
Be ready for DCAA inspections
If an employee or manager edits a time card after it has been submitted, the DCAA wants to know who made the change, when it was made, and why. TSheets' Manual Time Card creates an uneditable audit log that provides a locked record of all the additions, deletions, approvals, and modifications that have been made to your employees' timesheets.
Detailed Reports
Get the big picture at the touch of a button
TSheets' powerful reporting system is easy to use and gives an instant overview of your hours broken down by client, project, team, and employee. The intuitive dashboard also shows who has submitted their time and which time sheets are waiting for approval. If you get audited by the DCAA, you can produce a record of all your time data at a moment's notice.
TSheets Simple Time Tracking Allows You To...

Web-based, secure, and accurate time tracking
Use TSheets Manual Time Entry via desktop, laptop, tablet or smartphone
Configurable approval users
Backup/proxy approvals
Employee, supervisor, admin approvals

Audit trails of all modifications
Audit trails of timesheet corrections or adjustments
Time and date stamping on submissions and approvals
While it comes down to individual responsibility, TSheets provides accurate timekeeping of employees (even on the move) and accurate approvals of supervisors - helping you stay DCAA-compliant.*
What the Experts Are Saying
"

From a time tracking point of view I think we are in a perfect position for a DCAA auditor to come in look at what we are doing. Because we are always working hard to ensure everyone is entering their time correctly every day.

"

Ken Malach

PRESIDENT AND COO, CRI Advantage
"

Many timekeeping companies offer expensive and complicated packages and software that claim to be DCAA compliant, but that really only complicate the day-to-day tracking, management and reporting it takes to protect against audits in the real world. TSheets is different. It's easy for supervisors and employees to use and understand, while providing the pinpoint accuracy, record keeping detail and audit trail the government requires.

"

true story
"

DCAA compliance means perfecting and standardizing the process of timekeeping all the way down the line, with instantaneous and accurate time tracking, management and reporting. TSheets allows companies of every size to fall in line seamlessly, without impacting their bottom line.

"

MIKE McNEW,

PRESIDENT AND CEO, McNEW & ASSOCIATES
*Please refer to a legal advisor specializing in DOL and DCAA regulations regarding specific requirements of the regulations and how they impact your business. TSheets is not claiming to ensure you meet all requirements of such regulations.