Meet Terra Dura Landscaping
Andrew Walsh runs Terra Dura Landscaping, a firm that specializes in low-impact landscaping known as xeriscaping. Before they started using TSheets to schedule their jobs, Andrew's employees were all using their own calendars, which he says wasn't intuitive or easy. "I couldn't count on everyone following the schedule," he explains. But now, with TSheets Scheduling, "It's easy for them to sync the schedule to whatever calendar app they use." It's made a big difference to his business. "It's an amazing solution." Learn more about how Terra Dura is using TSheets Scheduling + Time Tracking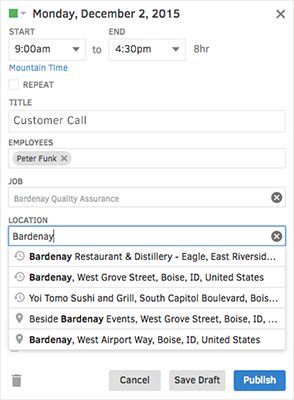 Save Time and Money
Turn leads into revenue and cut costs
Cut the time it takes to schedule jobs down to a few seconds. Whether you're in the office or on the go, just choose the day, time, and client, assign your employee(s), and that's it! Find unassigned jobs in a snap and for longer-term projects easily repeat last week's job schedule with just one click—including any customized color-coding you've added.
"TSheets is as close to perfect as I can imagine.

Well worth the cost."

-Tanner G, Christianson Construction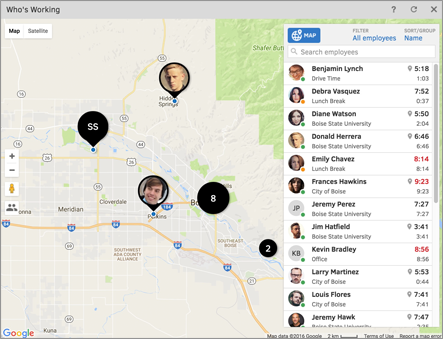 A Real-Time Window on Your Workforce
Use GPS tracking for a lightning-fast response in emergencies
For urgent jobs, switch to TSheets' Who's Working window to find out immediately who's available, and where they are to get the fastest possible response. See at a glance where your entire team is—on a single map—to keep your day running smoothly. Assign the job to whoever's nearest to the call, add the location details, and they're on their way—ahead of the competition.
Who's Working
|
GPS Tracking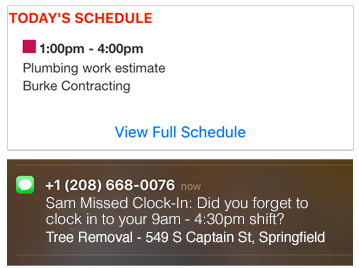 Track Time and Scheduling In One
Keep everyone in sync with a single system
Because it's TSheets, you get time tracking and scheduling in a single, powerful, mobile solution. Once a new schedule is published or changed, or a new job is booked, every employee gets a friendly reminder to clock in for their job and track their time—so you always know how long each job takes. To clock in and out, employees simply tap their screen. No smartphone? No problem. Use text messaging or the Crew App functionality instead.
Learn more about Time Tracking