Entertainment and Nightlife
What Are Some Fun Things to Do in Boise?
Boom! There it is. Boise may seem like an urban outpost in the middle of nowhere, because that's exactly where it's at—and where everything is happening. Boise is the capital of Idaho, the biggest metropolitan center within a 300-mile radius, and a buzzing magnet for music, entertainment, dining, nightlife, art, and general cultural hubbub. Mostly set within a few historic city blocks, Boise makes a real scene for itself. So eat, drink, be merry. Then push play and repeat.
Music
While it's standard for Boise locals to take a road trip to Salt Lake to see bigger names in music, bigtime musical talent is including Boise on their tour itinerary more and more often (usually stopping by on their way to the coasts). In the past five years, the Boise stages have hosted the Eagles, Styx, Wiz Khalifa, Carrie Underwood, Miranda Lambert, One Direction, Ingrid Michaelson, Motley Crew, Katy Perry, Imagine Dragons, Ariana Grande, Fun, Train, as well as tours that draw big names like X-fest, the Boise Music Festival, and the Mountain Home Country Music Festival (about an hour outside of Boise)—to name a few. But that's not all, the musical talent native to Boise is big-time, including Curtis Stigers, Built to Spill, Eilen Jewell, and Youth Lagoon… to name just the certifiably famous.
Oh, and did we mention Jewel? (Who clarified the pronunciation of Boise while she was here).
So, where can you catch these acts as they make their way through the Treasure Valley?
Small scale: Like an old west bar with a hipster attitude, the intimate music venues in Boise give off both great acoustics and a cool vibe. Check out the Neurolux, Pengilly's, The Reef and The Olympic.
Big Venue: Bands that really rock the house—or stadium—nation-wide come to the Knitting Factory, Idaho Botanical Garden, Taco Bell Arena and Idaho Center.
Pop up stages: Talk about street music. In the warmer seasons, Boise breaks out stages on the street, with outdoor events like Alive After 5, Hyde Park Street Fair and Treefort.
Treefort Music Fest
Boise turns up the volume by staging an epic, five-day, indie-rock festival that takes over various venues in downtown Boise. Held in late March directly after the heralded SXSW music festival in Austin, Treefort draws many of the same bands, and features equally engaging offshoots like Hackfort, Filmfort, Storyfort, even YogaFort. For year-round indie flavor, check out the eclectic, exciting music calendar at Duck Club Events, run by Treefort founder Eric Gilbert.
Art
Keep your eye out. Art goes everywhere here, from the street to the gallery.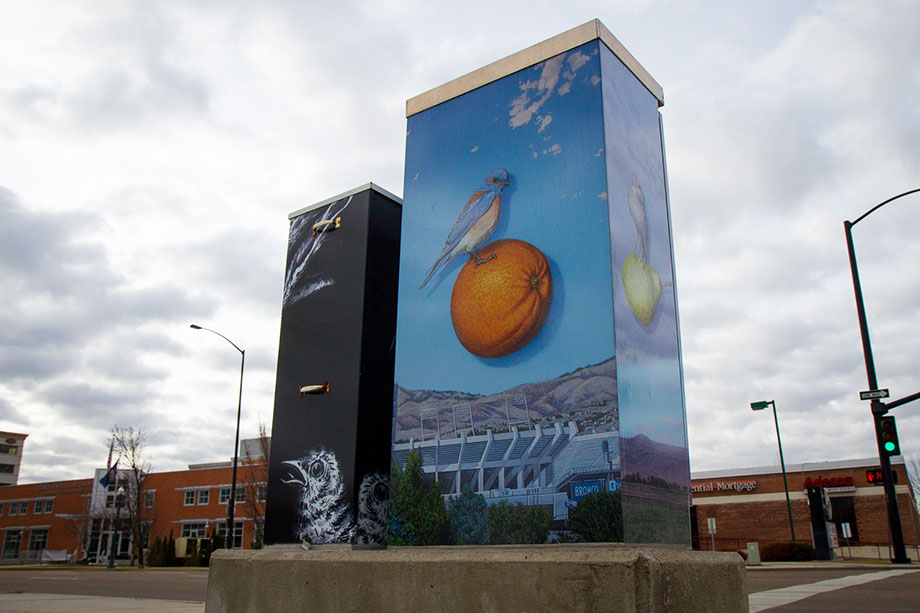 Photo credit: Dave Nielsen
Lowbrow: Public art is out there in a big way here, so step out, and step right into it, from the outdoor gallery Freak Alley to downtown utility boxes made over by local artists.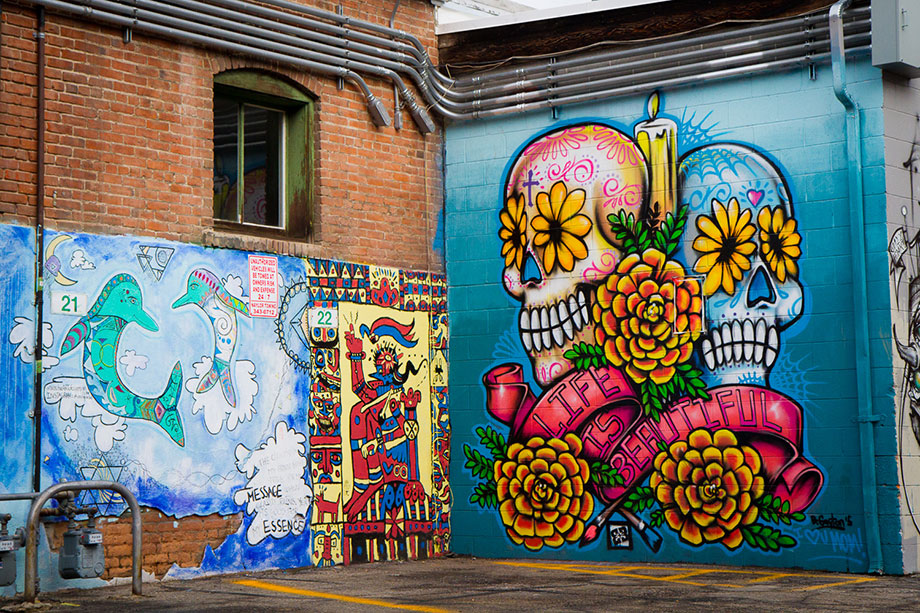 Photo credit: Dave Nielsen
Highbrow: Well-known names and up-and-coming artists show their stuff at the stalwart Boise Art Museum, the innovative MING Studios and the emerging Gallery Five18.
Festivals: Take a walk on the art side at First Thursday, held every month in artsy venues all over downtown Boise. Or stroll Art in the Park and the Hyde Park Street Fair, both held in scenic fall settings in early September.
Modern Art
Picture this: 35 mod hotel rooms, full-scale transformed into 35 mini-galleries. Talk about artistic vision. Held on the first Thursday in May at the Modern Hotel, this once-yearly, one-of-a-kind event often includes interactive film, dance, visual and performance art, plus a few surprises from left field and right brains.
Dance
Both epic and emerging dance companies call Boise home. Even step out to shake your own tail feather.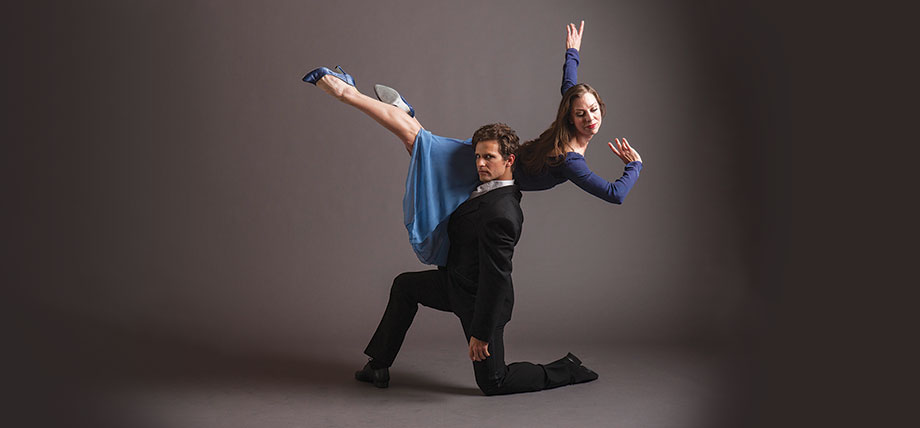 Photo credit: Ballet Idaho
New wave: Lauren Edson from the famed, recently-disbanded Trey McIntyre Project launched LED, a mix of live indie music, projections and jaw-dropping dance. Also check out Off-Centre Dance and Balance Dance Co-Op.
Old school: Local institutions Ballet Idaho and Idaho Dance Theatre bring out both classics and new wave choreography.
Booty shaking: Want to get out on the dance floor? Check out The Balcony or the 6th & Main district on the weekend. Within a few city blocks, the beat is on.
Theater
Talk about a playbill. Boise is home to wide-ranging theater, from the stage to the screen.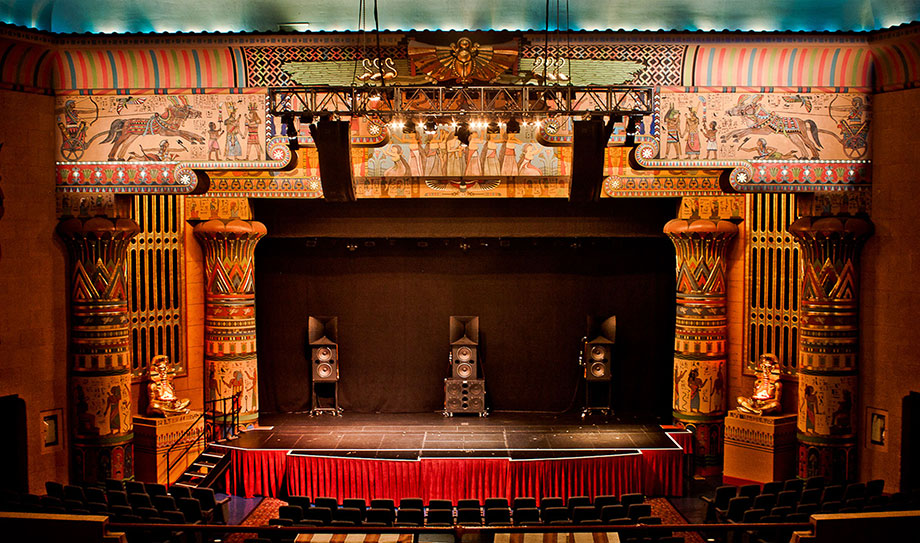 Photo credit: Egyptian Theater
Contemporary: See the latest and the greatest in playwriting and stagecraft at Boise Contemporary Theater, Alley Repertory Theater, even at a number of community theater productions.
Classic: A nearly 40-year-old beloved institution in Boise, the Idaho Shakespeare Festival is breathtaking to behold. Set in a spectacular amphitheater near the river and foothills, the season runs May through September.
Movie-style: Check out the Edwards Cinema complex to see the blockbusters. Go to The Flicks for independent and art films. Or enter into the historic, grand Egyptian Theater to see the nostalgic offerings of Boise Classic Movies.
Off the grid: Check out the Stagecoach Theatre. This little theatre looks unassuming from the outside, but inside you'll find a beautiful little establishment with plays that are on par with much larger cities. Or, if you're up for a short drive during the summer, head up to Garden Valley to visit the Starlight Mountain Theater under the stars in a mountain setting.
Story Story Night
It's storytime. Featured in both Better Homes and Gardens and AAA's Via Magazine as one of the top events to see in Boise, Story Story Night showcases true stories on a theme, told live on stage and without notes, from ordinary people with some extraordinary tales to tell. Drawing crowds of 200 to 300, Story Story Night is held on the last Monday of almost every month.
Drink
Imbibe away. Boise is home to a buzzing cocktail, winery and craft brewery scene.
Craft brews: Beer is a big to-do in Boise. It's a hoppy branch of the Northwest craft brewery scene here, home to Boise Brewing, Crooked Fence, Payette, Woodland Empire, Sockeye, Highlands Hollow and 10 Barrel Brewing, among many others.
Idaho wines: Less than an hour's drive will land you in the well-regarded Snake River Valley appellation, making grapes and pressing them for wineries like Cinder, Sawtooth, Koenig and Ste. Chapelle.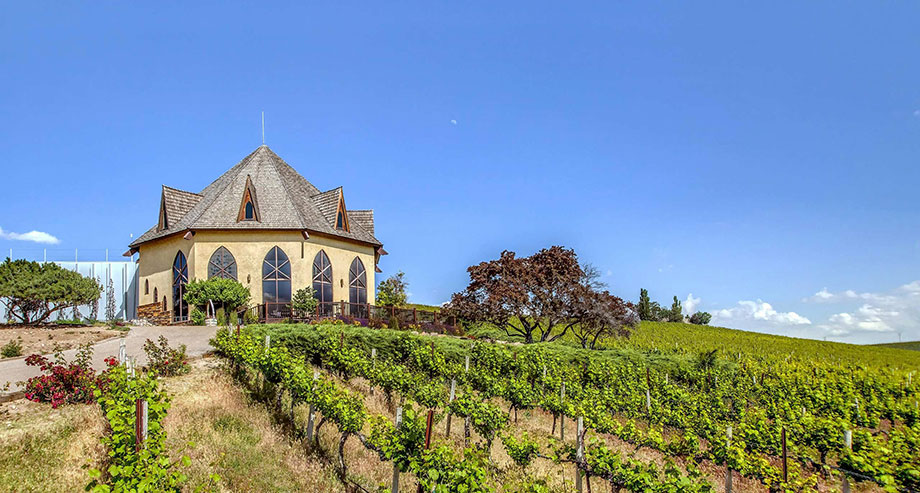 Photo credit: Ste. Chapelle
Cocktail scene: Not to get too Portlandia on you, but mixologists rule the scene here. Both classic and clever, get into the spirits at The Modern Hotel, The Mode, Red Feather Lounge and Press & Pony.
Boise Bike Bar: Take tour of the city, sightsee, and party on this 14-person pedal-powered bike bar. Don't worry, you'll have a driver doing the steering. (Make note, it's BYOB!)
Barcade: According to the Boise Weekly, Spacebar is "where you can feel like a kid (who's old enough to drink)." Clean, casual atmosphere, good drinks, and classic arcade games at 25 cents a pop.
Dining
From a full-on food truck scene to Northwest pub food to upscale locally-sourced dishes, Boise is a foodie paradise. Within a few blocks downtown, find dozens of hit restaurants with distinctive regional menus. In recent decades, Boise has also been drawing in immigrants from around the world, turning the town into a unique melting pot for authentic global flavors. Boise takes you places, every time you venture out to eat.
Parks
Boise is known as the city of trees, and we've got the parks to prove it.
Public Parks: Head to Kathryn Albertson Park or Ann Morrison Park for miles of walking paths and long stretches of green, green grass. Both intersect with the Boise river, so the kiddos can play on the banks and you can enjoy the water features. Catch fireworks in Ann Morrison on the 4th of July, and see plenty of wildlife and nature in both year-round.
Nature preserves: Run by Idaho Fish and Game, the MK Nature Center is a free exhibit that lets you get up close and personal with fish in Boise. Explore the outdoor trails and watch the enormous sturgeon swim below the bridge. More interested in air than sea? Check out Birds of Prey. This 580-acre campus is unique worldwide. It's designed to study and facilitate the health of raptors. The campus is open to the public; you'll see breathtaking views and get an up-close look at a wide variety of birds.
Botanical gardens: The Idaho Botanical Garden is the home of Boise's most popular outdoor concert series. Enjoy a wide variety of popular bands each summer under the stars in the scenic gardens. Stop by anytime during the year to see what's in bloom or to see the garden aglow with lights during the winter. Looking for something a little more interactive? Head to The Berry Ranch for you-pick strawberries, blackberries, pumpkins and other crops.

JUMP
This non-profit interactive and creative undertaking is an enormous new campus in the heart of downtown that includes a five-story slide, park, an amphitheatre, a 30-foot climbing wall, and a culinary learning kitchen. JUMP was completed in 2016.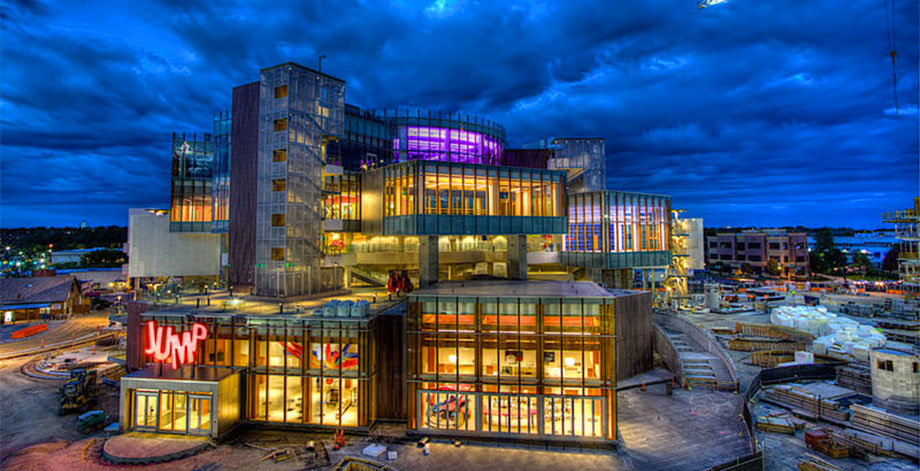 Sports
Come fall, the city bleeds blue and orange.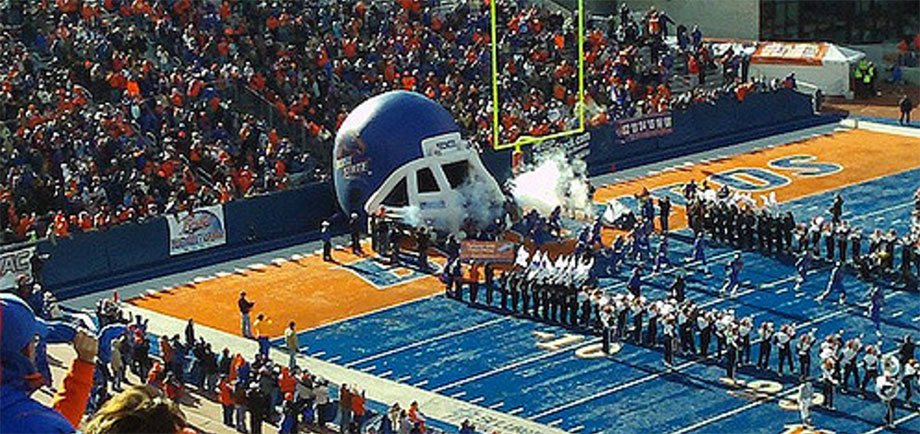 BSU Football: Game tickets can be hard to come by, but it's worth the effort to experience a game on the blue turf with the die-hard fans. Not a game day? No problem. Boise State's blue turf is open to the public via the Allen Noble Hall of Fame at the southwest corner of Albertson's Stadium—the only public entrance to the field. In 2011, it was named "the best place to impress out-of-towners"—and that includes you!
Smurf turf: Check out one of the most visited sites in Idaho (affectionately known as the "smurf turf"), snap a picture from the Hall of Fame patio (just you and the blue), and learn more about BSU athletics while you're at it! The Hall is open Monday through Friday, 8 a.m. to 5 p.m., but it's a good idea to call ahead. It's closed on weekends, holidays, game days, and during football practice or other university events (which are frequent during the school year). The Hall is located at 1910 University Drive in Boise, and can be reached at 208-426-3556.
Outdoors
Boise breeds outdoor living—and there's more than a few ways to get active.
Bike: Don't have a bike? No problem. Rent a bike by the hour at any of the local bike hubs, take a ride on the greenbelt or around the city, then return the bike. Just download the Boise Green Bike Project app and use a four-digit pin at the bike station to pick up and drop off your bike.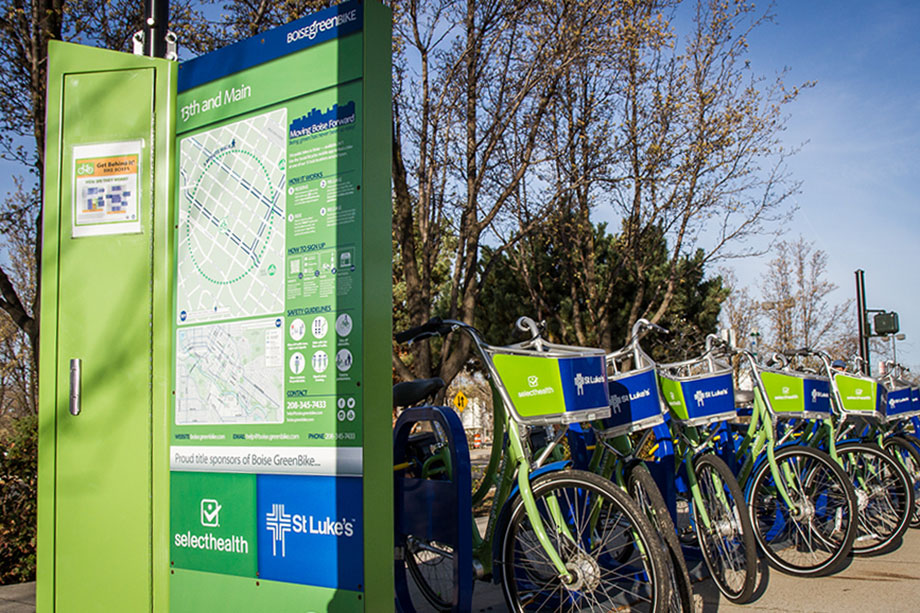 Photo credit: Dave Nielson
Hike: The enormous Ridge to Rivers Trail System (more than 180 miles) runs from one end of the city of trees to the other—and on into outlying areas. Run, bike, horseback ride, or explore nature on an endless number of trails.
Explore: The old west comes to life at the now-closed Idaho State Penitentiary. Several of the old guards now act as tour guides, imparting fascinating history to visitors. At Halloween, the Pen goes haunted and amps up the scary factor with "Frightened Felons."