How Does Education Add Up In Boise?
Low scores, high ambitions. Idaho tends to get a bad rap when it comes to education, but we're ready to put that reputation to rest. Not only does Idaho boast some of the most impressive high school graduation rates in the nation, but it's also a veritable mecca of postsecondary education options. Read on to learn more about how education adds up in Idaho.
What Do Idahoans Really Think About Education in Idaho?
Google "education in Idaho" and you'll be bombarded with headlines proclaiming, Idaho ranks poorly! and Idaho dead last in education!
Unfortunately, all those headlines have managed to do is bring down the public's opinion about Idaho schools. As of 2016, studies show that 65 percent of people surveyed by the J.A. and Kathryn Albertson Family Foundation believe the Idaho public school system is "OK, but it could be a lot better with a some changes." Another 26 percent believe a total overhaul is in order.

Learn More About What Idahoans REALLY Think About Education in Idaho
However, the majority of those surveyed (73 percent, to be exact) said if money wasn't an issue, they would rather send their kids to alternative schools, either private or charter. With that in mind, one thing's for sure ...
Idahoans charter schools
It's no secret that charter schools are a popular alternative for Idaho families — both student enrollment and the number of charter schools in the valley have increased substantially since the late 1990s. In 2001, a mere 1,500 students were enrolled in Idaho's select charter schools. Today, nearly 20,000 students are enrolled in Idaho's 48 (and counting) charter schools.
And that love extends to trade and technical schools as well. Studies show that over 92 percent of Idahoans agree that "some people may look down at trade or technical schools, but they are excellent options for high school grads."
Do charter schools perform better than public schools?
According to Idaho's most recent high school and college career readiness scores, they definitely can. Seven of the top 10 schools that ranked highest in career readiness are technical or charter schools.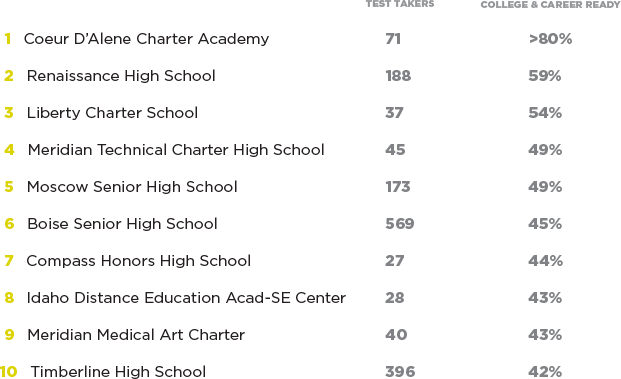 But what's even more telling is seven of the top 10 schools are located right here in the Treasure Valley. Nearly all of the lowest-performing schools are located in significantly more rural counties in southeast Idaho, which suggests the distance from Idaho's urban capital impacts student success more than the type of school.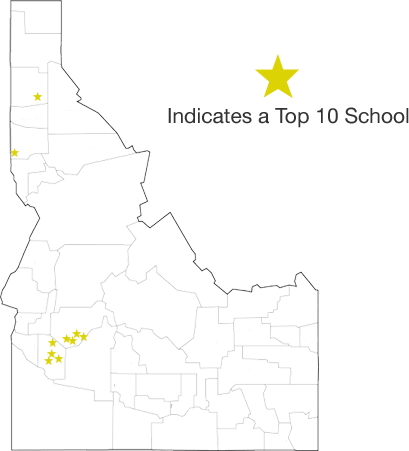 The majority of Boise schools — charter, technical, and public alike — scored greater than 40 percent when it came to college and career readiness.
The Idaho State Board of Education (ISBE) has set a goal to bump those readiness scores up to 60 percent by 2020. More on that in a bit, but first ...
The Truth Behind Idaho's Low College Attendance Scores
Nationally, Idaho ranks 50th in the proportion of students who graduate from high school on time and go directly to college. Dead last.
And it gets worse. When it comes to the proportion of college students returning for a second year, Idaho ranks 46th.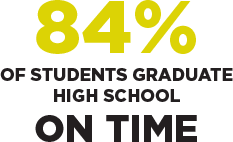 However, according to 2012-13 reports from the U.S. Department of Education, Idaho's on–time high school graduation rate was over 84 percent — 3 percent higher than the national average of 81 percent. In fact, Idaho's high school graduation rate was ranked No. 13, nationally.
Albeit, that number tends to fluctuate around 5 percent each year. But even at its lowest — 2014 reports demonstrated a drop to 77.3 percent — Idaho is consistently on par with the national average.
So, why aren't those graduates — who were so adamant about finishing high school — going to college?
Some experts believe it goes back to a lack of early education.
With only 32 percent of 3– and 4-year-olds enrolled in preschool in 2013, and less than 38 percent of students in full-day kindergarten, Idaho ranked 50th in the nation for early education. Once again, dead last. On top of that, Idaho is one of eight states that does not have a state-funded pre-K program, according to a 2015 report by the National Institute for Early Education Research.
That's unfortunate, given studies show that early education can be pivotal to the success of a student throughout grade school and beyond. In fact, students who attend preschool and kindergarten tend to be more successful and stick with their educations longer. According to this report from Idaho Kids Count, "Strong foundations prepare children to be productive adults ... children who have access to early learning take pride in their education." That's an important trait that eventually leads to higher graduation rates.
Learn More About Idaho Kids Count
Others claim that Idaho students simply take their time.
Of the 22,000-plus students who attend Boise State University, over 5,100 of them are older than 30. Meanwhile, only 41 percent of the student population falls into the 18-22 age range, which is much lower than the national average of 60 percent. This would suggest that BSU students, at least, decide to go to school later in life.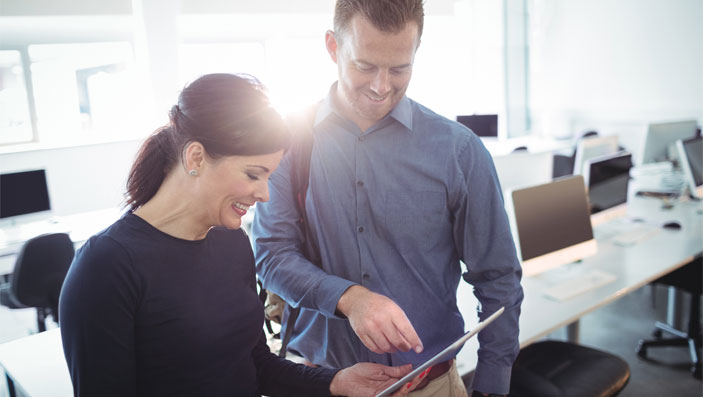 Why?
Well, if you ask students directly out of high school, they'll tell you they just don't see the point. They're bombarded with media sources telling them their expensive degrees are worthless, useless, and a total waste of money. The benefits of a college education don't outweigh the cost, so grads don't feel motivated to pursue a degree.
But organizations like Next Steps Idaho are out to prove the naysayers wrong.
The ISBE-hosted program provides students, parents, and teachers the tools and resources they need to better understand the perks and benefits of higher education. More importantly, they offer "Next Steps Checklists" that guide families of students in grades eight–12 through the college application and acceptance process.
Checklists cover things like financial aid and scholarship opportunities, in addition to things like exploring a career path and setting GPA goals. Additionally, Next Steps Idaho includes step-by-step guides, with links and resources, for students interested in continuing their educational careers, all of which make the application process easy.
In the long run, Next Steps Idaho hopes to maintain Idaho's strong high school graduation rate and encourage those graduates to carry that momentum into postsecondary education.

Idaho Business Owners Actively Seek Employees With Postsecondary Education
Studies show that Idaho employers want at least 6 out of every 10 workers to hold a postsecondary certificate or degree. And experts believe that, by 2018, 2 out of every 3 new jobs in Idaho will require an education beyond high school.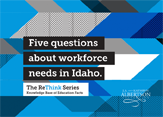 Why?
Well, in short, Boise is growing like a weed.
As a whole, Idaho was recently named the No. 3 state with the fastest job growth (via MSN Money). And over the past several years, Boise has also been named the No. 2 best city for millennial entrepreneurs (via FastCompany), the No. 7 top city for tech jobs (via FastCompany), and the No. 1 city "where the jobs will be" (via Forbes).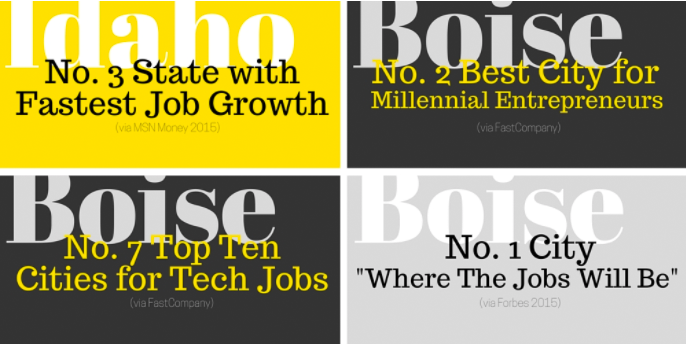 Boise's economy is expanding, and we need an educated workforce to support it. If we don't give our businesses the workforce they need, it will be difficult for Idaho's economy to grow and thrive in the future.
What kind of workforce will Idaho businesses need?
Idaho employers were asked to rank, in order of importance, the top five specialties they see emerging in their hiring needs by 2018:

Knowing this, the ISBE has established the goal of having 60 percent of the state's 25- to 34-year-olds hold a postsecondary credential by the year 2020. In an effort to hit that 60 percent goal, the Idaho State Board of Education has also set a goal to help 60 percent of high school students score 500 or higher on all sections of the SAT. Scoring 500 or higher on a section of the SAT would indicate that a student is not only prepared for their future career or college journey, but also has a higher probability of success.
Learn More From Idaho Business for Education
How does the ISBE intend to hit that 60 percent goal?
Idaho Governor C.L. "Butch" Otter's education reform task force — and its far-ranging list of 20 recommendations — is predicated on hitting that 60 percent goal. The recommendations range from the implementation of Idaho Core Standards (based on the belief that higher standards raise student achievements) to offering more advanced postsecondary opportunities while students are still in high school.
The Reason for Idaho's Low Student Spending Score
Idaho's per-student spending is the second lowest in the country, higher only than our southern neighbor, Utah.
In 2011, Idaho schools spent just $1.9 billion on education, which equates to about $6,821 per student. This number is lower than the national average of approximately $10,658 per student, and much lower than New York, the highest spender, which clocks in at $20,000 per student.
Why the low budget?
Like most Mountain West states, Idaho has a fairly small economy relative to its student population. As a result, we have the lowest personal income rates per school-aged child. For every $1,000 of personal income, Idaho citizens spend $37 for public K-12 education. The national average is $41 for every $1,000 of personal income.
On top of that, Idaho has the third-highest child-per-family ratio in the nation, so there are more students sharing that smaller economic pie. In fact, Idaho's K-12 finance system is the 50th least equitable in the country.
However, studies show that higher spending does NOT guarantee higher student achievement. In fact, there is NO clear relationship between per-student spending and student achievement.
Learn More About Student Spending in Idaho
More Idaho Education Resources
Higher Education Opportunities in Idaho
Public Institutions
As part of the initiative to encourage higher education, Boise offers a vast array of collegiate-level schooling. Whether you're a recent high school graduate or a working parent looking to go back to school — with a smattering of campuses and higher education opportunities and the ability to take classes online — you're bound to find an option that works for you.
Boise State University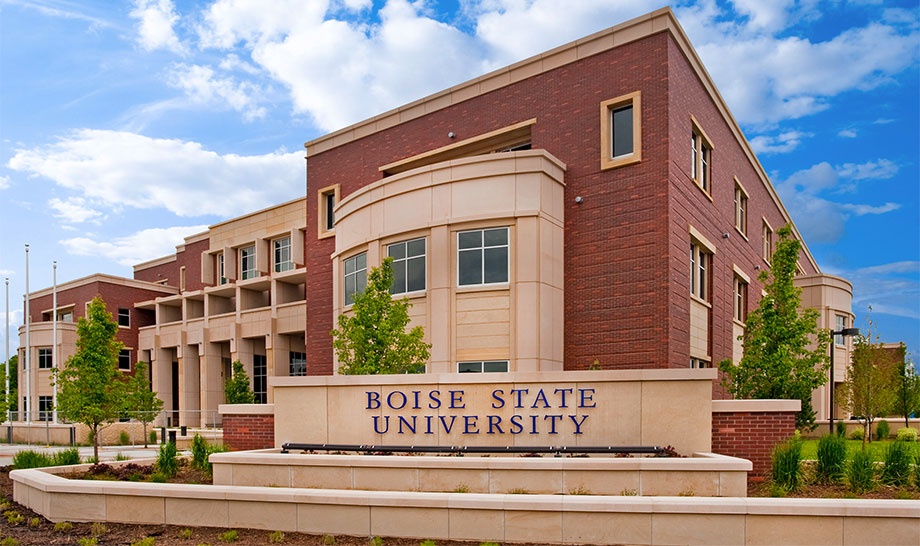 Located in: Boise
Number of undergraduate students: ~22,000
In-state tuition: ~$7,000
Out-of-state tuition: ~$21,500
Notable alumni: The Boise State Broncos have produced more than a handful of NFL football players and, most recently, two Paralympic gold medalists/world record holders.
Boise State University was founded in 1932, in the heart of Idaho's capital city. The campus occupies 180 acres in the midst of downtown Boise, with direct access to the Boise River and greenbelt.
Students can choose from more than 170 academic programs — including that nation's only degree in raptor biology. Outside the classroom, students have their choice of 200 campus clubs to join, or study abroad programs that visit 50 countries.
Boise State is home to Bronco Stadium (with its famous blue "smurf turf" football field), as well as a state-of-the-art student recreation center with a 7,200-square-foot rock wall.
University of Idaho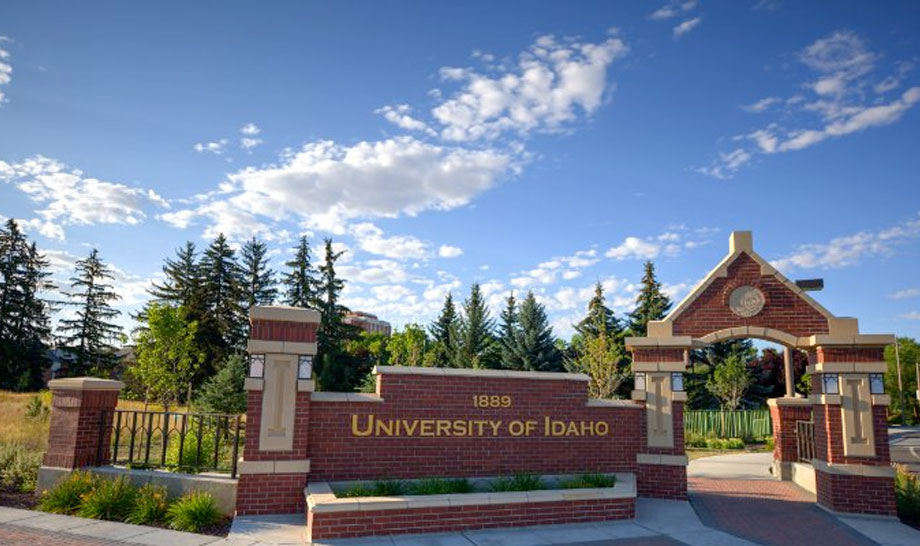 Located in: Moscow (with extensions in Boise)
Number of undergraduate students: ~11,500
In-state tuition: ~$7,200
Out-of-state tuition: ~$22,000
Notable alumni: Politicians Sarah Palin and Larry Craig both graduated from U of I, but the school is also responsible for educating six olympic athletes, one Hollywood producer, and the voice of Patrick Star on "Spongebob Squarepants."
University of Idaho was founded in 1889 in Moscow, Idaho. However, it's rural setting makes for a beautiful 1,450-acre campus.
Undergraduates can choose from many majors within eight colleges, and graduate students can earn degrees in more than 80 master's programs.
U of I athletes are known as the Vandals — thanks to an old newspaper's account of the 1917 basketball team that "vandalized" their opponents on the court.
Idaho State University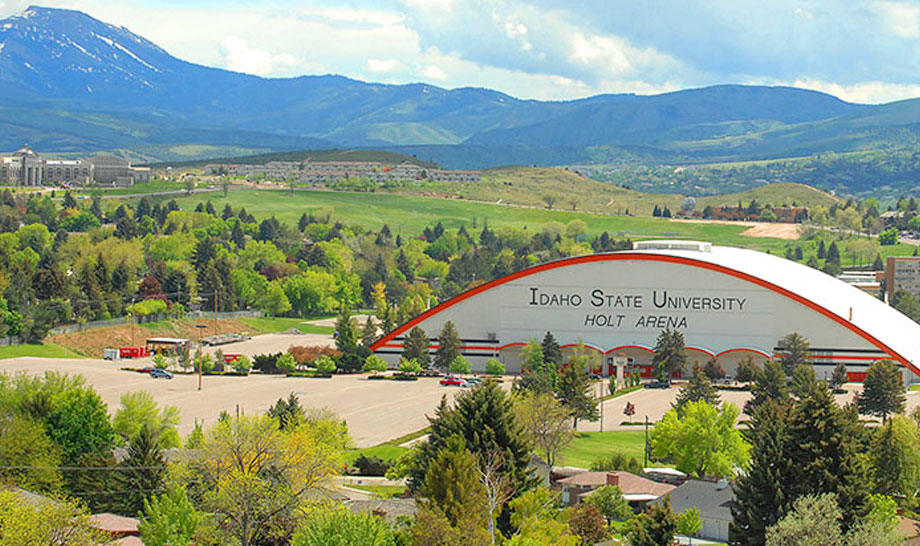 Located in: Pocatello (with regional campuses in Meridian, Idaho Falls, and Twin Falls)
Number of undergraduate students: ~15,000
In-state tuition: ~$7,000
Out-of-state tuition: ~$21,000
Notable alumni: Hollywood actor William Petersen. You might recognize him from "CSI."
Idaho State University is located in Pocatello, about 160 miles north of Salt Lake City. Students at ISU can study in more than 280 academic programs and partake in over 160 campus clubs and intramural sports.
Lewis-Clark State College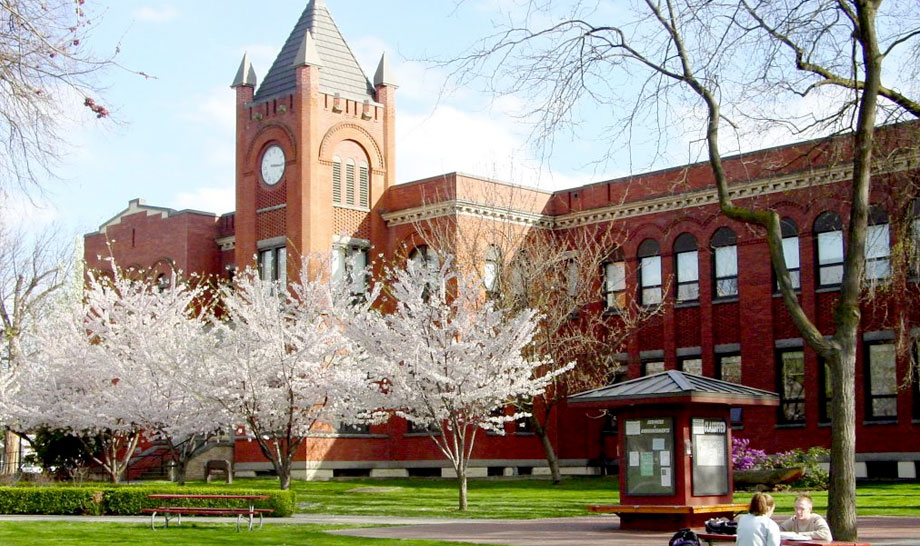 Located in: Lewiston
Number of undergraduate students: ~3,500
In-state tuition: ~$6,100
Out-of-state tuition: ~$17,600
Lewis-Clark was founded in 1893 in Lewiston, Idaho, "where two rivers, two cities, and two states come together." The 46-acre campus hosts more than 3,500 students from over 20 states and 40 countries.
Learn More About Idaho's Public Colleges on College Factual
Public Community Colleges
College of Southern Idaho
Located in: Twin Falls
Number of students: ~7,600
Tuition: ~$2,700
College of Western Idaho
Located in: Nampa
Number of students: ~24,200
Tuition per credit: ~$139
North Idaho College
Located in: Coeur d'Alene
Number of students: ~6,300
Tuition: ~$2,300
Parochial and Private Institutions
Northwest Nazarene University
Type: Parochial
Located in: Nampa
Number of students: ~1,500
Tuition: ~$35,500
New Saint Andrews College
Type: Parochial
Located in: Moscow
Number of students: ~155
Tuition: ~$12,100
Brigham Young University Idaho
Type: Parochial
Located in: Rexburg
Number of students: ~18,110
Tuition per credit: ~$326
Boise Bible College
Type: Parochial
Located in: Boise
Number of students: ~207
Tuition: ~$10,700
College of Idaho
Type: Private
Located in: Caldwell
Number of students: ~1,055
Tuition: ~$23,300
Stevens Henager
Type: Private
Located in: Boise, Idaho Falls, and Nampa
Number of students: ~485
Tuition: ~$17,000