Manage Employee Time With Alerts & Approvals


Overtime Alerts
Proactively manage employee overtime with alerts.
Setting overtime alerts for your employees can help notify you before expensive overtime begins. Choose to have overtime alerts sent to your employees (when approaching overtime), managers or account administrators via email, twitter, or text messaging. Perfect for employees who work outside, at all hours of the day or night, overtime alerts make TSheets the ideal job site time clock. Read Overtime, a Love (Hate) Story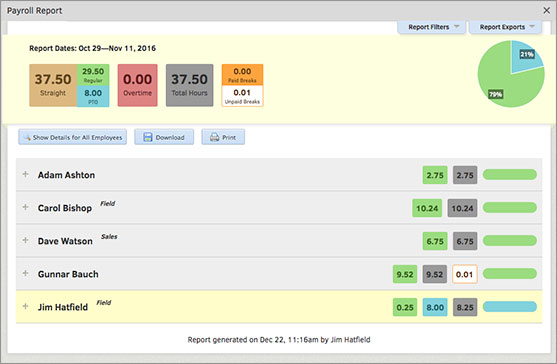 Timesheet Approvals
Easily review and approve employee time, in minutes.
Using TSheets time tracking software, employees can easily submit completed timesheets to their manager with just one touch on the web dashboard or mobile time tracking app. Managers can then review employee times and approve or reject them quickly and professionally, either all at once or one employee at a time. When you're done approving time, easily export timesheets to QuickBooks or ADP.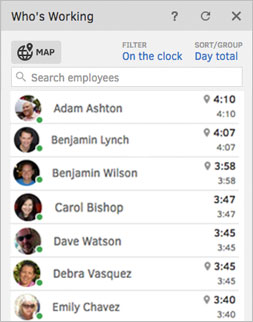 Who's Working Feature
Confirm who's working, where and on what.
Easily see the employees who are working, what they are working on, and how long they have been working on it - all in real time. It's like an office in and out board, yet digital and available to see at any time on the Web by administrators and employees with enabled permissions. Need to check in on a specific group or crew? This time clock app and the Who's Working window sorts by group too! Read More
Employee Permissions and Restriction
Customize how employees track and approve time.
Different employees may require different permissions. Your salesforce may need permission to track time from a mobile device, while your warehouse manager needs permission to review and approve timesheets. No matter the employee's role within your business, permissions allow you to customize how they track time, what they can see on their clock in/out dashboard, who (if anyone) they are responsible for approving time, and more. Even restrict employees by location or device for clocking in and out.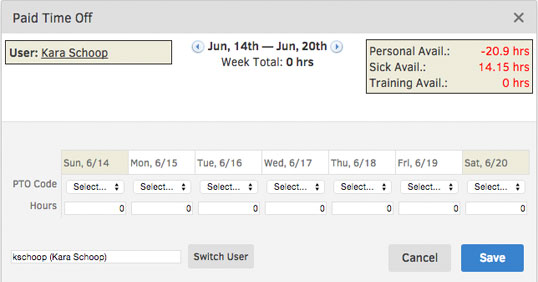 Paid Time Off (PTO)
Track vacation, sick or holiday accruals for your employees.
Authorize your employees to submit their own PTO hours (and receive notifications when they do) or have administrators or managers do it for them. Easily add or use your own vacation or PTO codes and track the accruals.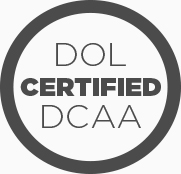 DCAA / DOL Compliance
Comply with government regulations and guard against audits.
Any TSheets account can be configured to be DCAA and DOL compliant. For both, businesses must maintain accurate daily records of employee time, including hourly time worked against specific projects or tasks. An audit trail needs to exist for daily time entries, as well as for corrections, approvals and adjustments. Reporting is also an important element of DCAA compliance; critical in the case of an audit.
In addition to helping you stay DCAA and DOL compliant, TSheets offers ACGME Duty Hour Compliance time tracking as well. Learn how TSheets can help you become DCAA and DOL compliant