Join the Party. We Our PROs!
Become a TSheets PRO and join a community of 10,000+ successful, innovative, and inspiring accountants and bookkeepers

Become a TSheets PRO
Be an even greater asset to your clients
Our PROs have access to a vast community of CPAs, accountants and bookkeepers who are changing the world by changing lives. They know that TSheets time tracking can save their clients thousands of dollars in payroll each year — and hundreds of hours of precious time. Become an even more valuable asset to your clients. It's easy to join and easy to participate, and there's never a catch.
Select Your PRO Plan
All PRO Plans Include
Free TSheets account for 1 year or for life with client referrals | A unique affiliate tracking link
Dedicated support and training | You and your clients get time back in your day
*If you have a client that happens to leave, we guarantee to promptly freeze the account and refund any fees to you.
"We are committed to making you look good to your clients. We've got thousands of 5-star reviews at the Intuit App Center. If you ever have any questions about TSheets and how we can support you and your clients, give us a call."
- Matt Rissell, TSheets CEO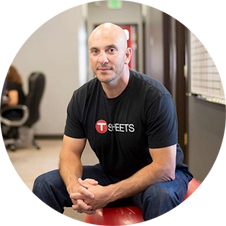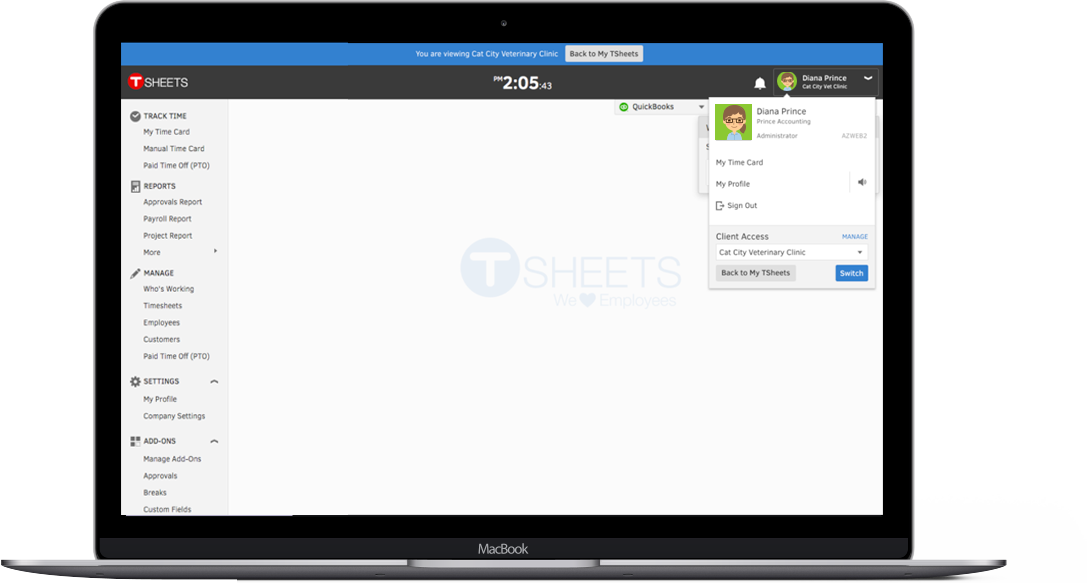 Save Time and Money With TSheets' Accountant View
Keep your clients in one handy dashboard
The TSheets accountant view allows you to manage all your TSheets-using clients in one place. Easily switch between client accounts for payroll and accounting ease. While in the accountant view you can access reports with one click and offer your clients valuable business insights and better financial predictions for their business.
Refer Clients, Earn Commission
Referring PROs get even more
Save time and money by referring your clients to TSheets. Refer just one client and earn your TSheets account for free for LIFE! We'll even provide you with the resources you need to get your clients on board. Small businesses who make the switch to automated time tracking save up to 8 percent on gross payroll costs each year — not to mention hundreds of hours of precious time. More time, more clients, more money.
Join, it's free
"Thank you so much for all of your assistance and follow-through. I truly wish that every software solution that I use was this helpful with onboarding my clients!"
- Catherine Wolfe, Small Business Bookkeeping Solutions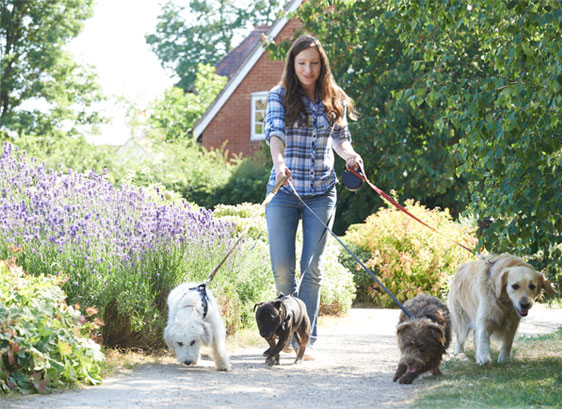 Explore Seamless Integrations
TSheets integrates with accounting and payroll software your clients already love
No more manual data entry, and no more human error. TSheets syncs with the accounting and payroll software your clients already use; and it just takes one click. The result is accurate data, speedy payroll and invoice processing, and a whole lot of time and money saved — for you and your clients.
Visit Our App Marketplace
Gain Access to Valuable Resources
TSheets' PRO Portal has all the info you need
The PRO Portal is automatically included with your FREE TSheets account. Keep tabs on the clients you've referred and your commission. Plus, read and download valuable resources to help you grow your practice, make the most of your TSheets PRO account, and steer your clients towards success.
Make the Most of Your TSheets PRO Account — Get Certified
Become a Certified TSheets PRO for FREE in Just a Few Hours!

---
Additional Benefits for Certified PROs
An EXCLUSIVE Certification Badge for Your Website and Social Pages
TSheets will help you find more of your IDEAL customers by:

Listing you on the TSheets Accountant Directory! *

Referring small business customers to you

Dedicated TSheets Account Executive
Qualify to be included in articles, case studies and videos produced by TSheets (great publicity for your business)
Qualify for annual on-site strategy meetings at TSheets HQ to help you grow your business and your TSheets user base
Customized marketing materials to help you demonstrate the value of TSheets
A FREE TSheets Account for LIFE (no matter what)
*Listing on TSheets Accountant Directory is contingent on a minimum number of referred clients to TSheets. To learn more contact us at prosales@tsheets.com.

Ready to get TSheets Certified?
Get Certified Now