QuickBooks Time Tracking
TSheets offers seamless time tracking for QuickBooks Online and QuickBooks Desktop for faster payroll, accurate invoices, and big savings
TSheets Is Now a Member of the QuickBooks Family
Sayonara, manual data entry. TSheets does the heavy lifting when it comes to employee time tracking. Proudly owned by Intuit, TSheets syncs seamlessly with QuickBooks Online and QuickBooks Desktop to save you time and money on payroll.
QuickBooks Online
Sync up
Sync with QuickBooks Online to track time for customers, jobs, service items, classes, and payroll items.
Work in QuickBooks Online
Review, edit, and approve employee timesheets directly inside QuickBooks Online to eliminate manual time entry.
Save time and money
When two powerful solutions work as one, you save thousands of dollars a year and hours each payroll cycle.
QuickBooks Desktop
Job and labor costing
Allocate employee time to each client, project, or job code for more detailed insights within QuickBooks Desktop for job costing and profitability.
Improve billing and invoicing
Access in-depth vendor billing and client invoicing. With TSheets, some customers have increased billable time by 20 percent!
Fast-track payroll
Track hours worked, plus overtime, holidays, PTO, and sick time in one place. All time data syncs to QuickBooks, so you can reduce time spent on payroll and eliminate duplicate, manual time entries.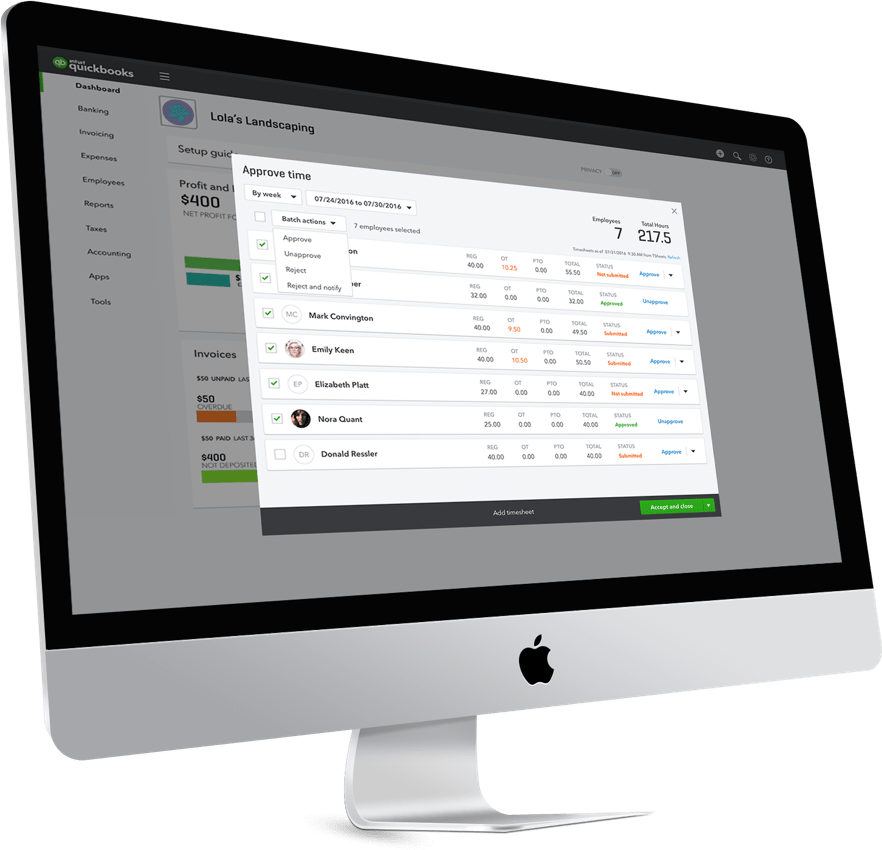 Speed up Payroll With TSheets
No matter which payroll solution you use, TSheets streamlines your payroll processes and allows you to pay employees for actual time worked. Shave hours off your processes and save thousands each year.
QuickBooks Online
TSheets is the only time tracking solution inside QuickBooks Online where you can review, edit, and approve timesheets for faster, more accurate payroll. TSheets works with QuickBooks Online Enhanced Payroll and Full Service Payroll to save you time and money by eliminating manual data entry and avoiding costly mistakes.
QuickBooks Desktop
With one click, you can sync your TSheets timesheet data to QuickBooks Desktop for Windows. Employee hours are available in the weekly timesheet, so you can run payroll faster than ever.
Our Purpose Is to Help Small
Businesses Succeed
---
Attention, QuickBooks ProAdvisors
We love QuickBooks ProAdvisors! Ready to take your practice to the next level? Work with TSheets to help small businesses save time and money while increasing your billable time.
Become a TSheetsPRO and join a community of over 20,000 inspiring accountants and bookkeepers.
What Our Clients Are Saying
TSheets has drastically reduced the amount of time it takes to run payroll. Now hourly data all transfers over to QuickBooks, which has cut payroll down by four or five hours per pay period.
— Shelley Barck, Rainbow International
The TSheets interface in QuickBooks Online is SO clean — it's easy to read, easy to drill down on information, and easy to make changes that need to be made. Boom, it was done. I love it.
— Mariann Bottiani, Owner of Chaos to Calm Productivity Solutions and QuickBooks ProAdvisor
The support staff is so friendly, helpful, and charismatic. The product is super easy to use, and I love how I can integrate it with my QuickBooks. … It has made managing the billing of my practice so much easier.
— Trizia Eavenson, CEO of Eavenson Law
Ready to start saving time and money on payroll?