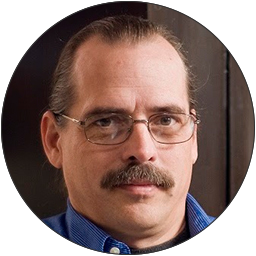 Company
L&R Tax Preparation
Bruce's Story
One of the first statements you read on Bruce McFarland's L & R Tax Preparation site is, "we provide fanatical support through professionalism, responsiveness and quality." Fanatical support? Let's just say we at TSheets felt a deeply resolved kinship to the kind of experience Bruce and his staff provide their motley (meaning varied, not the 80's band) crew of clients. Ask a question and you will get an honest, understandable answer! In fact, experience it with your own eyes & ears during his weekly hangout, "Tax-Talk Tuesday." With the exception of tax season, every Tuesday, Bruce and his colleagues from around the nation dive into the mysterious world of taxes to provide sense and understanding to the masses. Or, if you're not available on Tuesdays, catch the recordings on his YouTube channel or entries from his blog, The Missouri Tax Guy.
If you look in the dictionary under "business consultant-accountant-tax whiz" you will no doubt see a picture of Bruce along with a listing of his specialties:
small business consulting
payroll
all forms of tax and audit support
In fact, Bruce has said himself that the messier the tax situation, the better the opportunity for him to do his finest work. Take it from us, one conversation with Bruce McFarland will leave your tax situation in better standing...and your day a little brighter. This is one PRO that everyone needs to have in their corner, no matter where in the world your corner may be! Bruce's clients stay clients for life...find out why for yourself!
Back to ProAdvisors We Trust