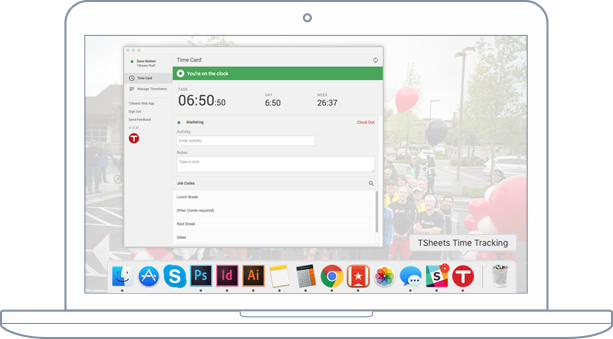 Remember the days when the only way to get computer software was on a CD?
If you were born after 1990, perhaps you don't, but just a decade ago it was rare to download anything but security updates. Apps were unheard of. Cloud computing was still in its infancy.
Roll forward ten years, and the single most valuable piece of software any of us own is the one we don't pay for: the web browser we use online. Not just because of the information it gives us but because it's through internet portals like Google Chrome that we can get our hands on the tools that many of us are now totally dependent on to do our jobs.
We each spend, on average, more than six hours on the internet every day—and this is only partly to do with the irresistible rise of social media. It's also because the internet delivers the kind of software that used to arrive, stiffly packaged, on the back of a FedEx truck.
We use it for our emails, our diaries, our word processors, our to-do lists, and so much more.
Just eight years after Google Chrome was launched, more than two-thirds of us now use it to access the internet, and if you're anything like the employees at TSheets, you're working it pretty hard too. How many tabs do you have open right now? More than one? More than ten? You'll definitely enjoy at least one of our recommendations below.
One of the reasons Chrome has become a market leader so fast is that Google encourages other companies to hack into it to make it better. They don't always succeed of course—sometimes deliberately—but when they do the product is a welcome addition to your toolbar.
To celebrate the launch of TSheets' new Chrome app—which makes it easier than ever to clock in and out from your desktop—we've put together a list of ten superb Google apps and extensions to download today.
1. Best time saver: Check My Links

In truth, most of the Google apps and extensions we've reviewed could fall into this category because they are all great time savers, but undoubtedly one of the best is Check My Links because it turns a job you'd never volunteer for into something you'd do for fun.
With Check My Links on your toolbar you can run a quick test on any webpage you come across and get a report that highlights right there on your screen which links work (in green) and which ones don't (in red). If you've got a website of your own, that's extremely useful indeed. No more broken links!

Quick and easy to use with the results laid right over the page you're testing. A recent upgrade means it now tracks "no follow" links as well as "follow" links.

It doesn't work well with links in Google Docs or Google Sheets. We kept having to log back in after we tested some of the documents we were working on.
What the customers say: Check My Links gets a four-star rating in the Chrome Web Store (February 2016).
---
2. Best money saver: Honey

One of the most widely recommended Chrome extensions to help you save money online is Honey because it makes sure you don't miss out on any discount codes while you shop.
If Honey knows about a code that could apply to something in your shopping cart, it will put an alert up on your Chrome toolbar. Click on it to see what the code is and when it last worked.

If the right codes are available, you can save money on whatever you're buying without even leaving the checkout page.

The discount codes sometimes apply to other products on the same website, not what you're actually buying, which could tempt you into spending more money, not less.
Cost: Free.
What the customers say: Honey gets a five-star rating in the Chrome Web Store (February 2016).
Honey, I love you! You save me money and give me discounts I didn't even know about. TD Robin
---
3. Best for creativity: Ziteboard

The Chrome extension we've had the most fun with is Ziteboard, which transforms any screen you are working on into a whiteboard that's crying out for a dose of your creativity. Capture flashes of inspiration, annotate images, leave notes for your work colleagues, craft digital works of art, it's up to you. And it's brilliant!
In fact, it's so much fun, it can become a bit of a distraction (or so we're told!), so it's not always a time saver...but we love it nonetheless. Ziteboard works on tablets, phones, and desktops, and you can save, upload, or export your moments of genius as PNG files, SVG files, or editable 'Zite' files. It's a great way to share ideas, inspire people, or make them chuckle.

The set up is instant and you can add extra features—such as the ability to upload images—as soon as you create a free account. It's a much more creative tool than Google Drawings.

The eraser is a little heavy handed, removing whole brush strokes in one go rather than parts of them.
Cost: Free.
What the customers say: Ziteboard gets a five-star rating in the Chrome Web Store (February 2016).
---
4. Best for collaboration: Google Drive

The stand-out winners here are the apps that Google makes available free of charge through its Google Drive cloud service—all of which work right there in your Chrome browser tabs.
Anyone with a Google (or Gmail) account can use the apps for word processing (Google Docs), spreadsheets (Google Sheets), presentations (Google Slides), drawings (Google Drawings), and surveys (Google Forms). Even better, anything you create can be shared with your colleagues instantly, and once you have, they can edit the documents too. All the changes are tracked, reversible, and saved the moment they are made. You can even work together on the same document at the same time.
A neat extension you can add to Chrome make it easier to start a new Google doc is Google Docs Quick Create which will open whichever document you need in a new tab. Simple.
Another Google Drive extension, which this time comes from Google itself, is Save To Google Drive. As you'll guess from the name, it saves whatever is in your current browser tab straight into your Google Drive to look at or work on later.

Google Drive is free, easy to set up, gives you 15GB of file space for any kind of file you want to store, and when you combine it with Google Docs, lets you share your work and collaborate with as many people as you like.

It's hard to find fault with the Google Drive and Google Docs combo, but if we had to single out one thing, it's that some otherwise brilliant Google extensions, such as Grammarly and Check My Links, don't work with it.
Cost: Free.
What the customers say: Both Google Docs and Google Drive get a four-star rating in the Chrome Web Store (February 2016).
Google Docs is my primary document-creation suite. I use it for just about everything. There are just two things it's still missing after all this time: small caps and columns. It NEEDS to have these! Andrew Bayles
---
5. Best for social media: Buffer

At the risk of encouraging you to overshare, Buffer makes it easier than ever to post multiple updates on social media—especially if you have more than one account.
You can integrate Buffer with Facebook, Twitter, LinkedIn, Google+, and Pinterest, with a maximum of five social media profiles linked to each free account. You can schedule up to ten posts at a time and more prolific users can upgrade to the Awesome plan, at $102 a year, for up to 100 posts and 10 social media accounts.

It's a quick way to get lots of content onto social media and stagger—or "buffer"—your posts to spread them out.

Currently it doesn't come with a master timezone override but inherits the time zone from whatever your social media profiles have been set to. If these are out of sync, you'll need to change each one in Buffer manually.
Cost: The basic version is free. The full version costs $102 a year.
What the customers say: Buffer gets a five-star rating in the Chrome Web Store (February 2016).
Must-have app for all active social media fans! This extension gets better and better after every update. Really pleased with the overall Buffer experience so far! Fabrice Cathala
---
6. Best for decluttering: Momentum

Clutter is everywhere online. It's become one of the internet's defining characteristics. But thankfully some canny app developers have—like many of us—been experiencing information overload recently, and they've decided to do something about it.
Enter Momentum, a beautifully simple way to focus on your most important task of the day. Just open a new tab in Chrome, add your daily goal, and you're done! With inspiring quotes and stunning background photos, it reminds you that it is still possible to cut through the noise.
But what if your goal for the day is to do a ton of research and by lunchtime you have so many tabs open that you can no longer find where you left Momentum behind?
This is where OneTab comes in. Add the extension to Chrome and whenever your browser starts looking a little crenellated, a single click will condense all of your tabs into one, with all the URLs listed right there in front of you. Then, as soon as you're done, just click 'restore' and your digital encyclopedia is back where you found it.
With everything at your fingertips again, is your laptop starting ... to ... get ... annoyingly ... frustratingly ... slow? Try The Great Suspender, which keeps all of your tabs open but stops the ones you're not using from running in the background.

Together, these extensions can keep Chrome, and your day, running a lot smoother.

A single decluttering app or extension would be better than three.
Cost: Free.
What the customers say: All three get four or five stars in the Chrome Web Store (February 2016).
"Amazing extension, I really love to start my day at work with these pictures, phrases, and clean style." Andrea Ortega
---
7. Best for security: LastPass
Creating a new password is almost a daily task online these days and there are now several good password libraries out there that will store them all securely behind a single login so you only have to remember one of them.
If you'd like a password library that you can connect directly to Chrome, try LastPass, which stores every password you create—and the ones you already use—in one neatly categorised place accessible straight from your toolbar.

Lets you save credit card details as well as your passwords and gives you warnings if your passwords aren't secure enough.

To use it across all your devices, you have to upgrade to the premium version.
Cost: Free, unless you upgrade, which costs $1 a month.
What the customers say: LastPass gets a five-star rating in the Chrome Web Store (February 2016).
"It's a Sanity Protection Device! No more worrying about trying to come up with secure passwords. No more having to reset passwords every month or three!" Martin Flink
---
8. Best for productivity: Grammarly

Grammarly is a reliable spell checker which can spot errors in almost anything you are working on online, whether it's an email, a social media post, or an important form you need to fill in. It checks as you type and when it spots a mistake, or has a recommendation for you, just double click on the word it highlights to make or ignore the change. The free version doesn't work with Microsoft Office but you can upload Word documents to let it run its magic over them.

An unobtrusive spell checker that's especially useful when you wouldn't otherwise have one to hand—like when you are completing a job application online.

Doesn't work with Google Docs or, unless you upgrade to the premium version, Microsoft Office.
Cost: Free, unless you upgrade, in which case it starts at $14.58 a month.
What the customers say: Grammarly gets four and a half stars in the Chrome Web Store (February 2016).
"Love this. Very helpful. Great for work and everyday correspondence." Amanda Verheul
---
9. Best for research: Pocket

Another victim of the internet's addiction to information overload is our ability to digest news. There's so much of it out there they have even given it a name: Information Fatigue Syndrome.
If this sounds familiar, try Save To Pocket, a neat place to tuck away all those articles, blog posts, and other news snippets you come across that you don't have time to read right now but absolutely will do some other time. Previously known as Read It Later, that's exactly what Pocket is all about (provided you don't get distracted by something else first).
To help you find everything, you can categorize each page you save with subject tags.
Another amazing research tool we've come across is Cite This For Me which creates citations, reference lists and bibliographies from websites, ebooks and journals using the APA, MLA, Chicago, or Harvard systems, depending on your preference. Just click the button on your toolbar when you are on the webpage you want to cite, choose your citation style, and the correctly formatted text is placed straight onto your clipboard with a link to the page.

Save To Pocket and Cite This For Me are simple ways to bookmark content you want to come back to.

Save To Pocket likes to send you emails suggesting other content you could save, which isn't always useful—but you can unsubscribe from these emails. Cite This For Me doesn't put the citation in plain text when you copy it, so you may need to reformat the font after you have pasted it into your document.
Cost: Free.
What the customers say: Save To Pocket and Cite This For Me both get a four and a half star rating in the Chrome Web Store (February 2016).
"Excellent, although it can't automatically cite pdf files that I have found online. It would be fantastic if you added this feature." Ben Henderson
---
10. Best for time tracking: TSheets

TSheets' Chrome app is built for Google Chrome lovers with busy days. It's a fast, simple, and reliable way to track your time that Mac users can pin to their dock and Windows users can pin to their start menu—so your time card is always right there when you need it.
You can clock in, clock out, switch tasks, edit timesheets, or take a break, all with one click. The app has all the essential features of TSheets Time Tracking and you can get the rest anytime by signing in to your TSheets account via any web browser. If you're new to TSheets, you'll need to set up an account first before you can activate and connect the app, but this only takes a few minutes and you're good to go.

It's the fastest, simplest way to track your time whenever you're working at your desk.

The features are limited to essential time tracking tasks (but you can get the rest when you open the TSheets web app in any browser).
Cost: Free to download. Requires a TSheets account which is $4 a month per user with a $16 base fee when paid annually. Find out how much TSheets Time Tracking could save you.
What the customers say: TSheets Time Tracking gets a five-star rating in the Chrome Web Store (May 2016).
Find out more about TSheets' Chrome App
TSheets' new Chrome app is the simplest, fastest way to track your time from any computer or laptop with Google Chrome installed as a web browser.

Back to Resource Center