Released on: February 26, 2014
Just released, the latest version of the TSheets time tracking app for Android on Google Play now includes Crew functionality, a feature previously only available through an entirely separate legacy app. Now an all-inclusive time tracker for anyone with an Android device, this new release opens up increased capabilities for crew-wide time management. For those using the legacy Crew app, switching to the new version offers the updates of the completely redesigned TSheets Android app released in the fall of 2013.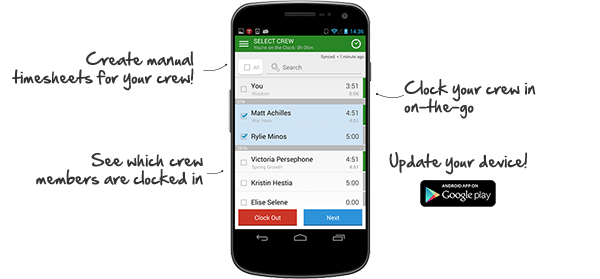 Highly anticipated, the new Android app became an instant hit with reviewers in Google Play upon its release late last year. Faster with a smaller overall memory footprint, the overhauled TSheets Android app included a complete user interface redesign for a more intuitive experience when clocking in and out, changing job codes, and performing other time tracking and management actions on the go.
By including Crew functionality in the main Android app, managers can now clock a team of employees in and out and see which crew members are on the clock, and view a crew's day and task totals in real time.
"At last, crew in one," Matt Rissell, TSheets CEO. "Our ingenious development team has been hard at work on our Android app for quite some time now. Our 2013 release totally reimagined the TSheets experience for Android users. Now, we've open up crew capabilities as an added kick. It's a one punch, two punch killer combination for Google devices."
The new Crew functionality gives managers the ability to make service items and other job codes a mandatory entry when clocking in a team-improving project estimating and billing for the entire company.
For construction, sales and other industries on the move, the TSheets app offers GPS tracking that works while crew members are on the clock, noting time worked and GPS stamps even when out of service.
Learn more, download and read the reviews for the latest release of the new TSheets Android app on Google Play.
Back to Resource Center