Founded by Taya Kyle in November 2014, the Chris Kyle Frog Foundation (CKFF) strives to support military and first responder marriages, which, in turn, supports whole family units. Taya started the organization to honor her husband, "American Sniper" Chris Kyle, who passed away in February 2013. Prior to his death, Chris had already begun drafting his ideas for CKFF, intending to create a family support network that could strengthen family bonds and foster healthy relationships for generations to come.
A mission to serve
Divorce rates within the military and first responders are very high. When Chris and Taya were in the SEALS, it was around 97 percent. But Chris and Taya were part of the 3 percent who made it.
After Chris's untimely death, Taya undertook a mission of her own: to honor Chris's legacy by bringing his nonprofit vision to life.
The first step was to hire a consulting agency that could take CKFF through the filing process to become a 501(c)(3) nonprofit. It was through that agency Taya met Samantha Kalfas, who would go on to become CKFF's first full-time employee and the company's head of partnerships and finance. Samantha says she was immediately drawn to CKFF's mission and the people it serves. With a masters in health science and a masters in speech pathology, Samantha says she never expected to end up where she is now, but she absolutely loves it. "There's no one out there doing what we're doing and supporting the mission we're supporting," she says.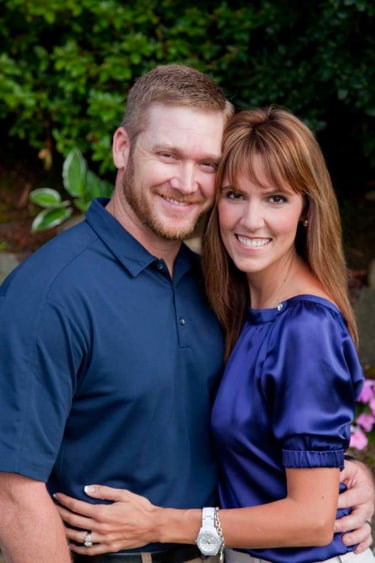 Chris & Taya Kyle, Photo: Chris Kyle Frog Foundation (CKFF)

A growing network for a growing need
Since Samantha joined the team in 2015, the organization has grown to eight full-time employees. They need the staff to meet the demand. "We've doubled our programming every year," Samantha says. "Since launching in 2015, CKFF has been able to impact nearly 700 families through our various programs. The need for what we're doing is unique, and it's growing."
Retreats are a major part of CKFF's mission. Military and first responder couples, especially, seem to struggle to find time to focus on their relationship. The stress of the job, combined with time spent away from family, can lead to feelings of resentment and a communication breakdown from both parties. Often, spouses forget to take time for each other, particularly when there are children to look after and care for.
CKFF hosts four different programs: Revitalization Retreats, Empowered Spouses Retreats, Date Nights Out, and Mastering Your Marriage. The goal of the foundation is to put every couple through every program, over the course of a couple years. Best of all, it's completely free.
Couples who are nominated and accepted by CKFF work with the foundation and its partners around the country to build positive lifelong habits. Coaching sessions and StrengthsFinder assessments help couples figure out where communication breakdowns are happening and achieve greater understanding and empathy. Couples are required to complete two coaching sessions prior to attending a Revitalization Retreat, then after the retreat, it's recommended they complete another three sessions.
Besides getting to experience a fun weekend, where travel, food, lodging, and even extras like baggage fees and souvenirs are all paid for, couples can rest easy, knowing the kids are being taken care of back home. CKFF is so dedicated to helping couples relax, they even pay to fly out grandma and grandpa to babysit.
"Our job now is to give these service members support resources to strengthen marriages that, in turn, will strengthen the family unit," says Samantha. "We always say we Serve the Marriages of Those Who Serve Us. We want their marriage to be a place they're running to and not from."
TSheets for nonprofits — a time tracking and reporting solution
In the nonprofit world, salaries and funding are dependent upon understanding what the nonprofit does and where its money and time are spent. Payroll is heavily monitored and sometimes displayed publicly, so it's important nonprofits have accurate records showing employee hours.
Knowing how many hours employees are putting in and what they're working on during that time isn't just helpful to the IRS — it's essential information for savvy nonprofits as well. Part of Samantha's job as head of partnerships and finance is running financials and pulling reports to see where time has been spent. To do that, she uses TSheets by QuickBooks.
CKFF came onboard with TSheets in 2016. "We researched different time tracking programs that were available for nonprofits that came at a decent price, had all the features we needed, and were pretty user-friendly," says Samantha. "We did a trial run with another system, and it was just horrendous. But then we did a trial run with TSheets. We formed a connection, and since then, it's been easy to pull reports from the back end and take advantage of other features."
Chris Kyle Foundation project report sample
For instance, rather than needing employees to send her separate reports on what they've done with their time throughout the day, Samantha can view the employee's past job codes, as well as any notes or comments they've left on their time. By viewing employee activity as a whole, Samantha is also able to see what percentage of the nonprofit's time was spent on admin work as opposed to fundraising, or even time spent working on specific events.
"TSheets is really easy to use," Samantha says. To keep track of what everyone is doing at specific fundraising events or retreats, CKFF employees simply clock in and out using the event's job code. Samantha can even set up subtasks within a certain job code to see what parts of the event are taking up the most time.
At the end of the event, Samantha can also use TSheets to help with job costing. By seeing how many people were needed to facilitate, how many hours were spent, and where that time was allocated, she's able to figure out how much the labor portion of the event cost. That, she says, is really beneficial when they're trying to see if an event was profitable. "I can pull the hours of one person or the whole team to see how long they worked on that event. Then I can say, 'Ok, well, we may have made this much, but we spend X number of hours in salary time.'"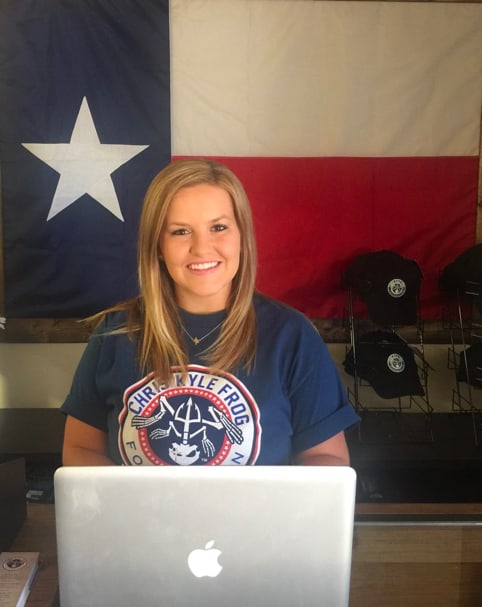 Photo: Chris Kyle Foundation (CKFF)
But TSheets isn't just a simple solution for supervisors and payroll managers. Samantha says the employees like it too. "Employees are able to clock in via their computer or the TSheets app," she says. It's not mandatory for employees to use the mobile app, but Samantha says that's one of the things that makes TSheets so simple to use. "The TSheets app is kind of a lifesaver for our team because a lot of us work remotely and need to be able to clock in or clock out wherever we are."
The Chris Kyle Frog Foundation, like many nonprofits, gives employees flex schedules to accommodate the different hours and events employees have to work. The TSheets app works even in remote locations, storing data even when offline, then uploading clock in and clock out times to the company's time log once the device has access to the internet. Employees can add photos and notes to their timesheets as well, giving managers even more insight into the work being done.
When it comes to applying for grants, timesheet records are often part of the application process. "Certain grants require an audit," says Samantha. "Some require your finances like your 990s from the year before and certain tax documents, so it just kind of depends. Some grants want a letter of what you intend to do with the money, how you intend to use it, receipts, expense breakdowns, etc." Given that payroll makes up part of those expenses, it makes sense for nonprofits to use a precise time tracking system like TSheets to reduce paperwork and help with organization.
Check out the Chris Kyle Frog Foundation
Military and first responders can nominate themselves or, if you know a deserving couple, you can nominate them, giving these folks the chance to strengthen their marriage in a fun and supportive environment.
Simply go to the programs link on the Chris Kyle Frog Foundation website to view the different resources available, and submit nominations via the page's Nominate button or by visiting CKFF's contact page.