Word on the street is the accounting profession might be ready to embrace the cloud — in a full on relationship — and vice versa. Like any meaningful relationship, there are different stages: the joy of new love, the longstanding relationship, and sometimes the dismal state of separation.
Not sure where your relationship with the cloud stands? Read on.
Single and Looking: The good news is, the cloud is available. According to technology expert, David Cieslak, keynote speaker at the 2013 Sleeter Conference, there are three areas in your life specifically that can benefit from a relationship with the cloud: your productivity (word processing, spreadsheets, TSheets time tracking - shameless plug) and e-mail; file storing, sharing, team collaboration; and data backups. He also mentioned some accounting/ERP and CRM products that are starting to look ready as well. Hubba hubba, that cloud is starting to look pretty fine!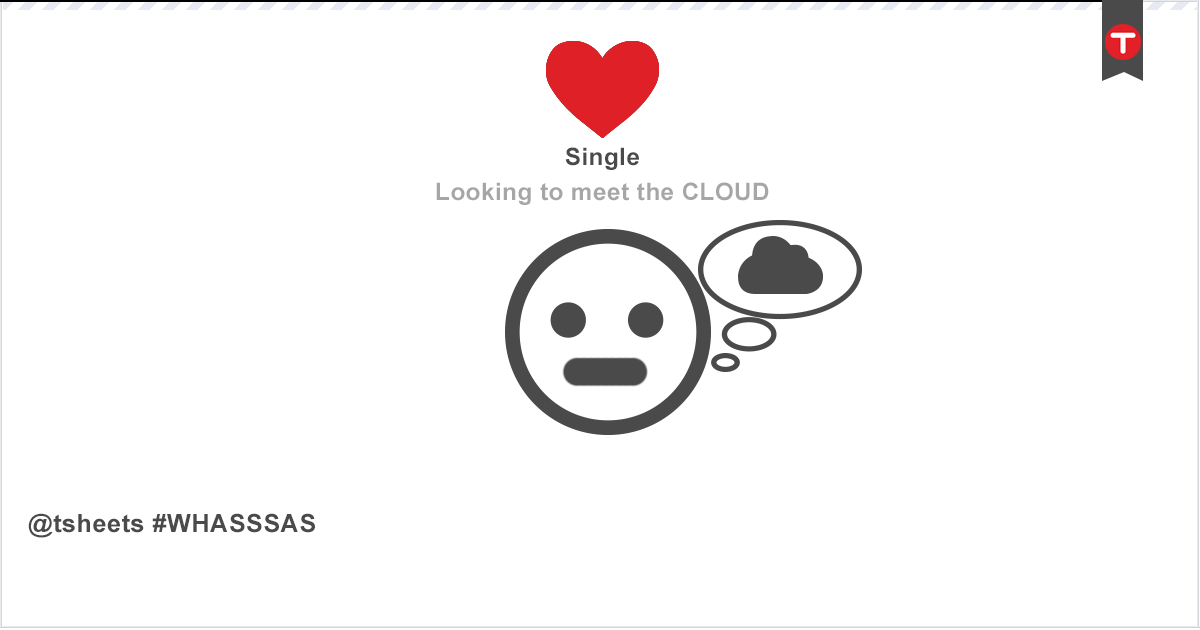 In a Relationship: Congratulations, you're official. Treasure these happy first memories, but it's okay to take it slow. Cieslak recommends moving your e-mail to the cloud as a first step, pointing out that providers like Microsoft and Google can offer email services more efficiently, securely, and less expensively, than most can do for themselves.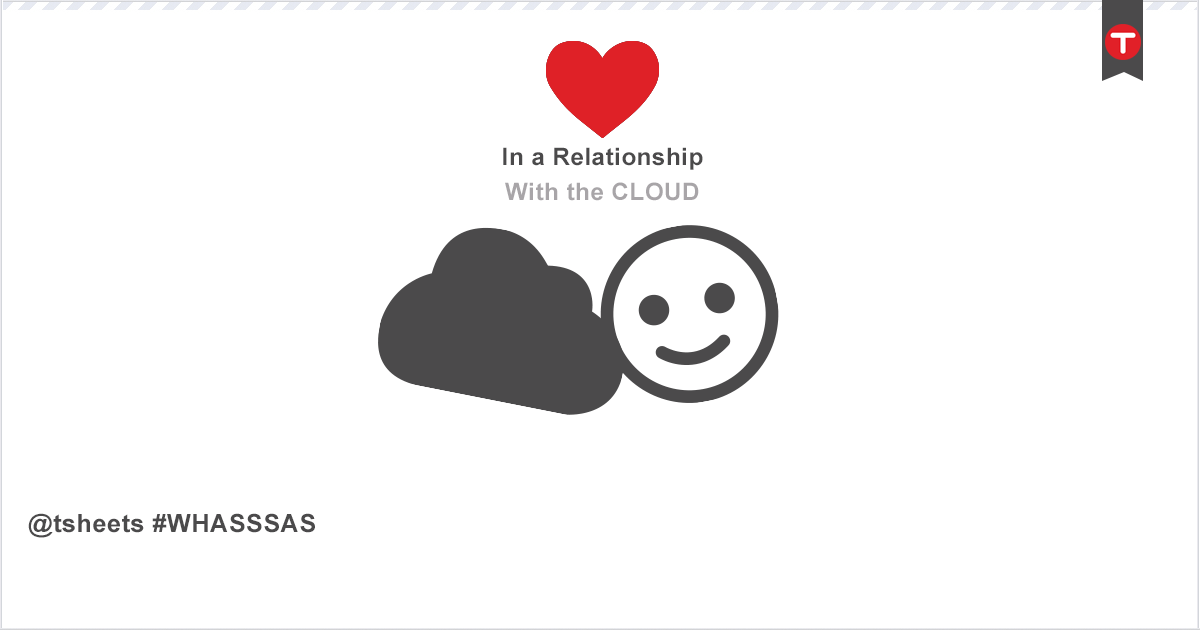 In a Domestic Partnership: Are you sure you're ready to share data with the cloud when you have no real commitment? Do you really want cloudlets out there with your data in them? It's your responsibility to protect your data, both with smart cloud interactions and good backups. According to Cieslak, "Backups are useless until you need them -- and then they're priceless" stating that it's useful to have an online backup and storage component as part of your data protection strategy. As Granny would say, "Protect what's valuable, honey."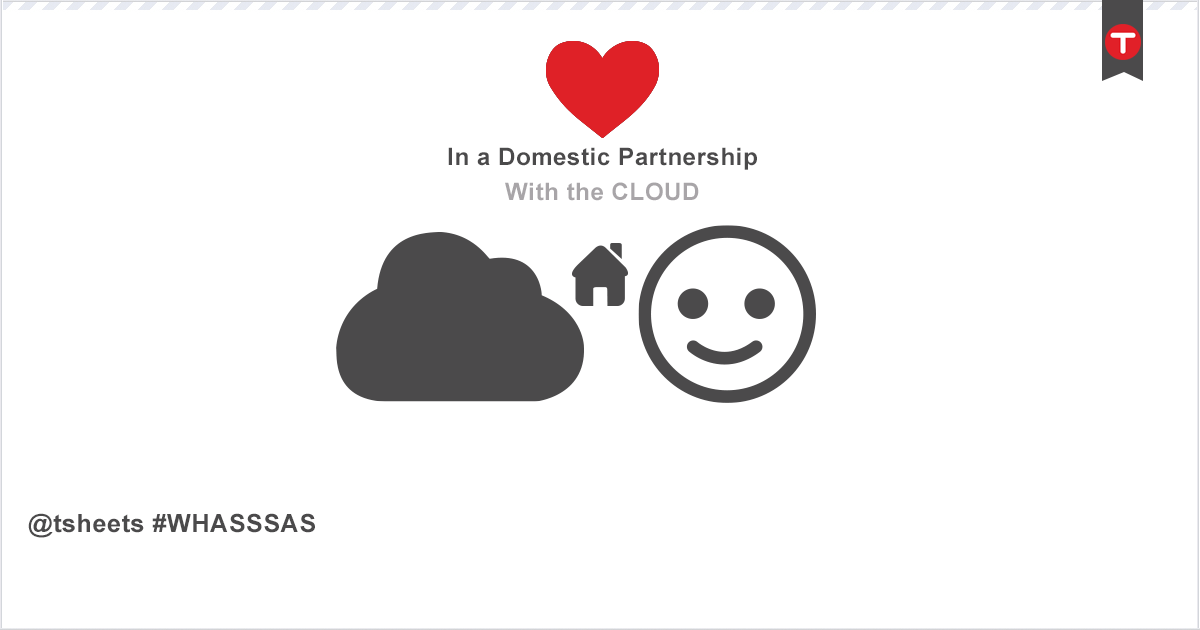 Married: *sniff, sniff* It was a beautiful wedding. You now trust the cloud with all kinds of information. You make sure that the most important data is protected, and use only trustworthy services that also encrypt your data. According to Cieslak, more and more critical servers and services will continue to move to the cloud, as more users understand the savings and other opportunities available there. Quite possibly a fairytale ending.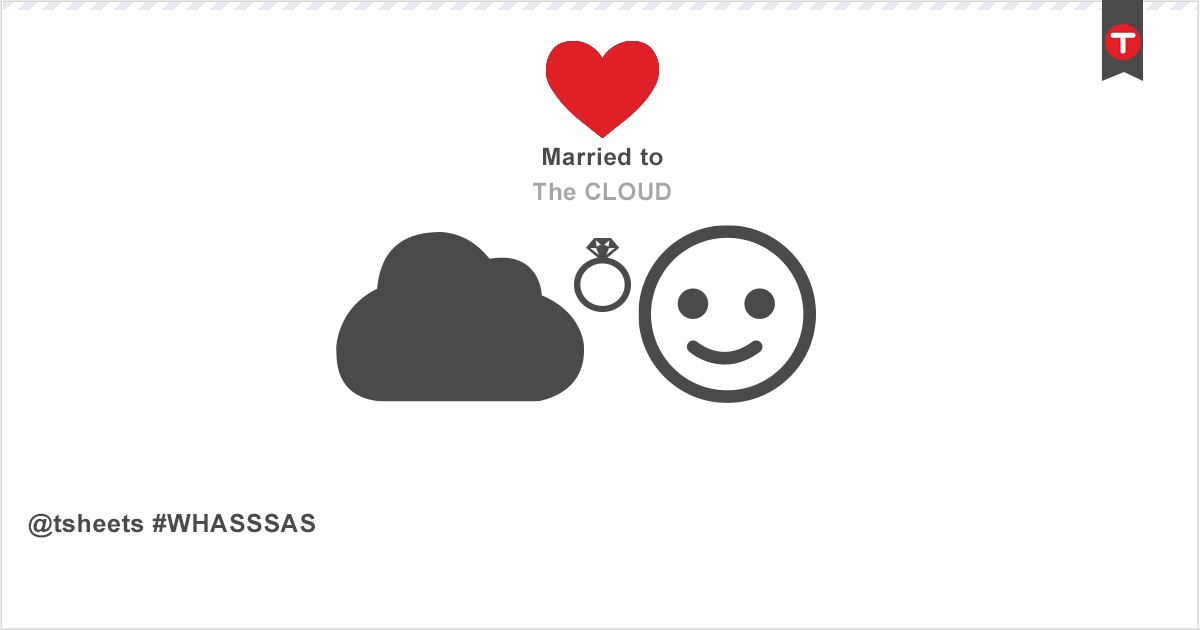 Separated: Ouch. Not sure you should have trusted the cloud? If the fairytale came to a halt due to loss of data or missed expectations, you might need help. Trusted cloud services (Google, Dropbox, TSheets) offer a level of security and encryption, but you need to make sure YOU can be trusted as well. Do your part by keeping your passwords secure and different, and find a professional to help you reconnect in a responsible manner.
Divorced: Security has been breached, data lost or used against you; relationship has been declared over. Yet, nothing needs to be permanent if you are both willing to work with a professional, some cloud therapy. The good news is the cloud is willing to change and provide a more efficient and productive future, if you are willing to start over. Hire a professional, do your part by using strong, secure passwords and build a solid foundation with only trusted cloud services.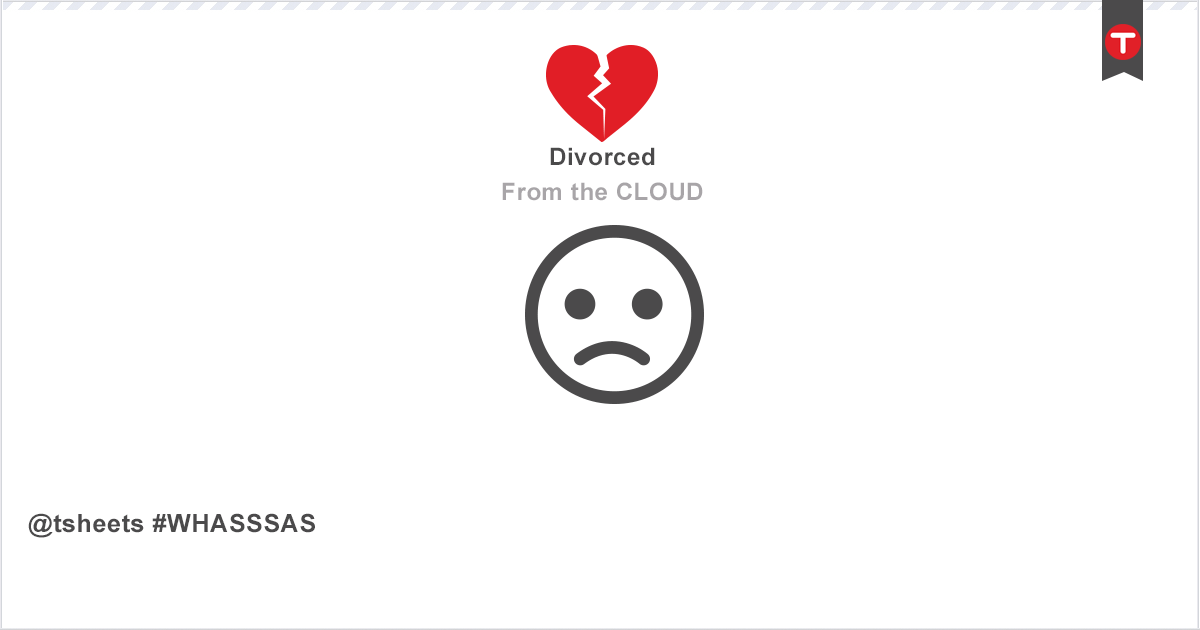 We hope your cloud horoscope has given you insight into where your relationship with the cloud is, and what to look forward to in the future.
If you've identified your relationship with the cloud, don't be afraid to share it on Facebook. After all, relationships are nothing without others around us to congratulate, encourage, or lend a hand. Share your status and get entered in a drawing for a Love Basket from the experts on love (employee love that is).
Share on your favorite social network!
Tag @TSheets
What is #WHASSSAS (other than a word that, let's admit, is pretty fun to say)?
#WHASSSAS (What Happens At Sleeter Shouldn't Stay At Sleeter) is a 13–week crusade encouraging accountants to take the profusion of wisdom shared at The Sleeter Group's #Solutions13 conference and put it into action. We hope every #WHASSSAS post reminds and emboldens you to take meaningful action to improve your business and the lives of your clients. Don't be surprised if we bring a smile to your face while we're at it!
Back to Resource Center