What's the deal with the "Fair Workweek"?
TSheets scheduling apps help New York City retailers and fast-food restaurateurs comply with new legislation
NYC Fair Workweek up Close
On-call scheduling
In retail, employers are required to end "on-call scheduling" and give employees their schedules with at least 72 hours' notice. Retailers may no longer cancel any regular shifts in the 72-hour window, either.
"Clopenings"
Employers in the fast-food industry may not schedule "clopening" shifts (an opening and closing shift on the same day) without providing extra compensation. Employees are also entitled to at least 11 hours of rest between shifts.
Access to hours
Fast-food employers must offer additional hours to existing employees before scheduling employees from other locations or hiring additional help. Notice of the rule must be posted. All available and repeating shifts must also be posted on paper or electronically.
Predictive schedules
Fast-food employees are entitled to predictive schedules. This means each employee must be given 14 days' advance notice of all shifts. And they're entitled to a premium if a shift is canceled, shortened, moved, or added within those 14 days.
Don't Get Buried in Printed Schedules — Use TSheets for Simple Scheduling
Creating schedules can take hours, and keeping piles of paper schedules on file for years at a time can be a hassle. Schedule your employees by shift or by job using TSheets Scheduling online or on a mobile device.
Creating, sharing, and storing employee schedules has never been easier! Are schedules getting more predictable? Copy a previous schedule with a single click!
Step 1:

Choose the dates and times for shifts

Step 2:

Assign them to employees

Step 3:

Publish the schedule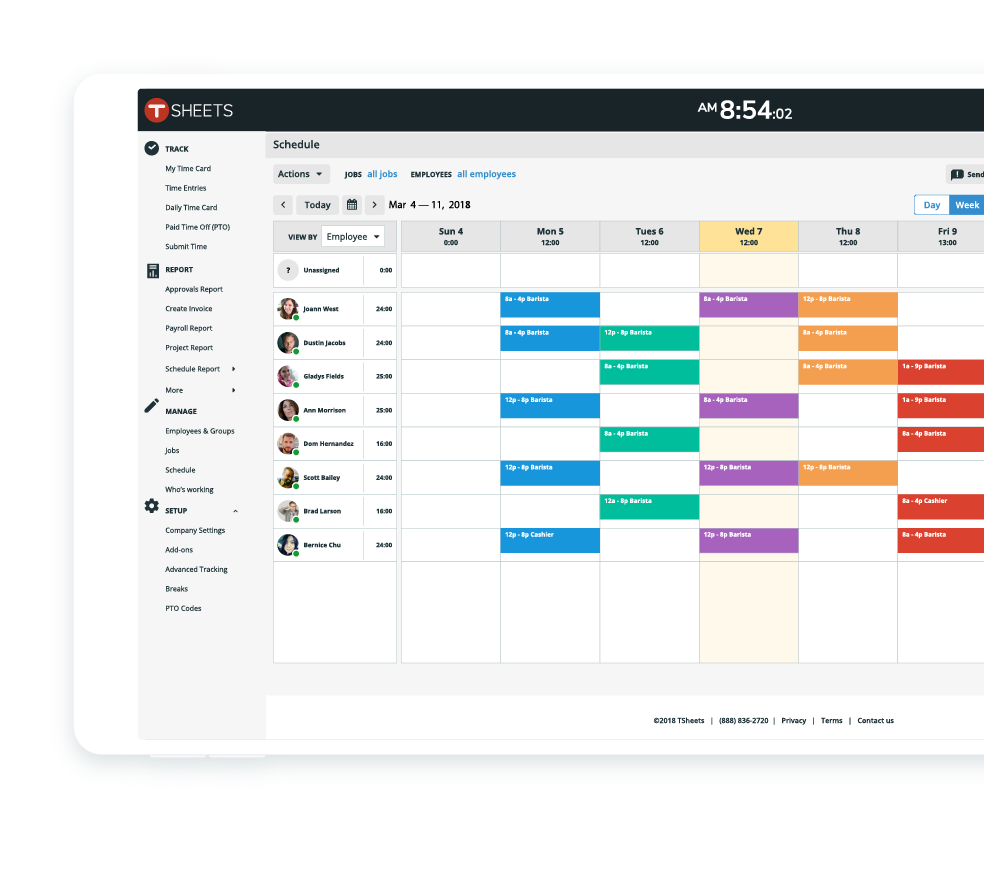 How to Comply With Fair Workweek Laws
Don't retaliate
Employers cannot take unfavorable action against employees who exercise their rights under the law. Taking retaliatory action could result in steep penalties.
Keep notifications posted
All mandatory notifications are to be kept on the job site (and sometimes electronically). Keep the required notices posted both in English and in any language your employees use on the job site.
Check your scheduling process
Make sure your time tracking, scheduling, and payroll systems support Fair Workweek requirements and give you access to reports that detail your compliance.
Do your research
Brush up on your compliance knowledge of the Fair Labor Standards Act (FLSA). Knowing how to properly classify employees, when to grant overtime, and how to manage breaks can keep your business on the right side of the law.
Stay up to date
TSheets can help you keep accurate records, but we'll leave financial and administrative decisions to your organization. Stay up to date on Fair Workweek laws in your city and check with your lawyer or financial advisor if you're still not sure how to comply.
Are you a fast-food or retail employer in NYC?
TSheets can help you comply with the new legislation — free for 14 days!