If you could wave a magic wand and suddenly improve communication, accountability and efficiency in your business, would you do it?
Did we even have to ask?
While TSheets Scheduling isn't exactly a magic wand (although we have to say, it is pretty darn magical), it will dramatically improve communication with your team, make significant inroads to mutual trust and accountability with your employees, and add a new level of efficiency to several key aspects of your company—all in short order.
Not convinced? Keep reading.
Accountability
Establishing a two-way street of trust and accountability is one of the most important components of any business. Not only is micromanagement a morale killer, it's literally impossible—not to mention unprofitable. If you're micromanaging every aspect of your business, you're not taking the time you need to focus on high-level goals, plans, and building that rewards and encourages hard work and good ideas.
How can Scheduling + Time Tracking help with accountability?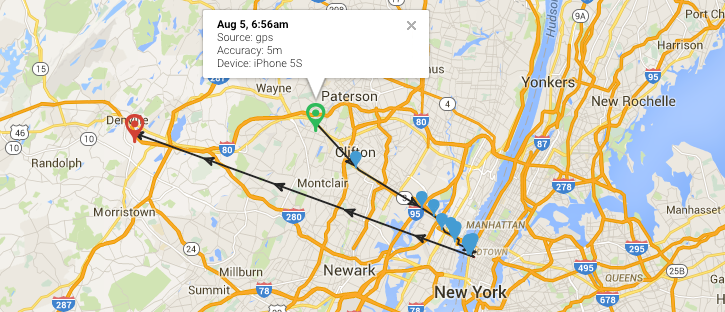 GPS on Point
GPS tracking through the Who's Working dashboard shows you every employee on the clock, in real time—including a path of where they've been while clocked in. When employees clock out, GPS turns off. For businesses with mobile employees, or employees in more than one location, getting a bird's eye view that shows you with one glance if everyone is accounted for—is critical.
GPS can help you quickly and effectively address sticky situations (for example, if an employee is chronically showing up late for customer appointments or taking unscheduled detours). It can also help you identify employees who are following through with commitments, showing up on time consistently, and making the most out of the workday—grounds for promotions, rewards, and additional trust and responsibilities.
Andrew Walsh, a TSheets customer who uses Scheduling + Time Tracking says, "When I first started using TSheets, I turned GPS tracking on and realized that one of my employees was at home when he was scheduled to be at a job. We got that sorted out, but I would have had no idea if hadn't been for TSheets' GPS." He adds,
It's not a big brother thing. It's a safety net. If I feel uncomfortable about something, GPS either gives me the reassurance that my employees are where they're supposed to be in the field, or it confirms that I need to deal with a situation. Andrew Walsh, Owner of Terra Dura Landscaping
Always on Alert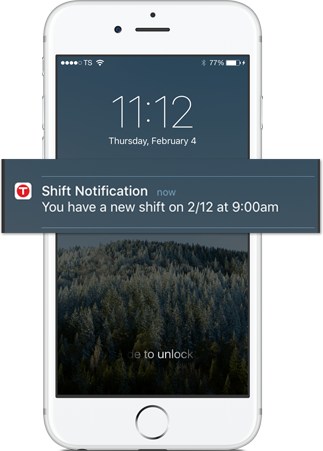 Old-school scheduling and time tracking systems (read: whiteboards, notebooks, and printed paper timesheets) leave plenty of room for loopholes, excuses, and questions. It can be frustrating and inconvenient for managers and employees alike to stay on the same page about schedule changes, new assignments, and who's doing what.
Enter TSheets Scheduling + Time Tracking.
TSheets' includes customizable notifications and alerts that help everyone stay accountable and in sync. Whenever employees are assigned a new shift or job, whenever changes to the schedule are made, and whenever it's time to clock into a new shift or job, employees will be sent a handy push, text, or email notification (or all three if you like!)—right to their smartphones or devices. And if they don't clock into a job or shift as scheduled, you'll be sent an alert, so you can quickly deal with the situation.
Employees that have trouble remembering to track their time now have an additional incentive to clock into jobs and shifts—since they know you'll be sent an alert if they haven't. Alerts and notifications also provide your all-star employees with a way to build trust and show their dependability by following directions and letting you know that they're on the job and ready to roll.
Efficiency
Efficient costs
With TSheets Scheduling + Time Tracking, you're getting two robust solutions in one—but you're not paying double the price. Scheduling is just $1 per user, per month.
Andrew Walsh, owner of Terra Dura Landscapes, says, "I would be paying the same amount for scheduling alone and very limited time tracking capabilities if I chose any other product.
...Not to mention all the time you'll save with fast, easy cloud-based scheduling. If you're like most companies, you spend about 8 hours scheduling each week. What could you do what an entire extra day back? We have a feeling it involves building your business.
Efficient staffing
Between the intuitive schedule view that lets you assess shift and job coverage gaps and overlaps at a glance, the Who's Working feature that shows who's available to take a last-minute job, and TSheet's notifications and alerts that give you a head's up if a shift or job isn't being covered as scheduled, you can quickly eliminate the problems that arise from overstaffing and understaffing—which is not only good for business, it's good for morale.
Who's Working? See at a Glance.
Last-minute emergencies and urgent requests are an inevitable part of any business. However, TSheets Scheduling includes a feature that makes your life easier—and much more efficient when it comes to those urgent needs. With the Who's Working feature you'll be able to easily see who's on the clock and nearby to take a job. No more frantic calls to multiple employees to find out who's nearby—you can see everyone available all from one dashboard and make one call to Joe, who is just a block away.
Communication
We hear it so often it's a catchphrase. But "better communication" is a cliche for a reason—without it, jobs and shifts (and your customers) fall through the cracks.
Instant Updates
Typically, your employees aren't no-showing because they wanted to leave you high and dry. They simply forgot—or there were multiple changes to the schedule that didn't quite make it on the radar. With TSheets Scheduling, your employees will be notified by text, push, or email alerts any time a new schedule is published, or changes are made to a shift or job that impacts them. They'll also be alerted right before a shift is about to begin—or end (meaning, less overtime expenses!)
No More Crossed Wires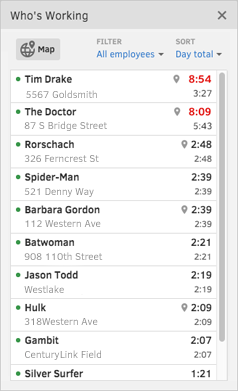 When it comes to communication, sometimes more is .... well, more. Your employees work hard and juggle multiple responsibilities. Remembering which job code to use for a particular job or shift is sometimes difficult. However, with TSheets Scheduling you can avoid the crossed wires of incorrect job codes by adding the job code to any job or shift you create. That way, when your employee clocks into the job or shift, the code is pre-populated. Easy! You and your employees will also have the ability to add notes to jobs and shifts, keeping relevant information organized and associated with a given job or shift.
Ready to find out how Scheduling + Time Tracking can transform accountability, efficiency, and communication in your business?
You're in luck, because you can try both free, right now.
Find answers to commonly asked questions about Scheduling and Time Tracking.
Back to Resource Center