What do you have to gain by referring a third-party app like TSheets to your clients? Is it worth the effort to go out of your comfort zone to set up mobile time tracking with your clients? What benefits will your business see by doing so?
We're glad you asked. While referring can feel like uncertain territory, understanding the value and benefits for you and your clients can make a big difference in how comfortable you feel with encouraging your clients to give time tracking a try.
When you weigh the value proposition of referring, keep these points in mind!
Your Clients Need TSheets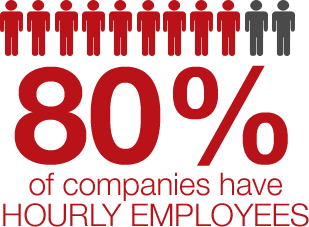 The American Payroll Association has found that 80 percent of companies have hourly employees. Another 60 percent are using Excel to track their employees' hours, which is inaccurate and inefficient.
Businesses that have hourly employees or are using outdated time tracking methods like spreadsheets or paper timesheets just happen to be a perfect fit for TSheets.
There are 10 telltale signs your client needs TSheets. Can you recognize them all?
All of this means that if you have 100 clients, there's a good chance 80 of them need mobile time tracking.
Why?
To start, they'll save 2-8% on gross payroll costs. Just by switching to an accurate, automated system. And that doesn't even touch they money they'll save by curbing time theft In other words, timesheet padding and rounding, which are all too common with paper and Excel timesheets, average a 10-minute margin of error per employee, per shift. And did we mention that by switching to automated time tracking, the amount of time it takes to approve employee hours and run payroll drops from an average of 10 minutes per employee timesheet to just one minute? Accountant and TSheets PRO Rachel Fisch says, "If something is all hype and no substance, I'm not buying it. But TSheets has a really effective app as well as a really engaging partner program."
Show your clients real numbers of how much they could be saving by using our Mobile Time Tracking ROI Calculator!
TSheets Can Be a Significant Passive Revenue Stream
Continuing our example above, let's say you refer TSheets to 80 percent of your clients, who you identify as a great fit for mobile time tracking. If 40 of those clients go on to start a free trial and activate with TSheets (at a 10 percent discount because you referred them!) what kind of residual income might you see during their first year as TSheets customers?

With an average of 10 employees on annual pricing, each client would pay $56 per month, or $672 per year.

Your 20 percent residual income for those 80 clients would be $10,752 for the year.

Not particularly interested in creating a passive revenue stream? We know each of our PROs has different preferences, which is why we're flexible. Would you prefer a larger discount for your clients and no commission? Want us to donate your commission to charity? Our goal is to make you and your clients happy and successful. Period.

"I love making referrals—especially TSheets ... because it's a really great tool and then, at the end of it, I also happen to get commission."

-Rachel Fisch

TSheets Makes You Look Like a Rockstar
As any great accountant or bookkeeper knows, you're not just an accountant or bookkeeper. You're a trusted advisor to your clients. And that means, more than anything, looking at a customer's business holistically, not just the books. Take things to the next level by providing solutions for your clients' businesses to improve the numbers in their books.
Scheduling a demo of TSheets is one of the best ways to show your clients the value and profitability of mobile time tracking. Accountant Rachel Fisch says, "I just did a TSheets demo last week, for a client who works in construction, and not only did it answer every single one of their questions, it actually answered questions they didn't even know they had … They didn't need to be technically savvy at all. It's simple enough that anybody can use it, and yet it's powerful enough that it gets you all the information where you need it, when you need it."
Stepping up as a trusted advisor by recommending holistic business solutions that help your clients save time and money is one of the most powerful ways you can build trust and rapport with your clients.
So, is referring TSheets worth it?
When you look at the benefits to your clients — and your relationship with those clients — the answer is a resounding yes. And the best part is, it's TSheets! So, whether you're new to the PRO Program or a seasoned PRO, we'll take good care of the clients you send our way. We measure our success by the happiness of our customers, and we're always here to help. Welcome to the team!
Back to Resource Center