Free Excel Timesheet Template - Weekly, Bi-Weekly & Monthly Time Cards
Free & Easy-to-Use Timesheet Templates from the #1 Requested Online Time Tracker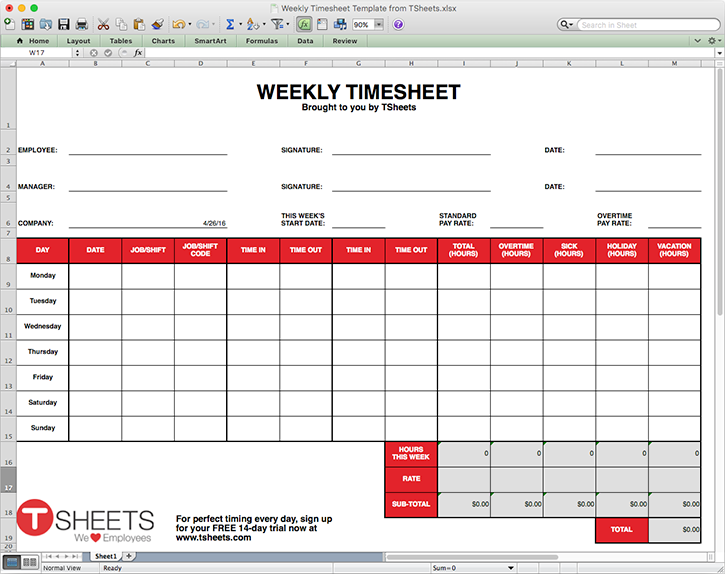 Microsoft Excel
Not quite ready to give online time tracking a try? That's okay! We still covet the opportunity to help you achieve timesheet success. In addition to our online software, we have provided you with a timesheet template for either Google Docs or Excel. Download one (or even all six!) of our free timesheet templates. Our templates factor in your lunch in/out times, so yes, TSheets even has your break covered.
Tired of Tracking Time Manually?
Give online time tracking a go
You can take TSheets out for an all-inclusive spin for 2 weeks, with no fees and no credit card required, and our Support Team at your disposal. Our feature-rich trial provides you with a look at what your payroll Friday could be like without tracking down employee timesheets or manager approvals. It's quite possible that we integrate with your current payroll system already, and it's worth checking out our ROI Calculator to estimate what your annual savings could be by automating your time tracking.
---
TSheets has allowed us to get rid of our inefficient paper system as well as get rid of our manual timeclock. Exactly what we were looking for. The integration with QuickBooks is seamless. Exceeded our expectations!
TSheets has completely streamlined our business. The previous time card system we were using pales in comparison to TSheets. Payroll is cleaner, invoicing is quicker and more accurate. And the product is such a great value—the cost is easily offset by a few hours of missed billings without it.
In the past, my employees just wrote down their time down in a spiral notebook. Let's just say that payroll was an ordeal. Now my employees submit their time through TSheets—what a huge difference! The integration is amazing. I now can export my timesheets straight to QuickBooks and, BAM!, payroll is done. I don't even know what to do with my extra free time!
Questions?
Call us at 888.836.2720
Back to Resource Center
Stop!
Before you go anywhere...
See How Much You'll Save Each Year:
(based on your number of employees)
Annual Savings from Time Tracking
Based on APA, savings is about 2%
We've even deducted the approximate cost of TSheets
We Save Approximately $2000 per month! - Todd Dawalt, Leak Eliminators