Wednesday, Aug 6, 2014
TSheets.com launched a new iPhone app last month designed specifically to meet the needs of the rapidly expanding mobile workforce worldwide. TSheets Software-as-a-Service business model (i.e. cloud based) translates to affordable, subscription based pricing with a plethora of mobile options for businesses. The most recent launch of the NEW TSheets Time Clock App for iPhone, with GPS tracking, allow small and medium businesses to efficiently and accurately track time and location for employees wherever their work takes them.
According to TSheets CEO, Matt Rissell, "The market demanded a reliable and best-in-class application for iPhone users that business owners could trust to accurately track employee time and GPS location points down to the job code, task, service items, etc. all in real time. We rewrote the platform for our entire app in order to lay the foundation for the existing functionality, and add more functionality quickly and efficiently going forward...so keep your eyes peeled!"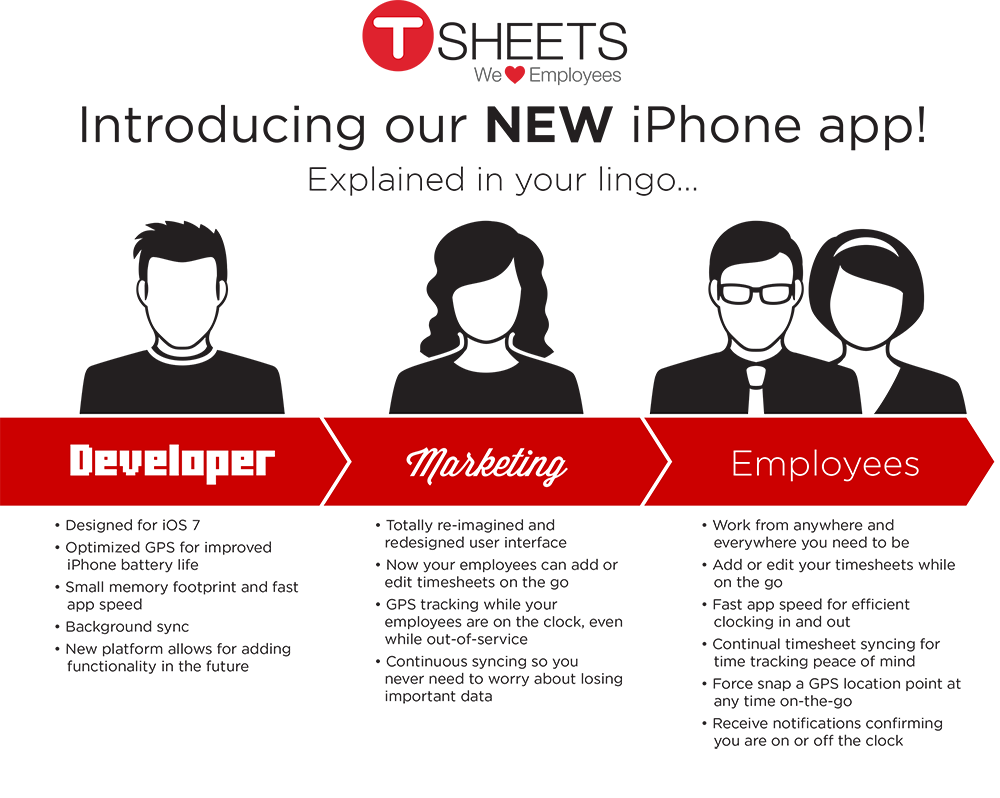 TSheets' new iPhone app can be downloaded for free in the Apple iTunes store and requires a TSheets account or free 14-day trial of TSheets.
Q and A
What's so great about the new TSheets iPhone App?
All sorts of sexy features and functionality, including a sleek new look, smaller memory footprint, faster app speed, background syncing of timesheets, ability to add or edit your timesheets on the go, and much, much more.
I hate it when everything is so technical - can you explain it in a way that's easy to understand?
Anything for you! What you need to know is the old TSheets iPhone app wasn't as efficient as our new app, and didn't allow editing timesheets on the go. The new app allows your employees to accurately track time and GPS location while on the clock, it won't drain their iPhone battery as works in the background--meaning they don't have to keep the app open while using it--and works even if they are out of phone or internet service.
How do I download the new TSheets Mobile Time Tracking App?
Great question! If you have our old iPhone app, simply uninstall it. Find the new TSheets iPhone app through your iPhone App Store (choose the red superman, er superhero "T") and install the free app.
If you haven't previously used TSheets, start a free 14-day trial, download our free app, enable "mobile permissions" and prepare yourself for superhumanly fast and accurate time tracking (and payroll), like you've never known before.
Is there a cost or any hidden fees when I download the TSheets iPhone app?
Our iPhone time tracking app including GPS is ABSOLUTELY free for those with a TSheets account. How do you get a TSheets account? Give us a try with a free 14-day trial (no obligations or unspoken expectations) or sign up as a monthly subscriber. It's an easy relationship with TSheets, and we hope you'll love us and choose to stay.
My work uses TSheets, I downloaded the app, and it won't work. WTFlip?
That is frustrating, and I don't blame you for churning some butter over that one. If it's your first time using our iPhone app, you may need administrator permission. Ask whomever set up your TSheets account, to give you "mobile time entry" permission, and you will be ready to track time on your iPhone. And thanks for allowing us to help with the butter.
Back to Resource Center