I use value billing (or pricing) and a lot of my clients do as well, however I always encourage them to continue to track their time with TSheets.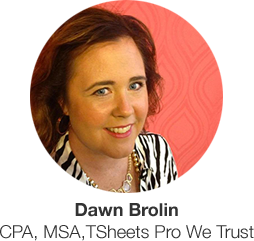 Why? Because tracking time isn't just about billing, it's about running and operating your business with purpose so you can make educated business decisions. Anyone who owns their own business — even someone in network marketing — as the sole practitioner, should know WHEN they are working, and WHAT they are spending their time on, on a day to day basis.
Every business owner (or their spouse) at one time or another wonders if they're ever going to make money. That's where the data comes in. If they know how much time they spent on marketing last month and what their revenue is — they have data to work with. If they double their marketing, will their revenue double? How much time did they spend on customer service or working in the back office last month? If they could hire someone at a specific rate to take care of the back office work or customer service, could they start spending their time and money in areas that make them more money? They have the data to make educated business decisions.
In my own practice, I have different staff members doing different things at different rates. When I provide a value billing or pricing quote to a client, and want to look back and evaluate it after a three-month period, I first look at my P&L. If I'm not tracking my time and my staff's time on that client, I don't know if I'm making 40% or 70%. If I can't see my price per job, I don't have the analytics to go off of to see the cost or the profit.
Tracking time isn't just about billing, it's about running and operating your business with purpose so you can make educated business decisions.
I've heard others say all you need to know is what your value billing amount is and your cost for payroll. Honestly, that's what I'd expect a contractor to do, not what a professional business would do to understand their profit and loss and how to improve it.
Whatever your role with your clients, as an Accountant, ProAdvisors, or Bookkeeper — you have a responsibility. There are different levels of responsibility based on your role, however, your responsibility is to be an ambassador of knowledge for your clients. Help them implement the right tools and use the data to make an educated analysis. Their time is money and money is time (really applies to all of us), and we are all time starved!
If your clients are working 7am to midnight, be accountable to them. To know every moment they aren't home with their families, playing golf, or doing the things they want to do in their personal time — they know where their time is being spent.
If those aren't enough reasons for you and your clients to track time, there's always material participation (legally) for taxes or for proof in the legal system. If you have an employee who goes to the Department of Labor and says they are working 50 hours a week and were only paid for 15 hours (with no overtime) and you or your client aren't tracking employee time to prove otherwise, your guess is as good as mine if the employer will pay. Trust me, the government rarely sides with the employer. We can elaborate on this another day.
At the end of the day, being a business owner comes with a lot of responsibility, expectations and hopefully huge rewards in the end. Be a responsible business owner yourself, and help your clients become one as well.
Use value billing or value pricing — same difference — track your time, and make money.
I would be losing money if I wasn't using TSheets
Back to Resource Center