Time Card Reports

You Can Actually Use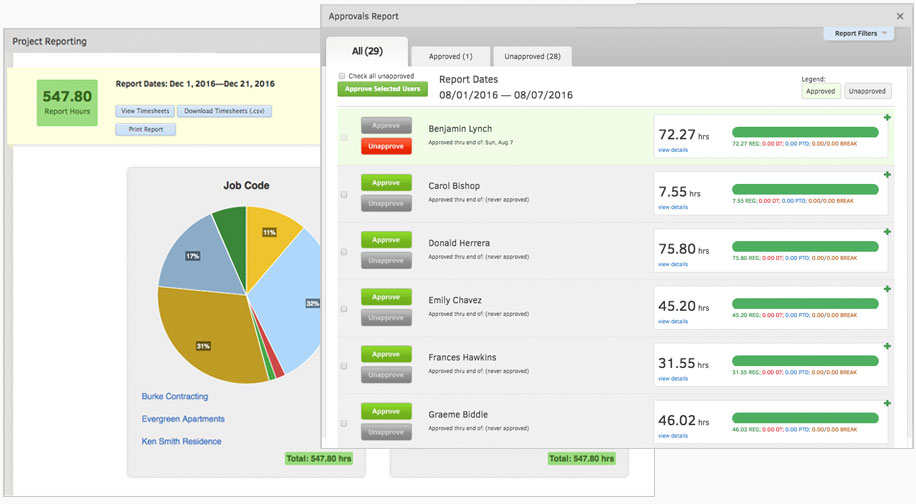 Time Card Reports in Real Time
Who else wants precise and detailed reporting of employee hours?
Now you can manage labor expenses as they occur with accurate, detailed reporting of your labor expenses, including regular time, overtime and PTO. TSheets' customizable filters capture the precise timesheet information you want - sorted by date, payroll period, employee(s), group(s), project(s), job code(s), and more, and can be viewed from a high level, or drilled down to the details of an individual employee.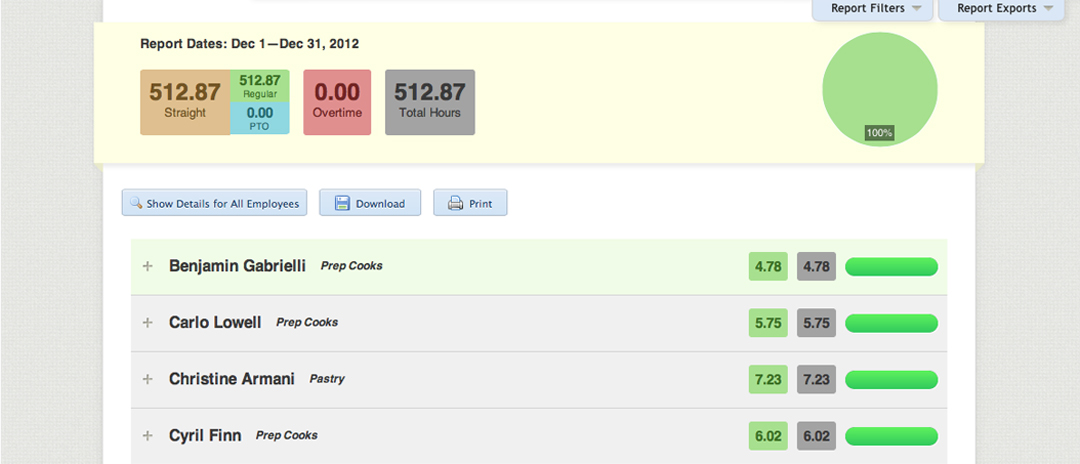 Payroll Reports
How to quickly view employee time cards and overtime for payroll.
Easily view all your employee hours at a glance with easy-to-understand graphs, then drill down within the report to an individual employee to view details such as job breakouts, overtime, and time worked each day.
Timesheet Approval Reporting
Easily review employee timesheets and "approve" for payroll.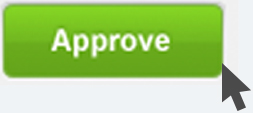 Approval reporting allows managers, administrators and those with permission within TSheets, to look over employee times in a single report and either approve or reject the submitted timesheets. Once the employee times have been reviewed and approved, then those specific timesheets become locked to ensure the final payroll reports accurately reflect the approvals. If a timesheet is rejected or "unapproved", then an email is sent to the employee that can be personalized by the supervisor regarding what they need to review and change to resubmit their time.
Project Reporting
Now you can report by job code or project and be able to immediately review job costing.
Project reporting allows businesses to sort employee times by job code, group, or service item and can filter down to further detail when selecting an individual segment on the chart. Even view the individual timesheets within a project and print or download the data as needed.
Exporting Timesheet Data
Here's an easy way to print, share, or customize your employee labor information.



After choosing a report and filtering down to the desired data, an administrator can download or export the data in multiple formats. Exporting to .PDF allows for easy printing and sharing; exporting to excel or as a .CSV file, provides the option to customize or edit the labor information to meet the specific needs of the business.
Learn about our Integrations & API
DCAA Compliant Audit Trail
Here's a quick way to have the record keeping detail and audit trail the government requires.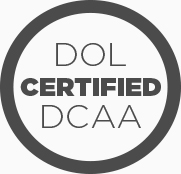 In order to be DCAA compliant, contractors must keep accurate records of employee time cards, such as tracking hourly time to specific projects or tasks. An audit trail must exist for daily time entries, timesheet corrections, approvals and adjustments. TSheets provides the detailed time card data tracking needed for compliance as well as the reporting needed in the case of an audit. Learn How TSheets is DCAA and DOL Compliant