Now You Can Save Hours on Payroll
Welcome to fast and easy payroll with TSheets time tracker
No more lost paper time cards, messy handwriting, or manually entering time into spreadsheets. With TSheets, time is tracked accurately using devices your employees already use and are familiar with, such as cell phones, smartphones, tablets or desktop computers, and are ready to sync for payroll in minutes.
Businesses that once spent hours on payroll each week, are now averaging a mere 15 minutes. It's the simple life of TSheets that saves you hours each week, and thousands of dollars each year on payroll.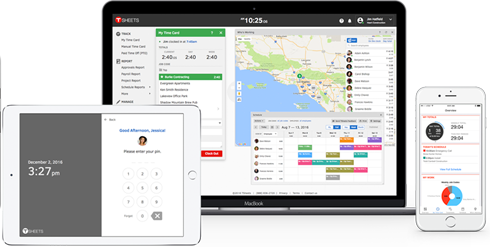 "

I strongly recommend this app for anybody who is looking for an easy to understand and easy to use time saver for payroll.

"

via apps.com
Tale of 2 Payrolls
Solving the Payroll Nightmare
Sync Timesheets to Payroll in One Easy Click
Adios manual and duplicate entry
Not only is manual entry a drain on your bookkeepers time, it contributes it's fair share of errors. By bypassing manual, and often duplicate data entry, you can eliminate typos and enjoy accurate employee times that are transferred seamlessly to payroll, in one easy click. Time tracking and payroll doesn't get any easier than with TSheets.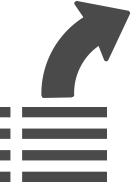 Simplify Payroll by Automating PTO & Accrual Tracking
Managing employee time off just got easier with a time tracker app
Accurately tracking employee PTO and accruals can be a chore. Why not let your time tracker do the work for you? Simply enable and set up PTO within TSheets and allow employees to enter their own hours for PTO, or enter them yourself as an administrator, for one employee or multiple employees at once (Christmas vacation, anyone?).
Easily download and view the accrued PTO balances of your employees, at any time, and of course, sync PTO hours with your payroll software (like QuickBooks) with one simple click.
A Time Tracker Saves You Money on Overtime
TSheets overtime alerts to the rescue

"

TSheets has streamlined our hours and time tracking for our employees. Helped cut back on overtime, and manage actual hours more efficiently.

"

via apps.com
Paying overtime can be expensive, especially when unplanned for or unnecessary. Unfortunately, managing overtime can also be complicated depending on local overtime laws - requiring you to track overtime on a daily or weekly basis, on the 7th consecutive day, etc .
Fortunately, it's TSheets to the rescue. Using TSheets, administrators, supervisors, crew managers, and employees are alerted - via email, text, or push notification from the time card app - when they're approaching overtime. It's just one more way TSheets gives you the power to control time.
Here's an Easy Way to Protect Against Audits
Protect your business and your employees
No one likes to think about payroll or labor disputes, but they happen. So why not protect everyone involved with an accurate digital time tracker, and an audit trail that includes corrections, approvals and adjustments on all time entries. It's record keeping detail that meets even government DCAA requirements. Serious backup for your business, at no extra charge with TSheets.
Now You Can Save Thousands of Dollars Every Year on Payroll
Get rid of rounding and illegible time cards and pay for actual time worked
According to the American Payroll Association, businesses can save 2% a year on payroll by automating time and attendance tracking. Not including the additional savings on payroll taxes, overtime, payroll administration and more. Every minute makes a difference, especially when you understand the true cost of an employee.
Find out how many G's your business can save each year on payroll with an accurate time tracker like TSheets.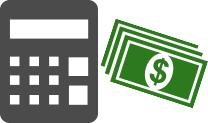 "

We save approximately $2,000 per month in payroll + have better data quality + higher morale + lower frustration.

"

Leak Eliminators