Why Replace Manual Time Cards?
2% Average Savings on Gross Payroll Costs
For contractors with seasonal and mobile workers that work in multiple locations throughout the day, logistics can be daunting, and illegible or lost employee time cards, the norm.
From GPS tracking while employees are clocked in, to job costing and reporting in real time, to saving hours on invoicing and payroll each week, TSheets is the new favorite power tool for construction workers everywhere.
Calculate Your Estimated Savings
Mobile Time Cards
Eliminate the job site to office paper shuffle
Let your employees clock in and out from the job site with the device they already have in their pockets. Yes, we have Android Andy, iPhone Ivan, and Flip Phone Frank covered with all our mobile time tracking options. Even offline or out of service, TSheets accurately tracks time and automatically syncs when back in service.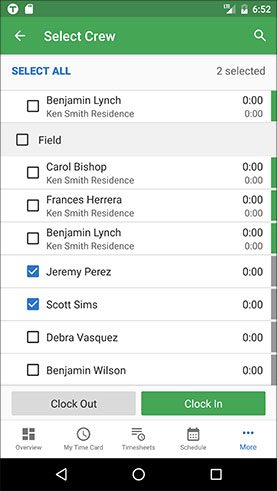 Time Card App for Crews
Clock in the entire crew in seconds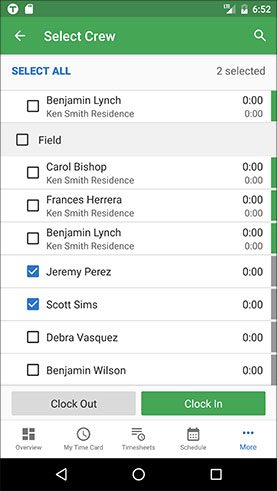 Crew supervisors can lose valuable time clocking employees in and out and confirming who's working when messy paper time cards or punch clocks are involved. Using TSheets' Crew App, supervisors are able to clock the entire crew in (or out) in seconds and easily keep track of who is on the clock at any given time. No more inaccurate or inefficient time tracking at the job site.
Get My Crew on Board!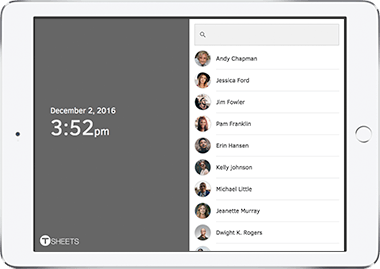 Replace That Old Punch Time Clock with TSheets Kiosk
A fast, easy way for construction employees to track time on site
TSheets offers an easy, cost-effective alternative to traditional punch time clocks on the jobsite. No expensive, bulky hardware or paper timecards necessary! TSheets kiosk time tracking works on any device with an internet connection. Employees simply clock in with a 4-digit pin to track time against jobs, equipment, departments, and more.
Learn more about how TSheets Kiosk can help your construction company
Employee Scheduling Software
Scheduling that gets the job done
Assigning new jobs and keeping your crew members on the same page shouldn't be a daily struggle. With TSheets Employee Scheduling, assigning new jobs—complete with correct job codes and notes—is as easy as a few clicks. Employees are sent text, push, or email notifications whenever new assignments or changes are made, and they can clock into a new job right from their smartphones. You'll get a bird's eye view of where your workforce is at any given moment with GPS technology and the Who's Working window , and you'll receive alerts any time an employee hasn't clocked into a job as scheduled.
Schedule by Shift | Mobile Scheduling | Scheduling FAQs | A Scheduling Success Story
Overtime Alerts
Proactively manage costly overtime
Even super heroes need a break. Reminder: clock out at 40 hours!
TGIF - Setting overtime alerts for your employees can help notify you, or them, before expensive overtime begins. Choose to have alerts sent via email, text, or Twitter to individual employees, groups, or everyone when approaching daily or weekly limits. Not only will you save on time-and-a-half but your job costing accuracy will simplify the bidding process and secure profitable jobs.
Mobile Time Cards in Spanish
Dial in to have timesheet prompts in English or Spanish
Show your Spanish speaking employees some time tracking love. Individuals or entire crews can make a phone call and automatically receive time card prompts in Spanish or English. Eliminating the language barrier between the office and the crew increases efficiency, accuracy, and overall workplace morale.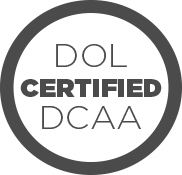 DCAA/DOL Compliance
Meet requirements and safe guard against audits
When businesses win government contracts they need to make sure their time tracking remains compliant with the Defense Contract Audit Agency (DCAA).
Using TSheets Manual Time Entry protects businesses with the time tracking, management, and reporting capabilities needed to comply with government regulations and guard against any audits.
Get the Scoop on DCAA Compliance