Remote Employee Time Tracking in the Office and Across the Map
Time tracking and scheduling that works wherever employees do
Powerful Time Tracking for Remote Employees
Track and manage employee time across state lines
Whether remote employees work from a home office or a co-working space, they can clock in and out, take breaks, and change job codes from any mobile device or computer. When it's time to run payroll, submit timesheets for approval with just one click. And TSheets by QuickBooks integrates seamlessly with your favorite accounting or payroll software, so running payroll takes minutes, not hours. No more manual time entry!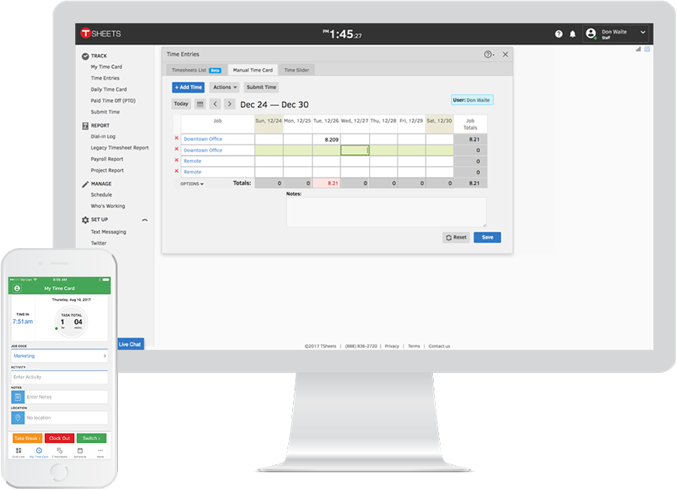 Mobile Apps Make Time Tracking Easy
A mobile remote employee time clock for iOS and Android
TSheets is compatible with iOS and Android, so it works on the devices remote employees already have. Use the TSheets mobile app to clock in and out, track paid time off and sick days, add notes, and attach relevant photos to timesheets — from anywhere! Employers can approve employee timesheets directly from their smartphones too. Online or offline, your employee time tracking needs are covered. Plus, time data is accurate-to-the-second, so remote employees know they're meeting wage and hour requirements for their city, state, or classification and they're being paid for every second worked.
Got employees with different classifications? TSheets supports them all!
A time tracking, scheduling, and billing solution in one.
TSheets is the No. 1 rated remote employee time tracking software.
GPS Tracking Puts Remote Employees on the Map
Keep remote employees accountable with GPS tracking
Every TSheets account comes stocked with GPS location tracking. TSheets tracks GPS points each time employees clock in and out, take breaks, or changes job codes. As long as they're on the clock, GPS points also stamp every 5-10 minutes (or 30 meters traveled). Remote employees are on the map, whether they're commuting to a shared space or working from their local internet cafe.
Find out how remote workers feel about GPS tracking in the workplace.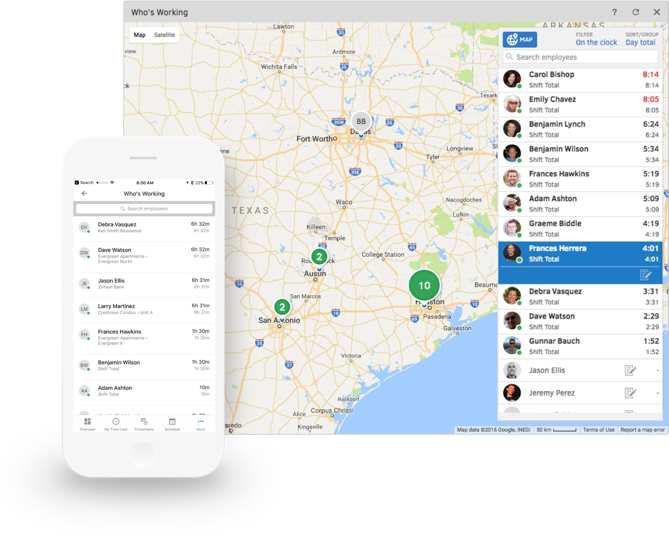 See Who's Working at a Glance
Manage remote workers with the Who's Working window
The Who's Working window allows employers and employees to see who's on the clock, where they're working, what they're working on, and how long they've been at it — all from the TSheets dashboard. It's a real-time view of the remote workforce that puts entire teams in one (virtual) place.
Real-Time Reporting
Gain valuable business insight with visual reports
Remote employees can track time against different projects or job codes with just one click. Use that accurate-to-the-second time data to determine profitability, predict job costs, or calculate payroll with real-time reports. With the right reports, remote employees can also better determine when and where they work best.
Scheduling Software for Remote Employees
Time tracking and scheduling that works together
Shave hours off the time it takes to build and share schedules with TSheets' revolutionary scheduling software. Quickly and easily create schedules for remote employees by job or shift. Employees will receive a text, email, or push notification each time their schedule is published, a new job is added, or the schedule is changed.
See the difference automated time tracking software can make for remote employees.
Try TSheets free for 14 days!