Tweet Your Timesheet
International Time Tracking at Your Fingertips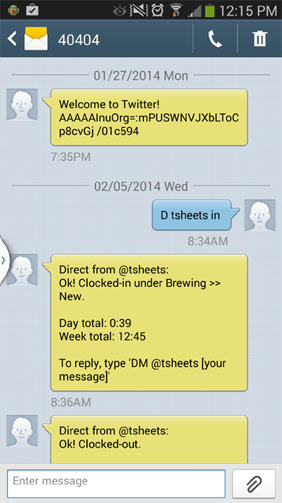 Tweet Your Time from Anywhere in the World
"d tsheets start" and you're clocked in via Twitter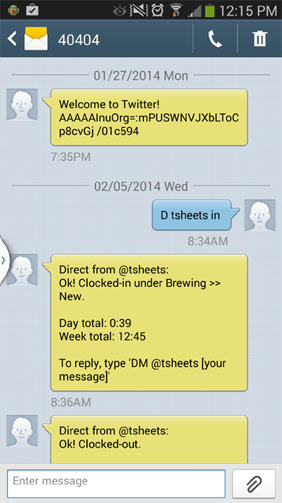 You don't have to be a Twitter devotee to use it to track time. Twitter combined with TSheets, makes it possible for employees to submit their time via phone (text messaging or the Twitter App) - from anywhere around the globe.
Have a smartphone? Download the Twitter app and use that to send time to TSheets with a simple message, such as "in mktg" or "out". Easy peasy.
Clock in Your Crew via Twitter
Mobile, on-the-go time tracking for crews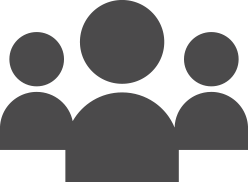 Need to clock in a crew from anywhere in the world? It's possible via Twitter. Send a text to Twitter and add your additional crew members at the end, using their TSheets usernames.
Or using your Twitter App, send a direct message to TSheets. Changing job codes, clocking out and adding notes, are all options for international time tracking for your crew.
Free as a Bird
The best things in life are
While TSheets Dial-in and TSheets Texting for time tracking in the U.S. and Canada have a small per user fee to cover phone and texting costs, Twitter does not. It's free to text in your time using Twitter and of course, free to submit through Twitter online or the Twitter App. Some good things in life really are free!
Tweeting Time in "Real Time"
Employee work hours are visible to admins in real time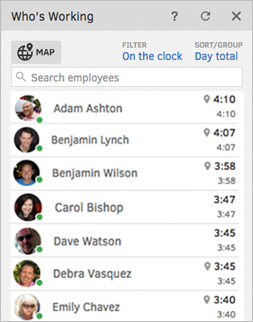 TSheets is not a timer. It's a time tracker that tracks employee work down to the second - in real time. TSheets uses virtual time-stamping and provides accurate and up-to-date employee data for project costing, invoicing, payroll and more.
Customer Love
We love you too!

"

Best APP EVER!

I LOVE THIS APP!

It has made time tracking easy and efficient. I 150% recommended this app to others! Well worth it!

"

Cutting Edge, AThens, AL

Via apps.com
"

Awesome app! It was a nightmare trying to get field workers to bring their timesheets to the office on time to invoice the clients. Now it's SO great: I know how many hours they worked on any given job & day.

The reports are great!

I can export to QuickBooks and have all their hours for the payroll. Also I can have on my screen where they are working and how many hours / minutes they are on any job/task.

"

Holland, rockville, md

VIA apps.com
fun and...

"

My time is tracked!

So easy

to clock in and out, switch job codes (with one click) and get a quick summary of my day.

"

Jennifergh,

Via iTunes
"

Very useful app. This app has allowed me to go completely mobile with my business. I use my iPhone, iPad, computer and text to track my time — much more

accurate and convenient

than a punch clock.

"

bmedel,

Via iTunes
"

Very handy app. Just started working part-time from home and need to keep track of my hours. Love this app's clock in and out feature, weekly reports, and sync ability with TSheets online.

"

ttstead,

Via iTunes
Stop!
Before you go anywhere...
See How Much You'll Save Each Year:
(based on your number of employees)
Annual Savings from Time Tracking
Based on APA, savings is about 2%
We've even deducted the approximate cost of TSheets
We Save Approximately $2000 per month! - Todd Dawalt, Leak Eliminators